For many Windows users, OneNote is the one-stop solution in creating digital notes. The latest upgrade to the OneNote Online app brings new features across the ecosystem. For instance, you can insert a picture from a camera, customize auto-correct options, copy Link to section and do a lot more. Let's take a look at these features.
Insert Picture from a Camera using OneNote Online app
OneNote is a hub for all notes. The updated version allows inserting pictures from the camera. You can use this feature to create pages with more context and clarity.
For this, open OneNote app and switch to 'Insert' tab. There, click on 'Pictures' and from the list of options displayed, select 'From Camera' to select camera mode.
Capture an image and click 'Insert' to add it to your page. You may be requested to enable camera support in your browser to use this feature.
Change Auto-correct options
This option was currently visible under my 'OneNote Online' application. To access it, all you have to do is click on the Home tab, select 'Spelling' section and then enable 'AutoCorrect Options'.
When enabled, OneNote Online will handle your spelling mistakes. In addition, you can use the same feature to convert punctuation smileys to emojis ?.
Copy Link to Section
OneNote online has made it is easier to share content with OneNote Online collaborators.  To share your work, right-click on a section you'd like to share and select 'Copy Link to Section'.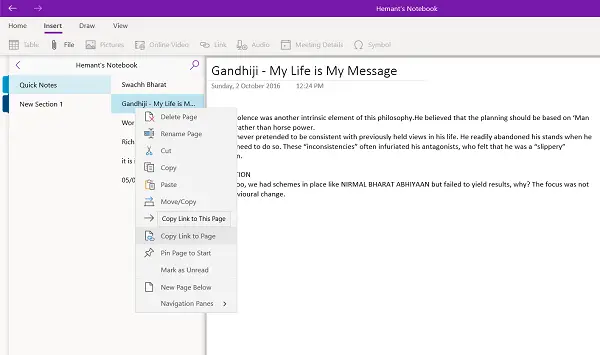 This action when confirmed will copy the section name and link that you can paste into any other OneNote Online document.
Lastly, if you would like to attach a file stored in your OneDrive account to your OneNote page, you can readily do it by attaching the desired OneDrive files after enabling it in Settings and choosing the 'Insert' option.
Once your cloud attachment is on the page, OneNote will upload the file into OneDrive.