Humans by nature are essentially kind and sensible. However, in situations of distress, they can become insecure, suspicious or even paranoid and resort to spying. The word itself evokes many critical reactions as it means a terrible invasion of your privacy, but research suggests something in between. The technologies for spying on colleagues and families are in great demand, today. An upward trend seen in the sales of so-called legal spyware apps like Stalkerware or Spouseware confirms this.
What is Stalkerware or Spouseware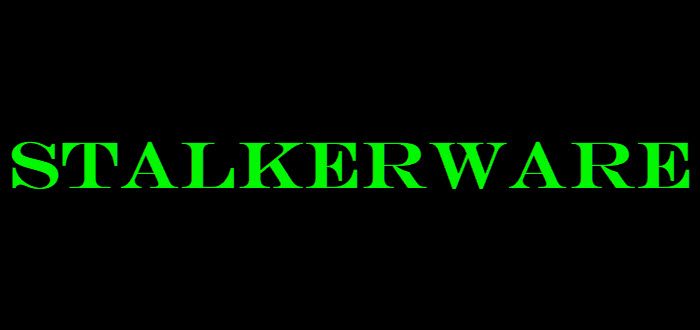 Are these applications safe for public use? If not, to what extent they can influence us? We'll attempt to answer these questions in the post by,
Defining Stalkerware
Shortcomings of Stalkerware
Precaution to be taken against Stalkerware
The stalkerware industry is growing year by year, and this has spawned internal competition in an unregulated free-market economy. Besides, it has further expanded the 'Stalkerware' Surveillance Market, where ordinary people have developed the uncanny habit of tapping into each other's phones.
1] Stalkerware definition
If we were to define Stalkerware in an ordinary language, we would call it as legal spyware. A class of spyware sold by legally-registered companies under various pretenses, such as child monitoring or employee tracking solutions. It can be installed on a device for a relatively modest fee via manual installation. Once configured or set up, the stalkerware program can spy on the attacker's target and give information about,
The device location
Browser history
SMS messages
Social media chats, and more.
Some of them can even make video and voice recordings.
2] Stalkerware shortcomings
Commercial versions of such programs insist that protection solutions like antivirus be deactivated to enable them to function optimally. This raises genuine concerns over its utility as it may knowingly or unknowingly lead to the entry of unwanted malware or some virus infection. Also, this is one place where stalkerware unfavorably distinguishes itself from legal parental control apps. Apps relying on parental control do not try to hide on the device or deactivate the antivirus. That's why parental control apps, unlike stalkerware, do not pose a threat to their users.
Secondly, the installation process of stalkerware is considered far from safe; i.e., it is suspicious. Why? It fails to comply with the policies of official stores such as Google Play. As such, you do not find them featured on such platforms. We suggest if you choose to ignore this fact and continue with the installation, do it at your peril as giving consent to installing third-party apps could provide back-end entry to hosts of malware.
Another trait of many stalkerware services that are widely established is their unknown origins. In most cases, these are far from transparent and unsatisfactory as we do not know don't know who develops them and what legislation applies to them or is enforceable. Stalkerware can leak your data as the developers can have access to your data!
Lastly, Stalkerware often seeks permission from its user to grant system rights, even down to root access. If allowed, it invariably allows the software to get full control of the gadget — in particular, giving it the right to install other unwanted or even malicious apps.
So, although, Stalkerware programs have been publicly criticized multiple times, their status worldwide remains vague since it is considered legal in some countries. That's because they are not identified as malware per se; many antivirus products refer to it as not-a-virus. This category includes two types of applications-
Adware
Riskware
Both types are not malicious by nature, so they cannot be called viruses.
3] Precaution suggested against Stalkerware
Considering such shortcomings, better sense suggests it's good to think twice before installing such rogue applications on someone else's device. Also, we have mentioned a few tips below that you can follow to make sure that no one messes with your belongings.
Always protect your device with a strong and reliable password and never reveal it to unknown people.
Configure settings to block the installation of third-party apps. This method is known to protect you against both stalkerware and real malware.
Delete unwanted apps or the ones you don't require. This frees up memory space and reduces paid traffic.
Use reliable security software protection.
In some cases, an individual may know and agree to have Stalkerware apps installed on his device for contractual reasons.
Now read: Types of Computer crime or Cybercrime Acts and Preventive Measures.