iCloud appears as an ideal way of sharing and viewing your Photos stored on Apple devices. The same can be downloaded and stored to a Windows PC from the iCloud Photo Library/My Photo Stream. However, some errors can occur midway, preventing you from completing the task successfully. If you have been troubled by this issue persistently, fret not! Read further to find a permanent solution to this problem.
iCloud Photos not downloading on Windows 11/10
Here are a few solutions you can give a try.
1] Set up iCloud Photos
If you have iCloud installed on your PC, dive into the Photos Options panel to verify if you've set up iCloud Photos correctly to download your photos.
For this, click the iCloud icon visible on the system tray.
Next, select 'Open iCloud Settings' option.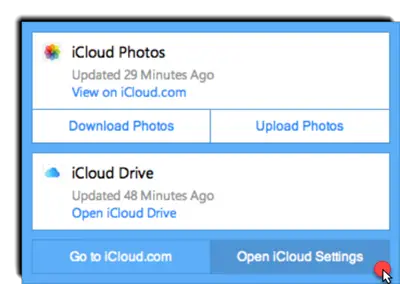 When done, hit Options button adjacent to Photos to open the Photos Options panel.
Check if the following options are enabled? If not, enable them before proceeding further.
iCloud Photo Library
Download New Photos and Videos to My PC

2] Force Download iCloud Photos
Click the iCloud icon on the system tray as shown in the screenshot above and then select 'Download Photos' option instead of 'Open iCloud Settings'.
Instantly, the 'Download Photos and Videos' pop-up box should be visible to you. Here, you can select the desired iCloud Photos for download. All the photos are by default grouped by year.
Hit the 'Download' button at the bottom to confirm your action. When confirmed, all your photos should become visible under the Downloads folder of iCloud Photos.
Now, simply visit iCloud Photos to see new folders created year-wise.
3] Restart iCloud
Launch Task Manager by right-clicking on the taskbar and selecting the option.
Then, under the Processes tab, look for the following processes and select them.
iCloud Drive
iCloud Photo Library
iCloud Photo Stream
iCloud Services
Now, load the app again and see if this resolves the problem.
4] Update iCloud
If all the above methods fail to yield the desired results, try updating iCloud. This might fix the problem finally.
If you know any more solutions, let us know about them in the comments section below.
This post will help you if Apple iCloud.exe is not opening or working.