Monthly printing plans based on the number of pages you print and not the amount of ink you use can save you a lot of money. Also, you don't have to experience the hassle of cartridge shipping. Manufacturers like HP offer such subscription plans via its HP Instant Ink Program.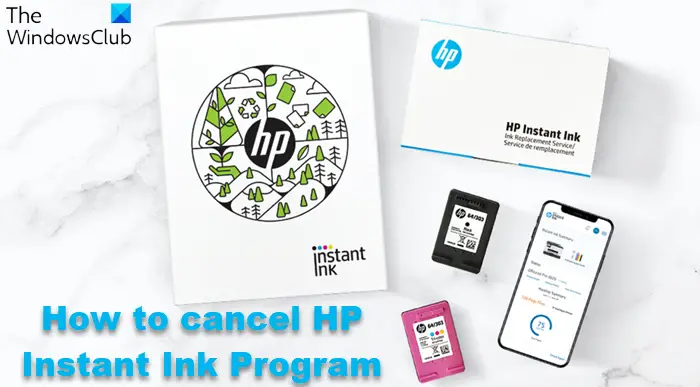 What is HP Instant Ink Program
HP Instant Ink program is an ink cartridge replacement service. It allows you to replace the cartridges when they run low. The program comes integrated into the setup process, where a customer can plan to choose between,
Instant Ink Subscription plans
purchasing ink at retail stores or online
Instant Ink Subscription plans offer 4 plans to choose from based on how many pages you print each month.
Free Printing Plan
Occasional Printing Plan
Moderate Printing Plan
Frequent Printing Plan
To participate, enroll your HP Instant Ink eligible printer in an HP Instant Ink plan that charges a fee based on the plan you choose. The printer sends ink level information to HP, and when ink levels get low, HP automatically ships ink replacement ink cartridges.
The program requires no commitment or annual fee. You can choose to cancel anytime. However, you need to bear in mind the following – if you choose to cancel your enrolment in the HP Instant Ink Program, you will be billed retroactively. This means you will be billed for each free month of service you had initially received. So, be cautious before proceeding further. Having said that, if you cancel your account and re-enroll, all free promotional months and rollover pages are forfeited.
If you do not mind this, and still want to disable your HP Instant Ink account, follow the instructions provided below.
How to cancel HP Instant Ink Program
1] Sign in to your HP Instant Ink account and go to the Status area of your HP Instant Ink account page.
2] There, a printer drop-down menu should be visible to you. Click it and select the printer you want to cancel.
3] Check the Print History or the ePrint address of the printer to confirm you have selected the correct printer.
4] Next, under My Account area, choose Change Plan option and hit the Cancel Enrollment button.
5] In the end, click Cancel Service to confirm your cancellation request.
6] When done, you will receive a confirmation of the cancellation sent through a mail. Hereafter, you will no longer be billed!
What has been your experience with the HP Instant Ink program? Share it with us in the comments section.