Your web browser is a powerful tool that does more than giving you the ability to browse the web. It is capable of storing photos from all the websites you've visited in the cache, and guess what? With the right tool, you can gain access to these photos for potential storage on your Windows 10 computer.
How to view cached images on your PC
The tool we're going to talk about is called ImageCacheViewer, and it supports Mozilla Firefox, Google Chrome, Internet Explorer, and Microsoft Edge.
Here is a list of some of the data shown for each image:
URL
Web Browser
Content-Type
Image Time
Browsing Time
File Size
Website
Filename.
Let us talk about this from a more detailed perspective.
1] Load images from ImageCacheViewer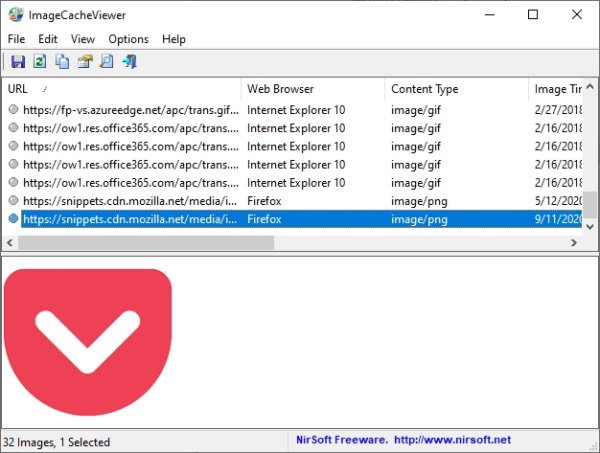 OK, so when it comes down to loading up images from the app, you will need to fire up the tool and make sure the web browsers are closed for best performance. The tool will then automatically highlight all the information from photos within the cache of supported web browsers.
Click on any of the available data to showcase the image from within the software. If you want to load the photo via the web browser, then right-click on one of the URLs, and select Open URL in Web Browser, and that's it.
2] Save one or multiple items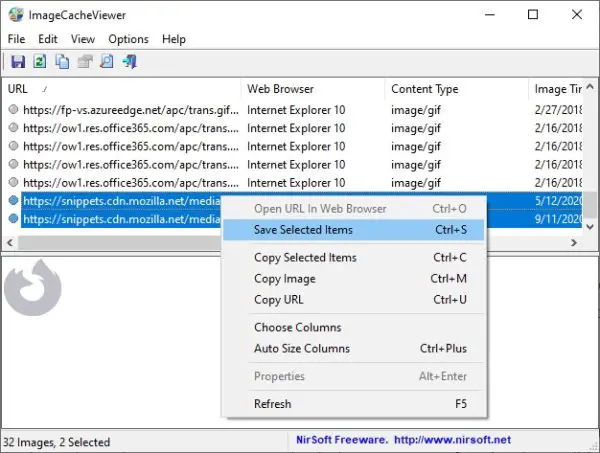 For those who want to save items but not the photo themselves, simply right-click on a single item or choose multiple before hitting the right-click on the mouse. From the menu that appears, please choose Save Select Item(s).
3] Copy and Save selected images
ImageCacheViewer does not give users the option to save photos directly. You must first right-click on an item, then select Copy Image. Once that is done, open your favorite photo editing tool, and be sure to press CTRL-V on your keyboard to paste the copied file.
Finally, perform the actions to save the photo from the editor, and that's it for that.
4] Advanced Options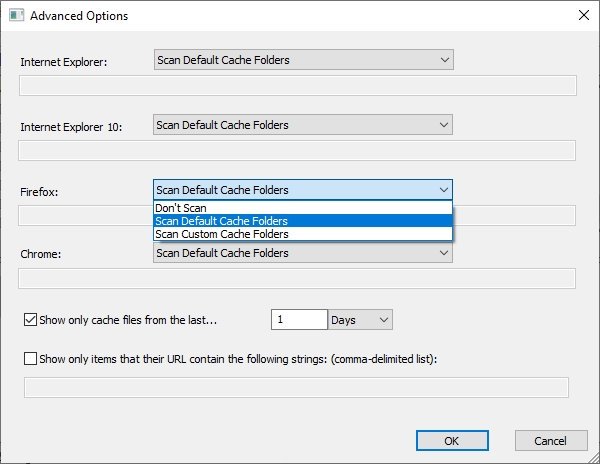 If you want to play around with the settings, then click on Options > Advanced Options. From here, you can choose to either scan a particular web browser's cache folder or scan a custom folder. Additionally, you can choose not to allow the app to perform a scan at all.
You can download ImageCacheViewer from nirsoft.net.