In Microsoft Excel, you can use the Zoom features such as Zoom, 100%, and Zoom to selection to  Zoom in and out of your spreadsheets. There is also a Zoom control slicer on the status bar that also allows users to zoom their spreadsheets. The Zoom feature is used when you want to see more or less of the worksheet.
How to use Zoom In or Out feature in Microsoft Excel
Follow the methods below to use the Zoom feature in Excel:
How to use Excel Zoom feature
Launch Excel.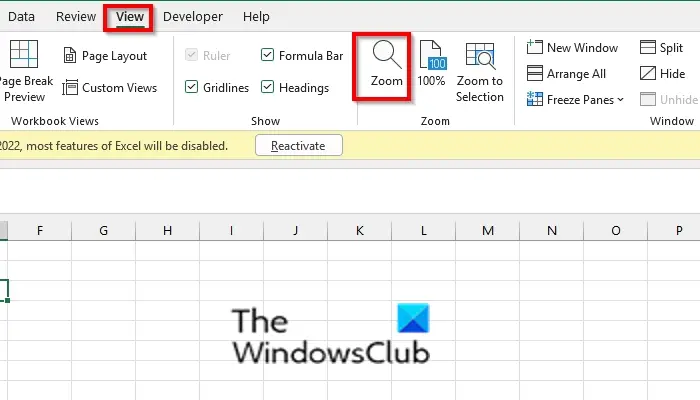 On the View tab in the Zoom group, click the Zoom button.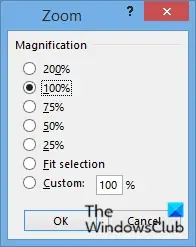 A Zoom dialog box will open.
You can set the Manifigcaton level of the zoom you want. Depending on the zoom level you have selected, it will zoom to that level.
If you select Fit Selection,  a selected range of cells will be zoomed in.
You can also set a custom zoom level.
Click OK.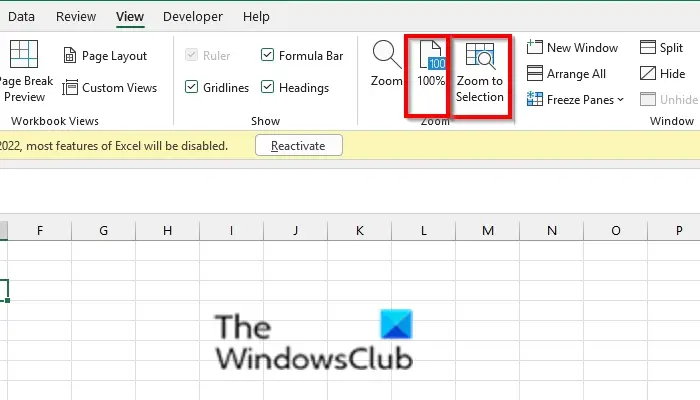 You can also click the Zoom to selection button in the Zoom group to zoom the selected range of cells; it will zoom the entire window; this helps users to focus on a certain area on the spreadsheet.
You can click the 100% button in the Zoom group, which will Zoom your document to 100% (it will return the spreadsheet to the normal view.
How to use the Excel Zoom slider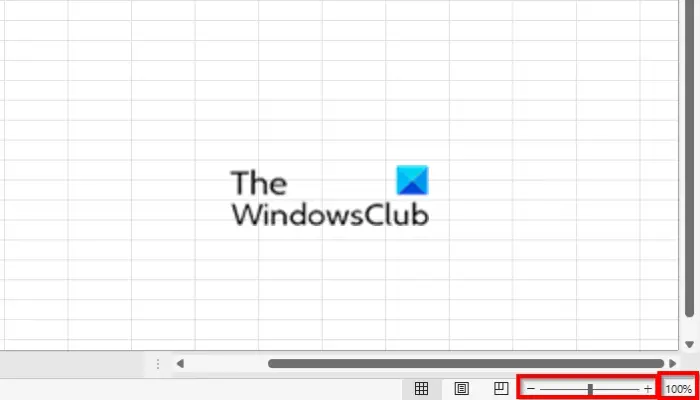 On the status bar to the bottom right, there is a Zoom slider button on the bottom right of the screen.
Drag the slider to the left to decrease the zoom level. Drag the zoom slider right to increase the zoom level.
The (-)  sign means to zoom out, and it decreases the zoom level.
The (+) sign means to zoom in, and it increases the zoom level.
You can also click the Zoom level button beside the zoom slider.
The Zoom level dialog box will open. Follow the same procedure as mentioned above.
Read: How to multiply numbers in Single or Multiple cells in Excel
What is Zoom Control in Excel?
The Zoom control is a slicer that is next to the view button on the right of the status bar; it allows users to zoom in and out of their documents. The control slicer is available in Excel, PowerPoint, Word, and Outlook.
What are the minimum and maximum zoom size in Microsoft document?
Whether it is Microsoft Word or Excel, the minimum percentage available in a Word document or an Excel worksheet is 10%. The maximum zoom available in both is 500%. So you can zoom your document or spreadsheet to the level you want.
We hope this tutorial helps you understand how to use Zoom in Excel; if you have questions about the tutorial, let us know in the comments.