Steam is home to thousands of video games, and that can be a problem for those looking to find the perfect game. From our point of view, the perfect game doesn't exist, but many do come close, and Steam wants you to find these titles without a lot of stress. Now, the folks at Steam have developed several methods for gamers to find great titles, but one of the best of the bunch is no other than Steam Interactive Recommender.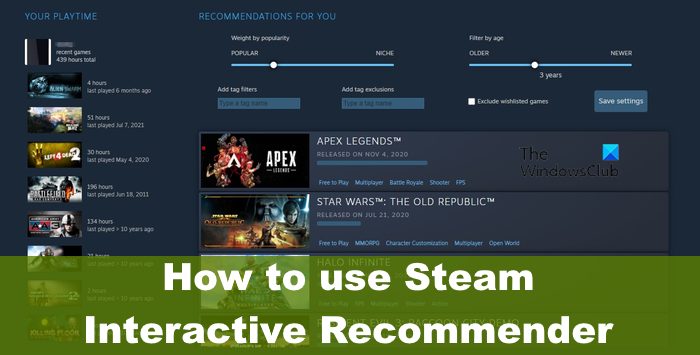 What is Steam Interactive Recommender?
In some ways, Steam Interactive Recommender is similar to the Discovery Queue feature. It automatically creates a personalized list of video game titles you might like. The good news is, these recommendations are not based on the most popular games, nor is it based on your search history.
The feature delivers recommendations based on what you or other Steam users have played in the past. It can do this by making use of machine learning that studies your playtime history along with that of millions of Steam users.
How to use Steam Interactive Recommender
To access the Steam Interactive Recommender, go to the Steam Store, and from there, you should come across the feature. Once there, you can choose a recommended game.
To get started, first, you must open Steam on your computer.
If you do not have the app now, then simply visit the official Steam website through your favorite web browser.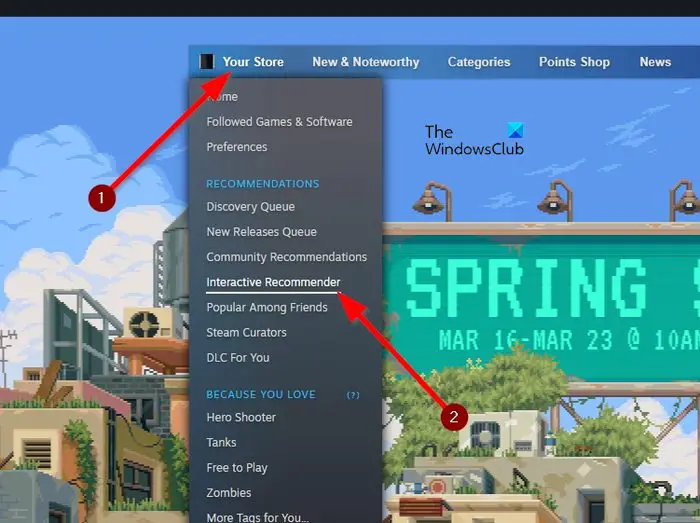 Once you've opened the Steam app or visited the website, please sign in with your Steam credentials if you haven't already.
From there, click on Your Store located on the panel alongside the search box.
A drop-down menu will appear promptly.
From that menu, look for Interactive Recommender and select it.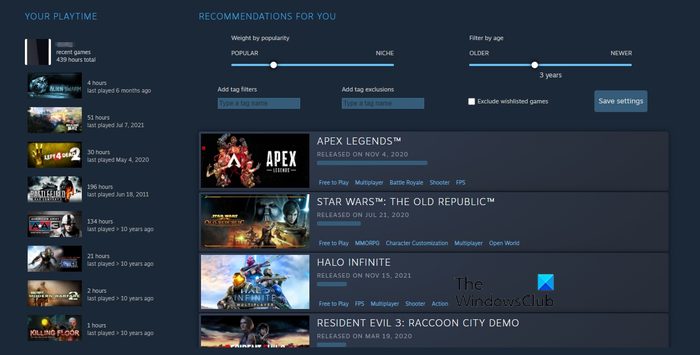 Once you've visited the Interactive Recommender page, you should see a list of games recommended for you.
To the left of the screen, you will see games you've played in the past, and it doesn't matter if you played them 10 years ago or yesterday.
Now, before selecting a game from the list, you can change the popularity level and filter the age. Adjusting the popularity level will showcase games deemed popular by the number of players.
If you're looking for niche games, then the popularity slider needs to become your best friend or one of them.
Changes made to the level happen in real-time, which is a nice touch from our point of view.
Once you've set the perimeters, then go ahead and choose which game you want to play. Obviously, since this is Steam, you may have to spend to play, though some games are free to acquire.
READ: Best free Horror Games on Steam you must check out
How do I fix Steam Interactive Recommender not working?
If the Steam Interactive Recommender is not working, then you need to ensure you've played enough video games for it to analyze. Furthermore, you must be connected to the internet. In some situations, the Recommender will fail to work if the Steam platform is having problems, so wait a while for this to be fixed, then check again.
What are Steam recommendations based on?
The recommended games via Steam Interactive Recommender are based on the games you've played in the past, and that's all of them. Therefore, the games on the list will likely be titles you will want to play.