Want to retouch and fix spots in your photos in the Microsoft Photos app on Windows 11/10? The Photos app provides a Retouch feature called Spot fix that allows you to remove spots and blemishes from your photos without any hassle. Here, we will be discussing steps on how you can use this Spot Fix feature in Photos. So, without much ado, let us find out.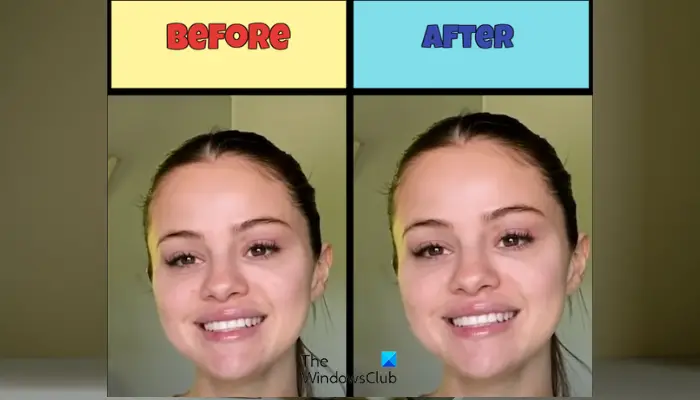 How to use Spot Fix feature in Photos app on Windows 11/10
The Spot Fix feature is deprecated in the latest Photos app on Windows 11. It was present in the earlier versions of Photos in Windows 10. However, you can still use the Spot Fix feature in the Photos app on Windows 11. For that, you need to install the Microsoft Photos Legacy app on your PC.
Photos Legacy is the older version of Microsoft Photos for Windows 11/10. Users who prefer the older Photos app to the current one can easily install the Legacy version from Microsoft Store and enjoy all the older features. One of its many features that are not present in the latest Photos app includes Spot Fix. It helps you beautify your pictures and make them spot-free.
Here are the main steps using which you can use the Spot Fix function in the Photos app on Windows 11:
Install Photos Legacy.
Launch Photos Legacy.
Open the source image.
Click on the Edit image button.
Go to Retouch.
Select the size of the Spot fix brush.
Click on the image to remove spots.
Save the resulting image.
First, you need to have Photos Legacy installed on your computer to use the Spot Fix feature. You can open your Microsoft Store and search for Photos Legacy. Then, install the app from its page. Once done, launch the app from the Start menu.
After that, double-click on the image that you want to retouch and beautify from the Collection tab. You can also manually search for a specific image if you want.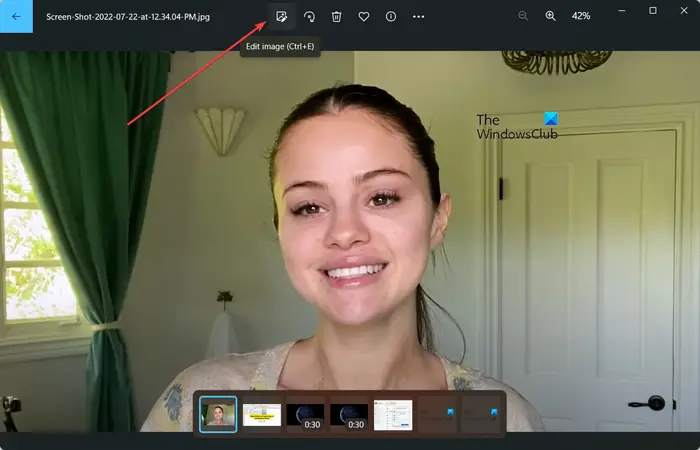 Once the image is opened in Photos Legacy, click on the Edit image button from the top toolbar. Or, you can simply press the Ctrl+E hotkey to open the image in editing mode.
Read: Batch Edit EXIF Data of Images with Batch EXIF Editor software for PC.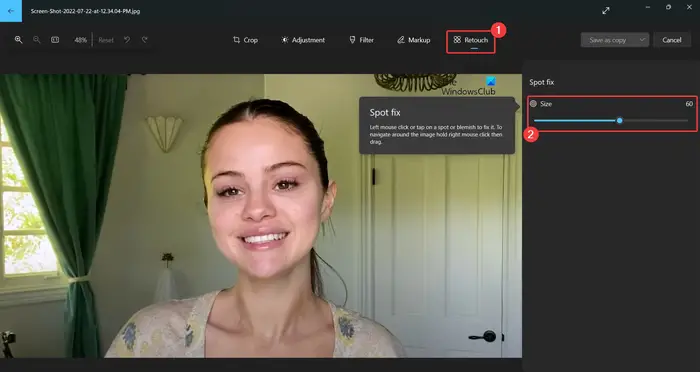 Next, go to the Retouch tab from the top and you will see a Spot fix feature. Now, adjust the size of the brush to do photo retouching using Spot Fix. You can increase or decrease the brush size as per your requirements.
Then, click on a spot or blemish on your photo that you want to remove. As soon as you click, it will start removing spots from the selected area. Similarly, you can click on other parts of your photo and remove spots or blemishes.
See: Free Photo Makeup Editors to add Makeup to Photos on Windows PC.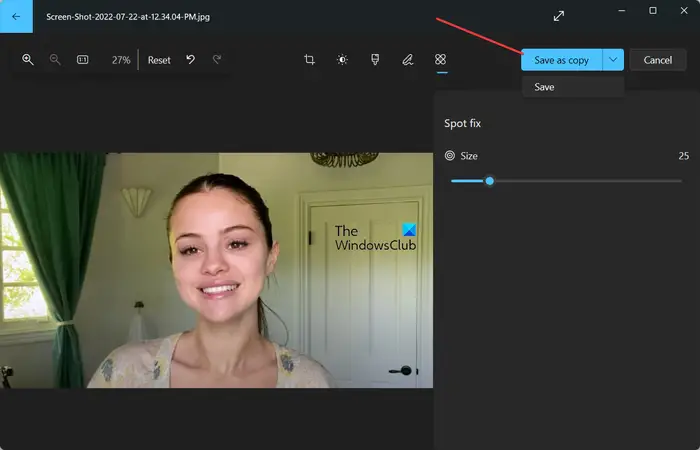 When you are done removing and fixing spots, you can save the final image. For that, you can click on the Save as copy button and then save the edited image in JPEG, PNG, BMP, TIFF, and other image formats. If you want to save changes in the existing image, click on the Save as copy drop-down > Save button.
So, this is how you can get rid of spots and blemishes in your photos in the Microsoft Photos app on Windows 11/10.
Read: Best Free Online Photo Editors and Image Editing Tools.
How do I fix red eye in Microsoft Photos?
Microsoft Photos doesn't provide a red-eye removal tool. However, to remove red eye from your photos in Windows 11, you can use a third-party photo editor application. You can use this free software called Free Red-eye Reduction Tool. It allows you to quickly remove the red-eye effect from your photos. There are many free online red-eye removal tools that you can use. To name, Fotor, LunaPic, Picsart, and iPiccy are some nice online tools that you can try for removing the red-eye effect from your images.
How do I auto correct an image in Windows 11/10?
You can auto-correct an image on Windows 11/10 using a dedicated software or online tool. There are free online tools like IMGonline.com, LunaPic, photofunny.net, and Photokit Photo Editor that automatically correct colors in your photos, retouch your images, and do much more. PhotoWorks, PhotoScape X, and Luminar are some good desktop software for auto-correcting photos on Windows.
Now read: Best free Batch Photo Editor software for Windows.