In this post, we will talk about how to use NVIDIA Reflex to fix low latency in games. While playing competitive multiplayer games on laptops and desktops, users face system latency which is the delay between keyboard or mouse actions and the output or reaction reflected in the display (such as a character movement). NVIDIA Reflex (or NVIDIA Reflex Low Latency) is a technology supported in NVIDIA GeForce GPUs to help optimize your PC for such system latency and reduce this delay while playing a game. This ultimately helps to react or take shots quicker, acquire a target faster, reduce peeker's advantage in a game, etc.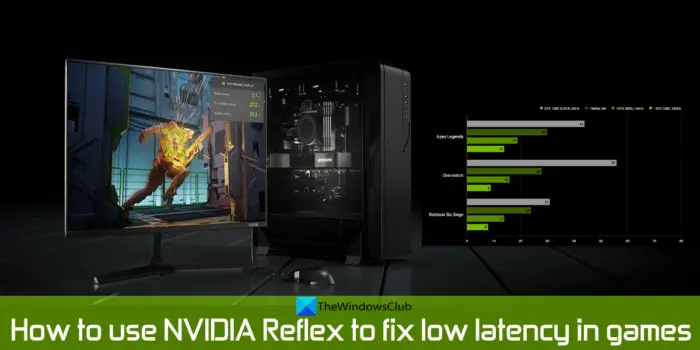 Does NVIDIA Reflex reduce latency?
Yes, NVIDIA Reflex does reduce latency. As per what they say, with mid-range GPU cards, one can expect up to 33% improvement. And, if you use a high-end GPU and a gaming monitor (with a refresh rate of up to 360Hz), gamers can experience the lowest latency possible (up to 80%).
Sounds quite good indeed, but here is a little catch also. NVIDIA Reflex feature is not something that can be activated in all GPUs or games. It is limited to selected games and graphic cards. Let's find out more.
NVIDIA Reflex technology is supported on NVIDIA GeForce 900 Series graphic cards and newer. While higher-end graphic cards (such as GeForce RTX 30 Series) will surely have a better performance with NVIDIA Reflex technology, the latency reduction should be satisfactory in other supportive GPUs.
Also, this feature can be used in a game only if the game developer has implemented it there. So, not to mention that if your graphic card and game are not supported, you won't be able to get the benefit of NVIDIA Reflex Low Latency mode. But there are other ways to enable low latency where NVIDIA Reflex is not supported. We'll talk about that part also.
How to use NVIDIA Reflex to fix Low Latency in games

Now comes the main part. We consider you already have the supported NVIDIA GeForce GPU and game for using the NVIDIA Reflex Low Latency feature. If yes, you can follow the steps mentioned below to turn on and use NVIDIA Reflex to fix low latency in games:
First, make sure you are using the latest drivers for your NVIDIA GeForce GPU. If not, access the Official Drivers homepage of NVIDIA and grab the appropriate driver. Install it on your system and restart it
Launch a game
Access the Game Options menu or graphics settings of the game or some other similar section where the Reflex feature is present
Look for NVIDIA Reflex Low Latency mode or option
Use the drop-down menu and select the On option. There is an On + Boost option also available that you can try. This Boost mode increases the GPU clock speeds to keep the Reflex feature remain effective. Or else, simply use the On option.
This will start working and reduce the input lag and system latency to have a better gaming experience.
Enable Low Latency Mode for other games using NVIDIA Control Panel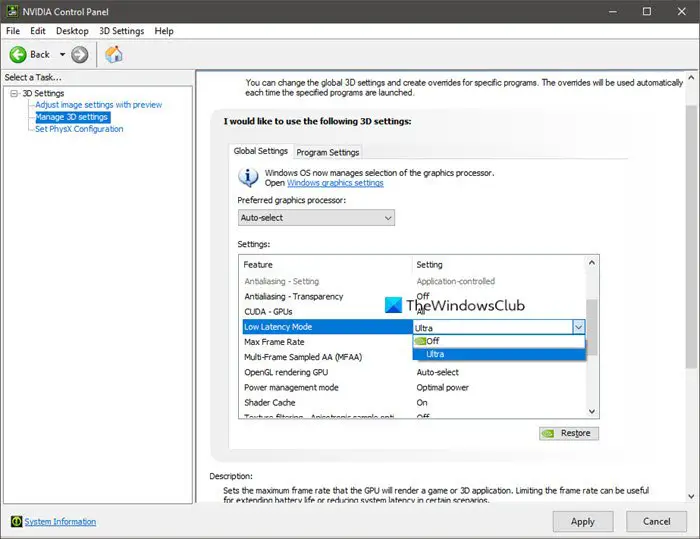 If the NVIDIA Reflex feature is not supported or available for your graphics card and game, then the best option to reduce system latency and input lag on your PC is to enable the Low Latency Mode feature or Ultra Low Latency Mode present in the NVIDIA Control Panel. Here are the steps:
Open NVIDIA Control Panel interface
Access the Manage 3D settings section
Access the Global Settings tab
Look for the Low Latency Mode option
Select the Ultra option using the drop-down menu
Press the Apply button.
Read: NVIDIA Low Latency Mode not showing up on Windows
Other ways to lower system latency
There are a few other optional ways to consider that may lower system latency for games. These include:
You can get a gaming monitor and mice (with a higher polling rate) with reflex compatibility. These include Alienware AW61M, Acer Predator Cestus 350, Asus ROG Chakram X, Corsair KATAR PRO WIRELESS, Acer Predator X25 (360Hz), Acer Predator XB273U NX (240Hz), MSI Oculux NXG253R (360Hz), Viewsonic ELITE xG272G (300Hz), etc. If your gaming mouse and monitor are already doing the best, no need to think about upgrading the hardware
Turn off VSync. You can do it from the graphics settings of the game or from NVIDIA Control Panel
Enable hardware acceleration in your Windows PC
Turn on the Game Mode on your Windows 11/10 computer. It helps to optimize your PC for playing games
Run the game in the entire full-screen mode and not borderless full-screen mode, etc.
That's all! I hope this helps.
Related: Unable to retrieve settings in NVIDIA GeForce Experience
Supported Games for NVIDIA Reflex Low Latency
Below is a list of supported and compatible games for NVIDIA Reflex Low Latency mode. The list will keep growing for sure when more game developers implement NVIDIA Reflex technology in their games.
Call of Duty: Modern Warfare
Bright Memory Infinite
Enlisted
Apex Legends
God of War
LEAP
Quake: Champions
GRIT (coming soon)
Battlefield 2042
Valorant
Call of Duty: Warzone
Destiny 2
Call of Duty: Black Ops Cold War
Mordhau
Loopmancer
Kovaak 2.0 The Meta
Rust
Overwatch
Call of Duty: Vanguard
Deathloop
Splitgate
CRSED F.O.A.D
Escape from Tarkov
Ghostrunner
Destiny 2
Icarus
Nine to Five
Soda Crisis
Warhammer 40,000: Darktide (coming soon)
Shadow Warrior 3
Rainbox Six Siege (requires GeForce 10 Series or newer series)
My Time at Sandrock
Midnight Ghost Hunt
Naraka: Bladepoint
War Thunder
Ready or Not
Warface
iRacing
Rainbow Six Extraction
Super People, etc.
How to download & install NVIDIA Reflex?
If you are a game developer and want to measure and optimize system latency during game development, then you can download and install NVIDIA Reflex SDK from developer.nvidia.com. And then, you can implement a low latency mode for the game. On the other hand, if you are a user and want to enable NVIDIA Reflex Low Latency mode, then you must have a supported game and GPU. You can check this post for detailed information.
How do I reduce NVIDIA latency?
If you want to reduce system latency for games, then one of the best options to do is using the NVIDIA Reflex Low Latency mode. This feature is present in NVIDIA GeForce 900 series GPUs and higher and 40+ games are supported for it. Those who don't have a supported GPU and game can turn on NVIDIA Ultra Low Latency Mode from the NVIDIA Control Panel.
Read next: NVIDIA Control Panel missing in Windows 11/10.