Today, AI chatbots are massively popular. There are quite a lot of AI chatbots out there. However among them, one such AI chatbot is the Janitor AI. Unlike others, Janitor AI offers an entirely different chatting experience, allowing you to talk to different personalities and have a conversation. However, if you are unaware of how to use Janitor Ai, here is a complete guide.
What is Janitor AI?
Janitor AI is an advanced AI-powered platform where you can find different chatbots of different characters. You can chat with these characters and have fun. The website also allows you to create and converse with your own character. Also, you can find both SFW and NSFW chatbots on the platform.
The website is super easy to use and allows you to set up a chatbot instantly and start a conversation with it.
However, Janitor AI uses OpenAI or Kobold AI API to function. So you will need to source the API from any of these AI tools, and only then will you be able to chat with your favorite character.
Can I use Janitor AI for free?
Fortunately, there are no subscriptions for Janitor AI as of now. So, to use this AI chatbot service, you are only required to pay for the API. Janitor AI Pro allows free usage with limited features.
How to use Janitor AI for Free?
While you don't need to pay any subscription fee to use Janitor AI for free, when it comes to getting an API from either Open AI or Kobold AI, you need to pay a subscription fee.
However, as of today, Open AI is offering you a free trial worth $18. So you can sign up on Open AI, generate an API key, use it to set up Janitor AI, and use it free of cost.
Get my Janitor AI API key
To get started, follow these steps:
First, go to platform.openai.com and register and create an account.
Once registered, click on API keys from the sidebar.
Click on Create new secret key > Name your API key > Create secret key.
Once the API key is generated, click on the copy icon.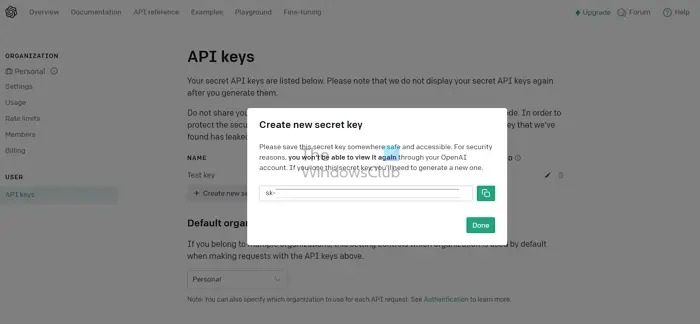 Return to the Janitor AI website and pick a bot you want to use.
Once the Chat window opens up, click on the API not ready! Click on the setup option.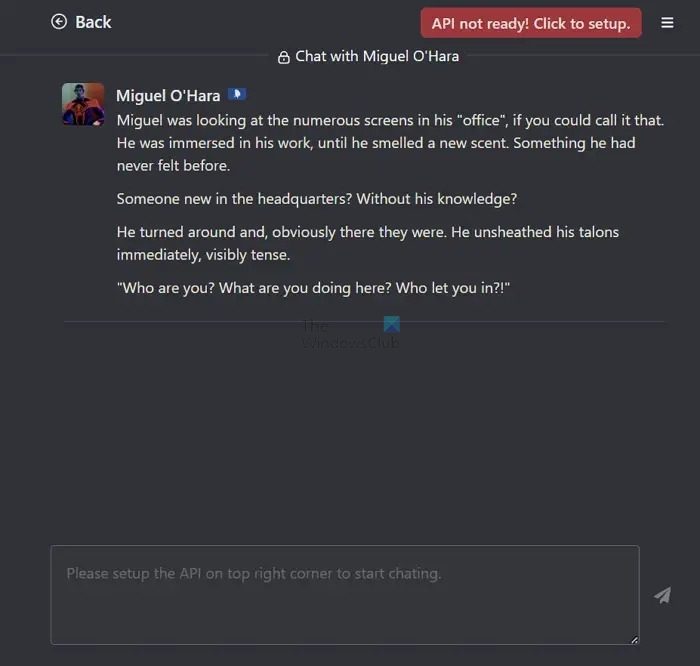 Next, paste your Open AI API key and click the Check API key button to verify it.
Under Custom Prompt, you can enter a custom prompt for how you would like to personalize the chatbot. Or you can select any options from Default, Freedom, New, etc.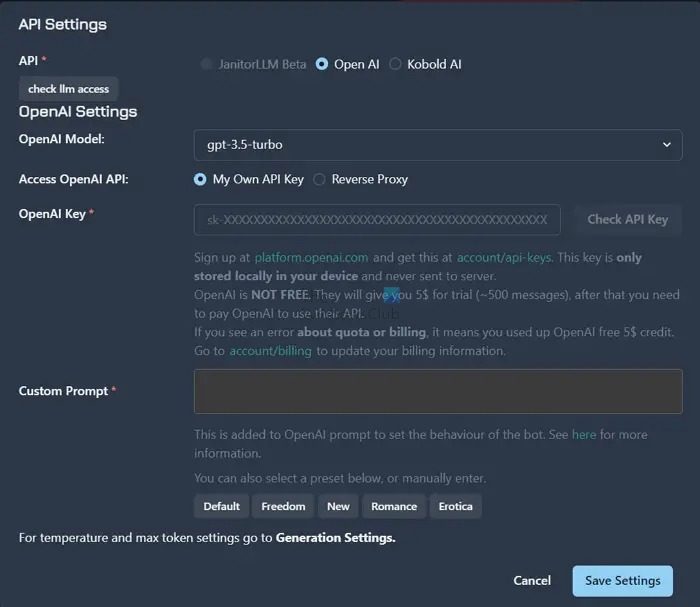 Finally, click the Save Settings button to set up the bot, and you can chat with it.
Note: As we are using a trial version of the Open AI, you either have to create a new account on Open AI, or you can get a subscription plan once the current plan reaches its limit.
Janitor AI Alternatives
Janitor AI is good, but you might also want to try some alternatives. Fortunately, many AI chatbot platforms are available out there that offer both SFW and NSFW bots. Some of those platforms are:
PepHop AI
PepHop AI is similar to Janitor AI. On the site, you will find a wide range of chatbots of both SFW and NSFW. You can find chatbots from categories like game characters, Anime, roleplay, comedy, and many more. Also, just like Janitor Ai, it uses API to function.
Character AI
Character.ai is a neural language model chatbot capable of generating human-like responses and participating in contextual conversations. It offers a wide range of chatbots of different characters and can be extremely useful in multiple cases.
Apart from chatting with bots, you can use it to write a story, play games, practice a new language, and more. Also, you don't need to sign up on the website to use the bots.
Crushon.ai
Crushon.ai works best if you are looking for NSFW bots. You can talk to your favorite characters without any filters. So you can enjoy unrestricted NSFW AI interactions. It features quite a lot of characters. Also, it has the ability to allow you to create your own. Plus, it comes with affordable pricing and a free plan.
Conclusion
So that was all for using Janitor Ai for free and some of the Janitor Ai alternatives. If the OpenAI trial doesn't work for you, you can try using the Kobold AI API to see if it works. Or you can always switch to any other alternatives.