Instagram has finally extended the availability of Instagram Reels to more global markets including India. What is Instagram Reels, you may ask? Well, Instagram Reels is Facebook's answer to TikTok, a short-video app. Now that we have access to Reels, we will discuss everything you want to know about Instagram's foray into short video space.
In this article, we will guide you on how to get started with Instagram Reels, in addition to discovering Reels content and creating Reels to share with your followers.
What is Instagram Reels
Are you an Instagram influencer? If your answer is yes, Instagram Reels is simply made for you.
Three words Short, crisp, and entertaining explain Reels. If you love watching or short, crisp, and entertaining videos from your Favorite 'social media celebrity,' then Reels is a perfect place for you. Not just watching, you can also create your own videos, add effects, filters, music from a huge library of songs on Instagram, among other things. That's what Reels is all about.
If I still have to describe Instagram Reels in one sentence, Instagram Reels is to TikTok what Instagram Stories is to Snapchat.
Instagram Reels is also Facebook and Instagram's attempt to challenge TikTok's legacy and dominance in the short-video space. Facebook continues to feel threatened by the way TikTok has emerged as one of the most-popular non-gaming apps worldwide in such a short span. For whatever reasons Reels exists, let's see how you can get started with it.
How to use Instagram Reels
Getting started with Instagram Reels involves a two-step approach: Content creation and content consumption
How to discover and watch Instagram Reels
Many people struggle at finding ways to watch Instagram Reels in the first place. This article will help you discover Reels, in addition to several ways to interact with it. Getting started with Reels is fairly simple.
Make sure your Instagram app is up-to-date. Android and iOS users can go to Google Play and App Store, respectively. See if your Instagram app has received an update. Even if you haven't received an update, you should still see Reels. Keeping the app updated is a good practice, to begin with.
Now that you are all set, just go to Instagram. There are a couple of ways you can find Reels. First up, the Explore Tab. You can navigate to the Explore tab by tapping the 'Search' option at the bottom of your Instagram app. Remember, you don't have to search for anything. Just tap the magnifying glass icon at the bottom.
The first video you see in the Explore tab is Reels. You will also find a small watermark for 'Reels' at the bottom left corner of the video. That's how you know you are looking at Reels. Once you tap the video, you will be taken into a whole new world of Instagram Reels. All you need to do is swipe up to watch more Reels.
Another way to discover Reels is through a profile page. Besides posts, IGTV videos, and Instagram posts that you are tagged in, Instagram has added a dedicated 'Reels' tab on profiles. You can navigate to the profile of your favorite creators and tap the new 'Reels' tab to discover their Reels.
Unlike stories, Reels won't disappear after 24-hours of their creation and they have a permanent place in your Reels tab unless you specifically choose to delete them.
How to create with Instagram Reels
Are you looking to post to Instagram Reels? Believe me, it's a fairly simple process. All you need to do is tap the camera icon. Then, discover and select Reels at the bottom. You will come across a page that says 'Create With Reels. Record and edit short videos and share them to Explore, where anyone may discover them.' Sounds fairly simple, right?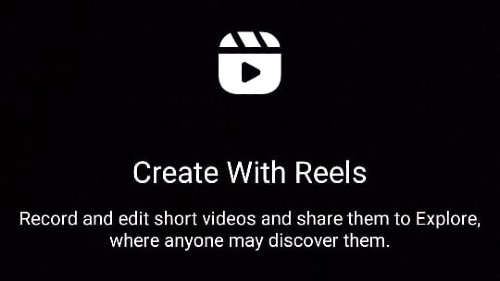 Now, tap the 'Get Started' option at the bottom. But before you get started, remember that anyone can create Reels using your original audio if your account is public. Hence, be sure about what you are getting into. If you are privacy conscious, make sure that Instagram profile is set to 'Private' under settings.
Once you tap 'Get Started,' you will be taken right into Instagram's camera viewfinder. There, you can switch between the front and rear camera, depending on what you want to record in your short video. On the left-hand side, you will find different options to edit your video. First things first, hit the record button at the bottom. Once you are done recording a video, you can always edit it the way you want.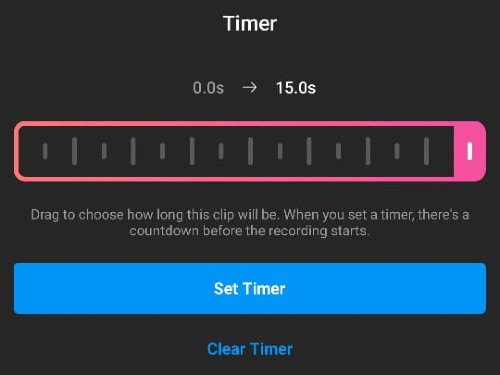 On the left-hand side, you can add music to your videos, select speed, set timer up to 5 seconds, among other things. You can also add several effects and filters to your videos before posting them as Reels.
Once you have created a Reel, the next task is to share it with your followers. Similar to posts and IGTV videos, you can add a caption and hashtags to Instagram Reels. You can also check the option if you wish to share your Reel to feed. Interestingly enough, Instagram also provides creators with an option to set a custom thumbnail cover to their Reel.
You can post your Reels to other apps. Similarly, you can also copy a link to your Reel or share it with your friends over DM. You can archive and edit your Reels and enable/disable comments for each Reel.
Ways to interact with Instagram Reels
There are several ways you can interact with Instagram Reels. You can hit 'Like' and leave a comment on Reels. You can share your favorite Reels with your friends over DM. What's more, you can also post Reels to your Instagram story. Other than that, you can always Hide and Report Reels that you don't like. Similar to posts and videos, Reels generate a public URL. You can also 'Save' and bookmark Reels.
At the bottom of Reels, you will find some details such as songs or audios they use, in addition to the number of likes and comments. Instagram uses Artificial Intelligence (AI) to know your interests better. The more you interact with Reels in the form of likes and comments, the better it gets at recommending videos you may want to watch.
What if I don't see Instagram Reels?
There are a few reasons why you may not be able to find Reels in your Instagram. First of all, Instagram Reels is currently not available for everyone.
At the time of writing this article, Instagram Reels is limited to select regions including India, Brazil, France, and Germany. If you are located in a region where Instagram hasn't launched Reels yet, you won't be able to access Reels.