In this post, we will show you how to use Microsoft's AI-powered design tools called Image Creator and Microsoft Designer in Edge.
How do I access Bing Image Creator?
The Bing Image Creator tool can be accessed by the general public in any web browser. Open your browser and go to www.bing.com/create address to create AI-powered images. If you use Microsoft Edge, the good thing is that the Bing Image Creator is now integrated into the latest version of Edge. You can access it from the sidebar.
How to use Image Creator in Microsoft Edge to generate AI images?
The new Microsoft Edge has several built-in AI-powered features using which you can improve your overall browsing experience. It makes all your tasks easy, fast, and convenient. You can quickly get updated information on any topic, automatically compose work emails, efficiently write with its text prediction tool, and do much more. Apart from these, it also enabled you to generate images from text automatically.
Microsoft Edge now allows you to quickly generate AI images by entering the subject of the image you want to create. To do so, it has added a Bing Image Creator tool that you access from the sidebar in your Edge browser. Let us check out a sorted procedure to use this AI image generator tool in Edge:
Open Edge.
Click on the Image Creator icon from the right-hand sidebar.
Enter the text describing the output image.
Press the Create button.
Download, save, or share the desired output image.
First, open the Microsoft Edge browser on your PC.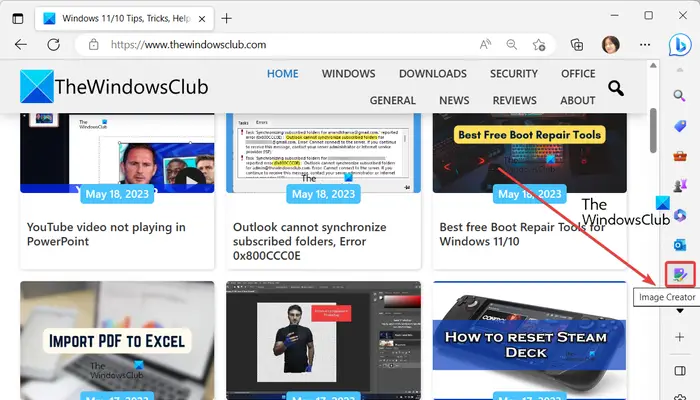 Now, from the sidebar present on the right-hand side, click on the Image Creator tool.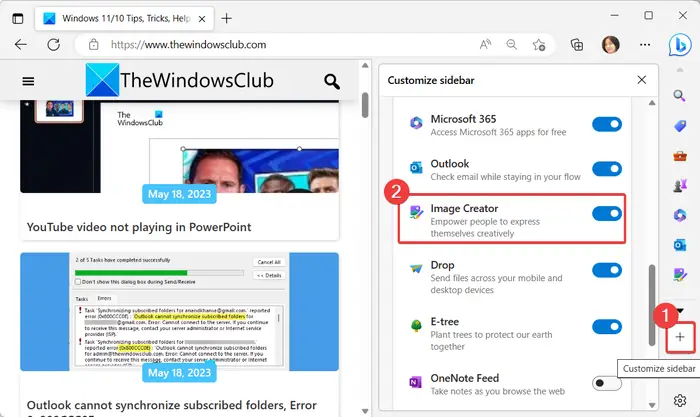 In case you don't see the Image Creator icon in the sidebar, click on the + sign (Customize sidebar) and then make sure to enable the toggle associated with Image Creator.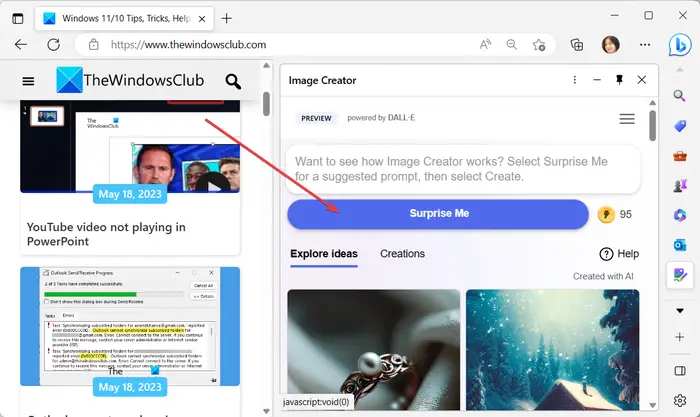 Next, in the opened Image Creator pane, enter the subject of the image you want to design. If you are confused about how to write an image description, simply tap on the Surprise Me button and it will enter an example of how to write an image topic.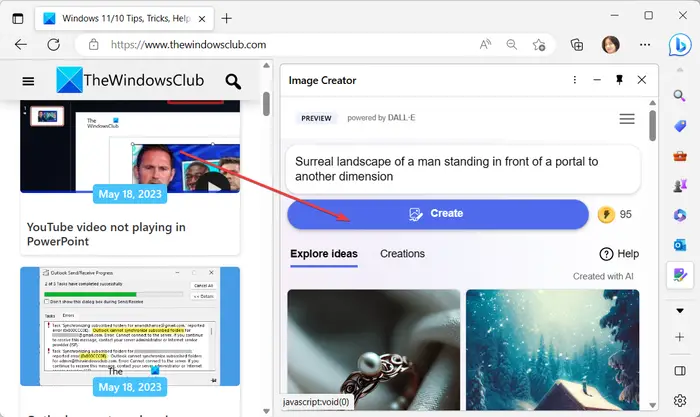 Once you are done writing the topic, press the Create button to automatically generate images using AI on the basis of the given topic.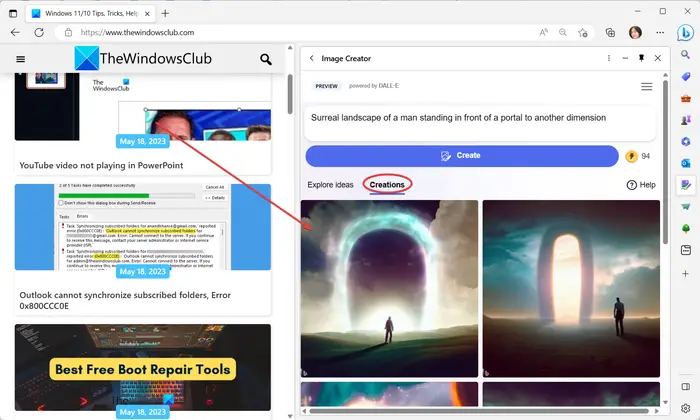 You will see multiple output images in the Creation tab.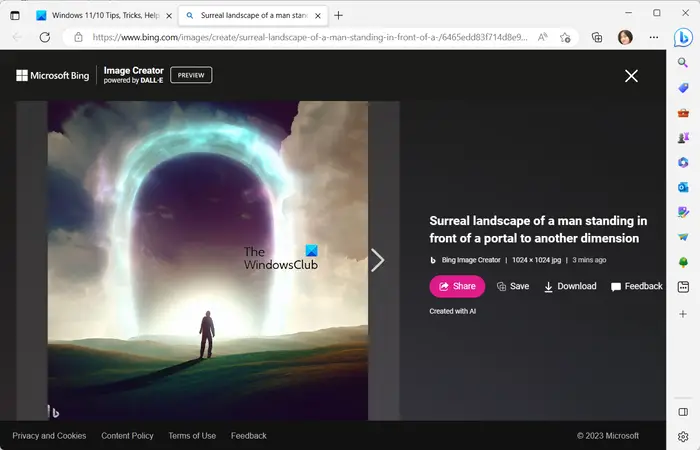 You can now click on one of the generated output images to preview it properly. It also lets you download the image in JPG format. Or, you can save the image online on your Bing account. You can also share the image using its URL.
Read: How to use Voice Typing in Microsoft Edge on Windows?
Explore ideas in Image Creator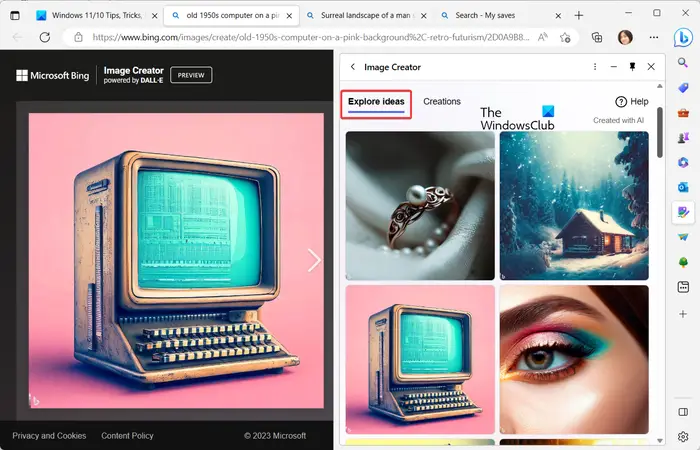 It also offers an Explore ideas feature to take a look at some sample images created with AI. You can click on any image, check its description, and share, save, or download the image if you want.
Use Boosts to speed up the image creation process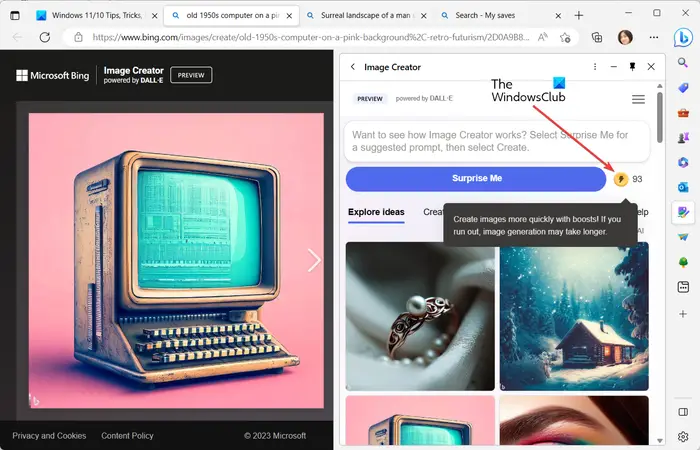 Image Creator has a handy feature called Boosts. It provides a number of Boosts that you can use to quickly generate images. However, the number of boosts is limited. So, use them when you really need them.
See: How to use Microsoft Edge Drop to Share files in Windows?
How to use Microsoft Designer in Microsoft Edge?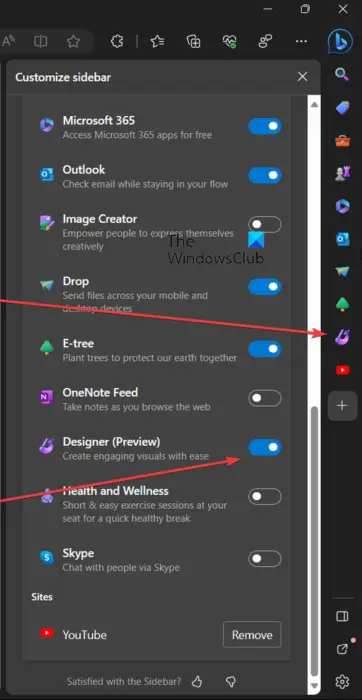 Microsoft Designer is an AI-powered design tool that is used for automatically creating images and templates. It is publicly available in preview mode and can be accessed by anyone on designer.microsoft.com. It is also to be integrated into Microsoft Edge. As of now, the tool is available to test in Microsoft Edge Canary.
You can download Microsoft Edge Canary from its website, and then install it on your system. Open the browser and you will see a Designer (Preview) icon in the sidebar. If the option is not present in the sidebar, click on the Customize sidebar (+) option and then switch on the toggle associated with the tool. You can then click on the Designer tool and start generating AI-powered images.
It lets you create new images just by entering a text describing the output image. You can even add images from your computer and redesign them. It provides a Customize design option that you can use to add customizations to generated images. Besides that, you can download a design image in PNG, JPG, or PDF format.
Can you use Bing image creator for commercial use?
Bing Image Creator is free to use for personal and commercial use as of now. However, to use more boosts, you need to buy them just like credits. Boosts enable you to generate AI images using Bing Image Creator quickly.
Now read: How to create realistic images using DALL-E-2 AI service?