Windows computers are simple, safe, and secure. They come with their built-in advanced security defenders making it easy for us to stay protected. I have been using my HP Windows laptop for the last 4 years and am totally satisfied and content with its performance. Today, in this post, I will be telling you about the HP JumpStart tool and how to use it. If you are an HP user, this post will certainly be helpful for you. HP JumpStart is a tool that helps you set up your new HP machine.
What is HP JumpStart?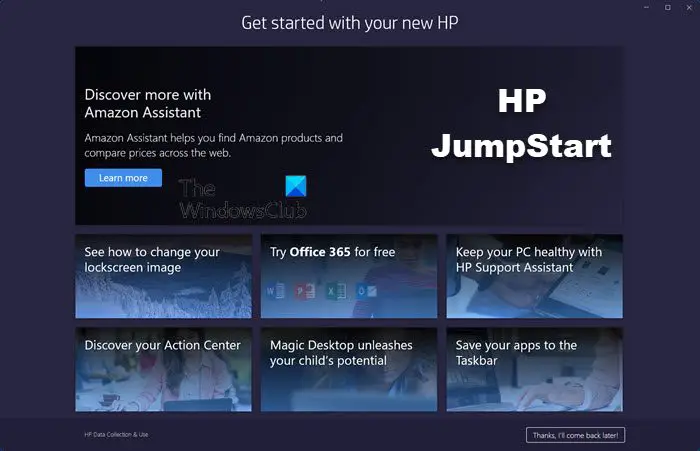 HP JumpStart is one of the pre-installed programs on all your HP PCs, notebooks, and laptops. Not every user notices it but HP Jump Start is a nice and simple tool that helps us run our PC smoothly. It is designed especially for the new computer users so that they can understand their machine and its usage. This HP Guide also helps us configure the setup on our new machine including add-ons that can improve our computing experience.
Apart from HP Jump Start, the other apps from HP are – HP Audio Control, HP ePrint SW, and HP Audio Switch.
How to use HP Jump Start on Windows computers
Open HP Jump Start
To open HP Jump Start on your Windows 11/10 PC, open the Search option and type HP. You will see all four HP tools installed on your PC. If you are wondering that, you never installed them, don't worry these tools come pre-installed with the Windows PCs. From the search results click on HP Jump Start to open it. You can also pin it to the Taskbar or Search. Alternatively, you can simply go to Start and look for the app HP Jump Start.
Once launched, you see the Welcome screen which fades away in a few seconds. Make sure that you have a secure and strong WiFi connection to make this app work.
Register with HP
Next comes the registration screen. Registration is not mandatory but it is recommended to register with HP to get better support and quicker service. There is a simple form, complete it and Register. Please note that the HP Jump Start app will not work if your connection is weak or their server is down. In both cases, the app will close automatically.
You get Dropbox storage!
Do you know that you get 25 GB of Dropbox storage with your new HP machine? In the third step, you need to sign in to the Dropbox account and make sure that your internet connection is working, otherwise, the Dropbox page won't work. If you don't already have a Dropbox account, you can create an account here, also you can skip this step if you want to.
Please note, that Dropbox is not available worldwide, so if you don't see the Dropbox screen after registration, probably it is not available in your country/region.
Want to register with McAfee?
Next comes the McAffe security program. It is not mandatory to register with McAfee but it is recommended. Fill in the details required and register with McAfee so that you can view and manage your account details and also access the downloads. You can of course skip this step for now and register later if you want.
Manage the Apps you want to install
Next comes the App Screen wherein you can select the apps you want to install on your PC. There are many useful apps listed here including WinZip, Pinterest, Amazon Music, Wikipedia, and many more. You simply need to select the apps and click on Continue & Install. Click on Done when all your selected apps are installed.
Click on Get More Apps to see more apps to check the other apps available.
Concierge Screen
Here you can learn a few more things about your HP PC and its customizations, like how to change the background of your desktop, your lock screen image, your profile picture, etc. Also, there are links for a One-touch speaker and microphone control, a guide on keyboard shortcuts, and extra support.
What is HP Jump Start and do I need it?
HP Jump Start is basically a guide for you to understand your HP machine better and make the best out of it. It gives you some simple guides and tutorials to set up your new HP PC. You don't really need it but it is helpful. It hardly takes any space on your PC – but if you wish, you can delete it.
Can I delete HP Support Assistant?
Yes, you can but it is not advised. HP Support Assistant is basically a troubleshooter and a firmware/driver updater for your PC. It optimizes your computer performance and detects and fixes the issues and bugs using diagnostic tools and utilities. While we recommend you keep it, you can delete it without facing any issues.