Typing emails every day is a task many of us tend to do, and for some, Gmail is at the center of it all. The big question right now is whether or not it is possible to type and send emails faster when using Gmail.
Type emails faster in Gmail with these built-in features
From our point of view, the answer to that is yes, and it has much to do with key features released by Google in the past. The tools on offer are quite effective, and to be frank, some of us at The Windows Club have made use of them quite often.
In this article, we are going to explain how to make use of them to type emails faster since a lot of people are now working from home, which might become normal in the years to come. Use the following features if you want to type emails faster in Gmail.
Stop typing and use Smart Replies
Use the Smart Compose tool
Take advantage of Templates
Let us talk about this in more detail.
1] Stop typing and use Smart Replies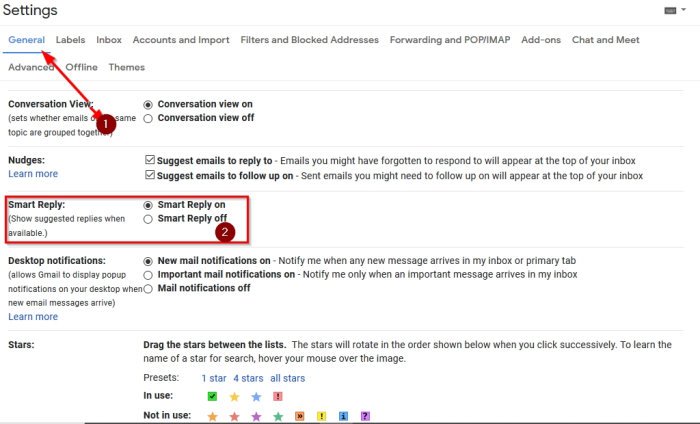 The article is centered around typing emails, so we know it will sound weird that we are here championing a tool that forgoes that altogether. You see, a lot of emails do not require an entire paragraph or more.
A few texts are all that is needed in some instances, and that is why the Smart Replies feature makes a lot of sense. You see, this option reads the email sent you and then recommends three responses. You will have the ability to choose from any one of the three.
If this feature is not turned on, then click on the Gear icon located at the top-right corner, then select See All Settings > General. Under the section that says Smart Reply, be sure to select Smart Reply On, and that's it.
Gmail will now display three response options, so just select the one that makes sense and send your email message when done.
2] Use the Smart Compose tool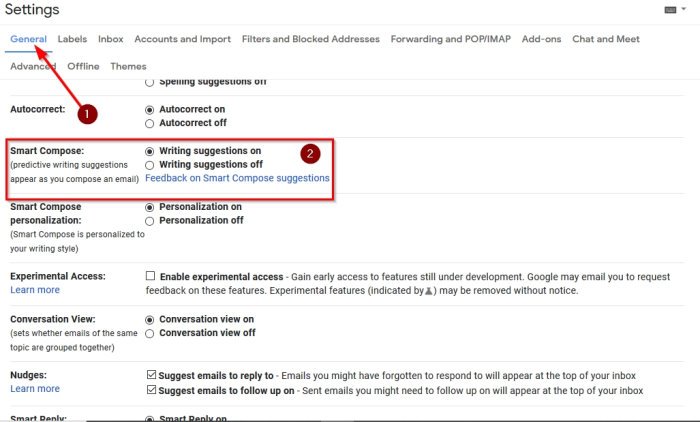 OK, so Gmail has an autocomplete tool built-in, and it is called Smart Compose. It's an interesting feature that reads your email, then attempts to predict what you're going to type. As you type, you see suggestions in real-time that you can choose to select or not.
If you are all about privacy, then we believe this feature might not be for you. For those who do not care, let us discuss how to activate it if it hasn't been already.
To enable Smart Compose, click on the Gear icon from within Gmail, then See All Settings. Under the General tab, scroll down to Smart Compose and be sure to select Writing Suggestions On. Finally, hit Save Changes, and that's it.
3] Take advantage of Templates
Did you know it is possible to use your most frequently sent messages with recurring emails? Yes, you can do this, but only via Templates.
Now, we should first enable Templates. To do this, click on the Gear icon, See All Settings > Advanced. Go to Templates and click Enable to activate this feature.
The next step, then, is to create a template. Click on the Compose button to create a new message. Type the subject but be sure to leave the Recipient area blank. Type your message, then click on the three-dotted button at the bottom.
Finally, click on Template > Save draft as template.
To load a saved template, just click on the three-dotted button again, go to Template, and select one from the list.
Read: Awesome Gmail address tricks to get more out of your email ID.