In Microsoft Office applications such as PowerPoint when we type text into placeholders, the text automatically adjusts its size to fit the placeholder. A feature called AutoFit shrinks the text as you type. However, if there's too much text included in your presentation then, the fonts appear too small to be visible to the audience. This can be a troubling experience for users who suffer from a decreased ability to see. So, if you would like to disable this Autofit feature, follow the instructions given below.
Disable Autofit automatic text resizing in PowerPoint
In PowerPoint, when you type more text than what can fit in the text box, the text shrinks automatically to fit the box. This feature, called Autofit. It is turned on by default in text placeholders and prevents text from being truncated.
Launch Microsoft Office PowerPoint application and go to the 'Insert' tab.
Select the 'Text box' button and draw the text box on the current slide.
Now, right-click inside the text box, and select 'Size and Position' option visible under the context menu.
The action when confirmed will open a menu bar on the right. Just expand the Text Box controls.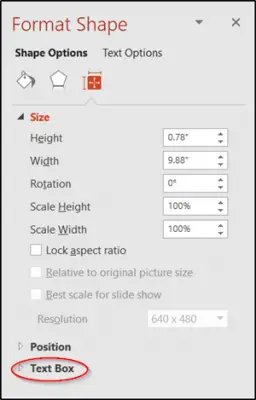 Select the 'Do not Autofit' option seen there.
When done, click inside the text box and type something you would like to add to the slide. You'll observe that the text that doesn't fit in the box will overflow when you continue to type. The text will still appear in the presentation, but your presentation will look distorted. So, make sure to edit it to fit before going live with the presentation.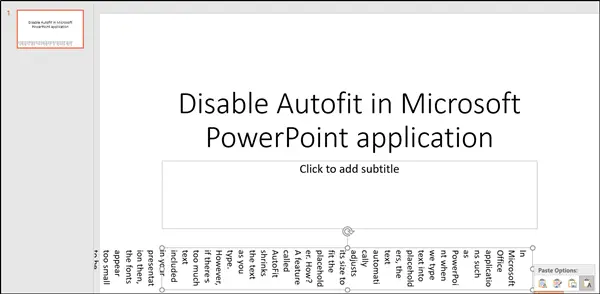 Do not Autofit option gives complete control over the location and size of your text boxes when the text does not fit automatically within the selected text box or placeholder. However, there are some other options that you can also make use of.
These include-
Shrink text on overflow – accommodates all the text by reducing the text's font size within the text box or placeholder.
Resize shape to fit text – Retains the text size but increases the size of the text box or placeholder so that the extra text can reflow itself within the resized text box or the placeholder.
Hope this helps!