What differentiates GOG Galaxy from other platforms is that it allows you to play an earlier version of the game. This capability is not supported on other gaming platforms. So, if you want to know how to revert or roll back to a previous old version of the game in GOG Galaxy, read the complete post.
How to rollback GOG Galaxy game to previous version
Following an update, if the game you are trying to play fails to launch, try rolling that GOG Galaxy game back to the previous version. However, if you want this feature to work with your game, make sure you do not unpublish any previous updates that have been published to the Master branch.
Launch GOG Galaxy on your PC.
Choose a game.
Click Customize.
Expand the Manage Installation heading to choose Configure option.
Under the Installation screen, uncheck the Automatically update to the newest version box.
Select the desired old version.
Please note that the option to revert to a previous version of the game in GOG Galaxy is not available with all games. Here's how you can check and switch back to the old version.
Go to GOG Galaxy launcher on a PC and select a game from the list.
Next, click the Customize icon located in the upper-right corner, just adjacent to the Play button.
Expand the Manage Installation side menu to select the Configure option.
When directed to a new Installation screen, scroll down to locate the Automatically update to the newest version option.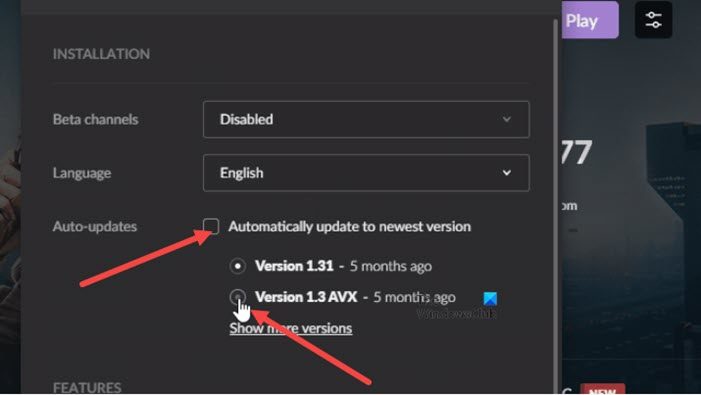 Uncheck the box next to this heading. Once done, the previous versions of the game should become visible to you.
Choose the desired version and press Ok to confirm the changes.
That's how you can downgrade games in GOG Galaxy.
Hope it helps!
How to connect Steam to GOG?
GOG Galaxy has rolled out a program called GOG Connect. It allows you to add DRM-free versions of some previously purchased Steam games to your GOG libraries without paying a dime. Simply install GOG Connect, connect your Steam account, and the app will handle the rest.
Is there a GOG launcher?
GOG Galaxy 2.0 is a unique concept of a PC games launcher. It allows you to arrange all your favorite games in one place. You can view it as a library system that stores all your games from GOG Galaxy and other platforms like Steam, Origin, UPlay, and Epic Store.