Windows 11 or Windows 10 allows you to add any drive or folder available on the network as a Network Drive. It makes it easy to access it instead of spending time going to the Network location and then accessing it. That said, once you are done with the network folders, it's best to remove them else; it only increases the time to access This PC. This post will guide on how to remove Network Drive on Windows 11/10.
How to remove Network Drive on Windows 11/10
There are multiple ways to remove a network drive. You can do that using the File Explorer or Command Prompt, and even Registry. The last method comes in handy only when you cannot remove it using the first two. It can happen if, for some reason, the network drive will not disconnect.
File Explorer
Command Prompt or Windows Terminal
Registry
Clear Mapped Network Drive Cache
You will need an admin account to execute some of these methods.
1] Remove Network Drive using File Explorer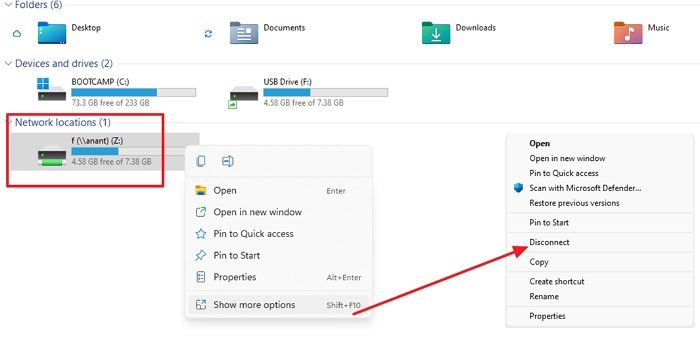 Open File Explorer
Click on This PC or Network
Right-click on the Network Drive you want to remove
Select Disconnect, and the network driver should disappear.
When doing this on Windows 11, you need to click on the Show More Options menu and choose disconnect.
2] Remove Network Drive using Windows Terminal or Command Prompt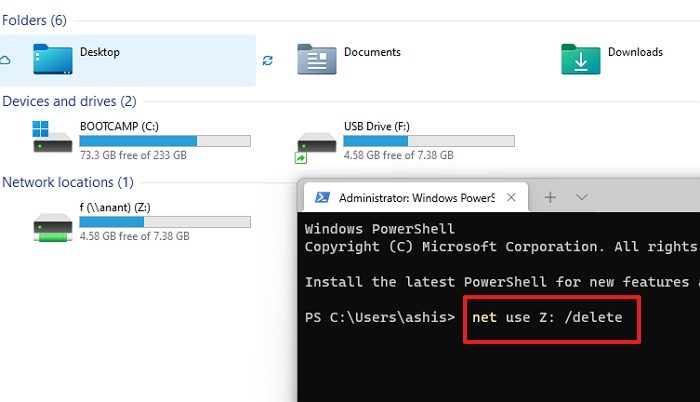 Open File Explorer and make a note of the drive letter you want to remove
Open Windows Terminal or Command Prompt with admin permission (Win + X)
Type the following command and execute it: net use Z: /delete
Check File Explorer and the mapped network should not be there anymore.
3] Remove Network Drive using Registry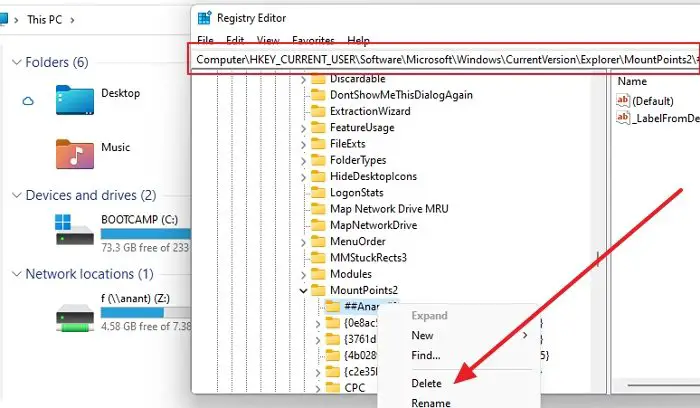 Before going ahead, make sure to either create a restore point or take a registry backup. If you accidentally delete something and the system becomes unusable, you can restore it to a working state.
Open Run prompt, and type regedit
Use Shift + Enter to launch the registry editor with admin permission
Navigate to the following path
HKEY_CURRENT_USER\Software\Microsoft\Windows\CurrentVersion\Explorer\MountPoints2
This place holds all the mapped network entries, and you need to locate the open you want to remove. It will be available as ##Server_Name#Share_Name, which in my case is ##Anant#f.
Please right-click on the folder, and delete it.
Choose Yes to confirm
Refresh File Explorer, and the network driver should not be there anymore.
4] Clear Mapped Network Drive Cache
Windows maintains a cache for all connected network drives. It allows the OS to load them quickly without waiting. Follow this guide to remove the mapped network drive cache and refresh everything.
I hope the post was easy to follow, and you were able to remove the network drive from your Windows 11/10 PC.
Read: Unable to map a Network drive.
How do I map a network drive in Windows?
Open File Explorer, go to This PC and click on the three-dot menu. Select the Map network drive option. It will open the selector window to select the drives available on the network.
How do I map a shared folder on your PC as Network Drive?
First, note the shared folder name, and then the name of your PC. Then follow the method to add a network drive and enter it in the following format: \\<PC-Name>\<Shared-Name>. Windows will add it as a network drive in This PC.
Read: Mapped network drives not working.
Mapped network drive fails to reconnect
If you cannot access the already mapped network drive, then first check if the drive is still available. If the shared access was removed, then the drive will not be able to reconnect. If it is there and you can see it on the Network, remove and re-add the network.