In many cases, it is important to remove metadata from Microsoft Excel spreadsheets, and that's because it includes identifying information that may include such things as your full name, initials, company name, hidden data in a cell, and much more. This is even more important if you're the type to share your Excel spreadsheet with the general public or with people at work. You may not want them to gain access to specified information, usually stored in the metadata area.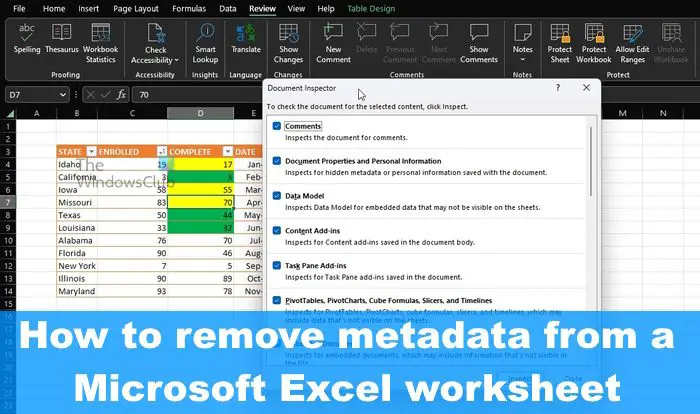 What is metadata in Excel?
Metadata in Microsoft Excel is not that different when compared to metadata elsewhere. It is details about a file that identifies or describes it. Metadata includes details such as the author's name, title, keywords, and subject that identify the topic or content related to a document.
How to remove Metadata from Excel spreadsheet
To remove Metadata and other hidden information from your Excel spreadsheet, follow the steps laid out here:
Open Microsoft Excel > File tab
Go to the Info section
Select Inspect Document
Choose the metadata to remove
Remove all or selected metadata from Excel.
The first thing you will want to do is to open a spreadsheet in Microsoft Excel.
From there, click on the File tab that is located at the top-left.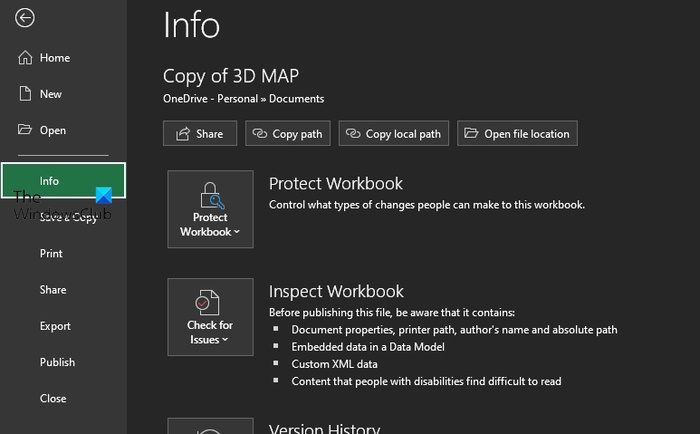 Next, please select Info from the left panel.
You should now be looking at some additional options.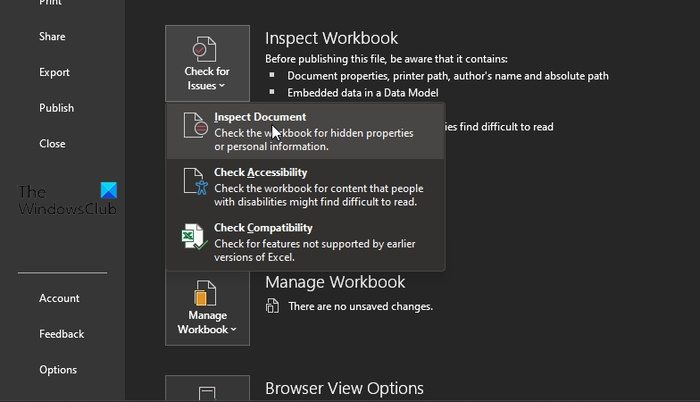 Once the Info area is selected, waste no time by clicking on Check for Issues.
A drop-down menu will appear right away.
From that menu, select Inspect Document.
If you've done everything right, then you should be looking at a list of metadata ready for removal. But before they can be removed, they must first be selected.
Check each box if you want to include all types of metadata.
After that, be sure to click Inspect.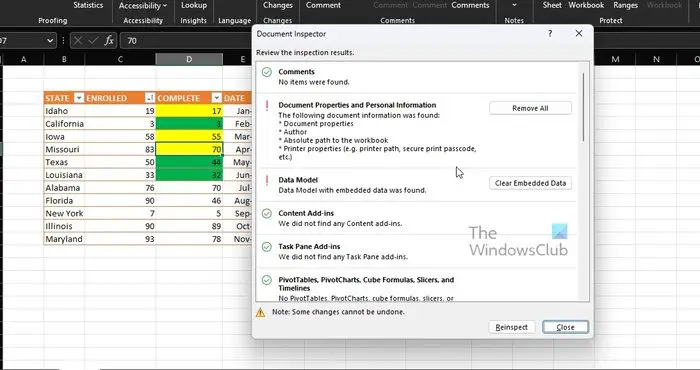 Finally, you must review the results of the inspection via the Document Inspect dialog box.
Click the button that reads Remove All that sits beside each metadata category to delete them from your Excel document, and that's it.
READ: How to Extract and Save PDF Metadata in Windows
How do I remove metadata from Excel on Mac?
First, you must open the file from which you want the metadata removed. From there, click on the Tools menu, then select Protected Document. After that, please click on the box next to Remove personal information from this file on save. Complete work on your document, then hit Save when done.
Can you remove metadata from a workbook?
Right-click and select the Properties option via the context menu. From there, you must switch to the Details tab, and be sure to click on 'Remove Properties and Personal Information' located at the bottom of the dialog window. Click on 'Remove the following properties from this file' to complete the task.