Many users have their work and personal account on the same PC. At some point, they want to remove one of them, use the second one, entirely remove an existing account and then add a new one. This post will share methods to remove an old Teams account from Windows PC.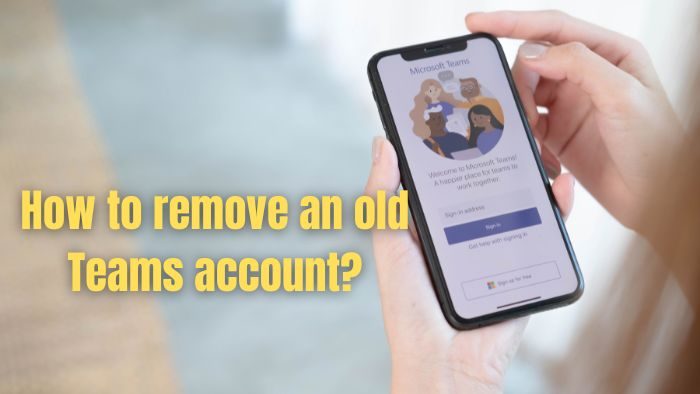 How to Remove an Old Teams Account?
There are two ways to remove an old Teams account from Windows PC. One is where the admin removes it from the company or school, and second, the user chooses to remove it themselves.
Remove the Account connected with School or Work
Sign out or remove a personal account from Microsoft Teams
1] Remove the Account connected with School or Work
To get this, you must ask your admin to do this. If you are confused about which organization is connected to your PC, the steps will help you fix the problem. Here are the following steps to find the organization and the steps the admin can take to remove your account.
Kindly sign in at http://account.activedirectory.windowsazure.com/ using your account.
Press your profile tile at the upper-right and pick your Org name under "ORGANIZATION".
Executing this will enable you to sign back into your org using the default admin account.
Post signing in, make a record of "admin@***.onmicrosoft.com" email ID. Ordinarily, the *** is supposed to be the Org name. Sign in to.office.com utilizing the mentioned admin@.***onmicrosoft.com account.
Ask the admin to sign into office.com, proceed to the Admin panel, and opt for Billing > Subscriptions > Cancel trial.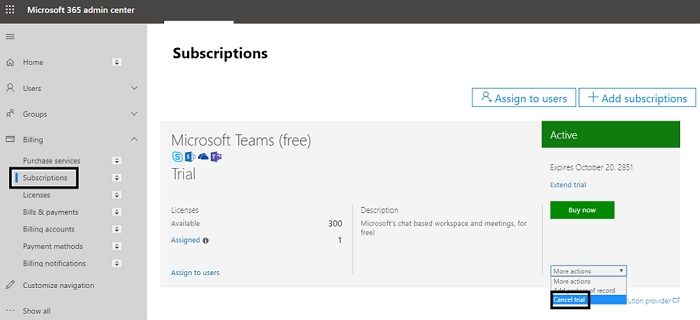 Note: If your account is not associated with any organization, you will get an access denied warning. Also, you must have admin rights to remove your account and login to the default admin account.
If you want to keep your subscription but don't use Teams, unassign the Teams license and follow the official Microsoft post here.
2] Sign out or remove an account from Microsoft Teams
If one can remove the account himself, then the steps are straightforward. However, you must remove the account from the PC and add your account to it. If you have both accounts included in the same PC, i.e., Personal and Professional, you can choose to remove the professional one from the PC.
Open Teams and then Signout off the Teams app
Select Start > Settings > Accounts

Email & accounts for personal
Access work or school for professional or school

Select Remove for personal and Disconnect for Work or School
So that was all for how to remove an old Teams account. Now go ahead and try out the above methods and see if they are any help to you. Also, if you get stuck at anything, comment below, and I will help you.
How do I delete the old Teams Channel?
Proceed to the desktop or web application to remove a channel. Adjacent to the channel title, choose Delete channel. It is important to note that the Team owners determine which team participants can eliminate and recover channels. Keep in mind with the removal of a channel, its whole discussion log disappears.
How do you delete a team with no owner?
Given that there's no leader for this particular team, you need to ask the administrator to remove it to eliminate it. The admin can go to the manage Teams page within the Microsoft Teams admin hub. Then choose the team you desire to eradicate and tap the Delete option to dispose of the team permanently.