If you are a heavy PC user, you might use RAR or archive files to store or keep your files organized. However, many of us often delete random RAR files that might contain important data. If you did the same, you might wonder how to recover deleted ZIP or RAR files from your PC.
Well, there are a handful number of methods that you can try to recover your deleted files that have a reasonable success rate. And in this article, we will look at a few such methods.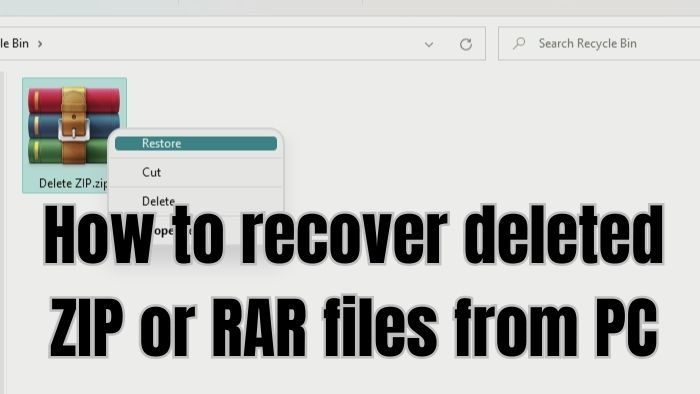 How to recover deleted ZIP or RAR files from PC?
When you delete something from your computer, there are numerous ways to recover the files. From being as simple as recovering the file from recycle bin or using recovery software. And here are all the methods we will be discussing in this article:
Recover from Recycle Bin
Use Recovery Software
File History
System Restore
You will need admin permission to execute some of the suggestions.
1]  Recover from Recycle Bin
If you have recently deleted your files, there is a good chance that you can still recover them via Recycle Bin.
However, many often use this shortcut – Shift + Delete to delete their files. This shortcut deletes the file permanently and cannot be recovered from the trash. So in case, if you use the standard delete method to delete your files, you still have a high chance of recovering your archive files. For this, follow the below steps:
Go to Windows search (Win + S)
Type Recycle Bin and click to launch when it appears.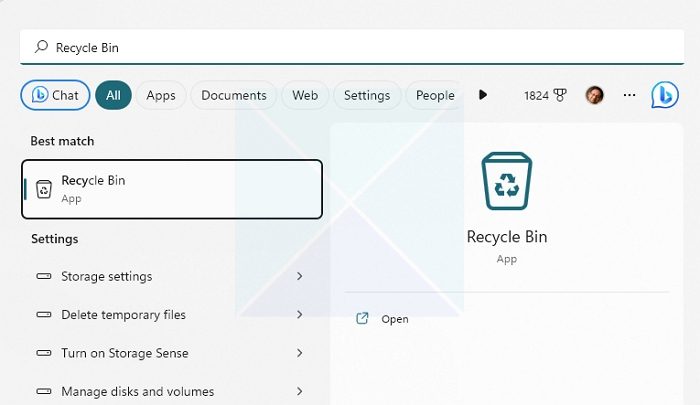 Now check your deleted files and see if it has the file you are looking for.
If you found the file, right-click on it and select Restore to recover the file.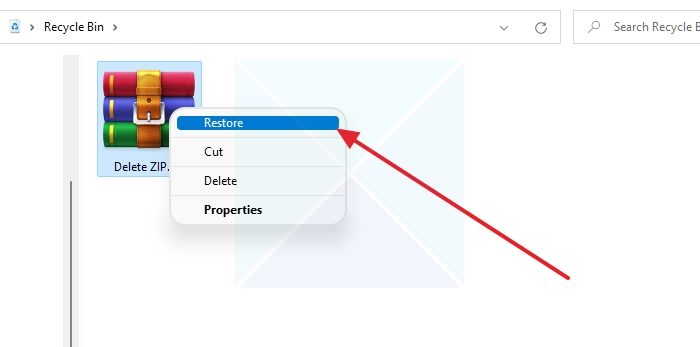 Note: Make sure to note down the file location, so you can find it easily after recovering it.
2] Use Recovery Software
One of the best ways to recover your deleted files would be to use data recovery software. Most modern-day data recovery tool can recover deleted files at a deeper level and supports a wide range of file formats.
However, you should use data recovery software soon to avoid significant data losses. The longer you wait, the lower the chances of recovering the files.
When Windows deletes the file, it only removes it from the index and is replaced when another file is placed in the exact location. As you keep using Windows, move files around; chances are the space will be overwritten. So it's best to act as soon as possible.
3] File History
File History is a feature in Windows that allows you to take automatic backups of files and restore them when required. It works by copying and storing your files on an external storage device such as an external hard drive, SSD, or flash drive.
However, it requires you first to configure File History. So it will automatically take snapshots of your files from time to time for specific files. So if you have it enabled and configured, follow the below steps to use it:
Makes sure the storage drive is connected to your PC.
Next, go to Windows search – type File History and launch it.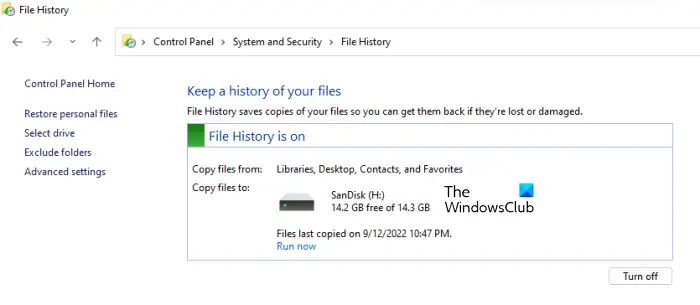 From the sidebar, click on Restore personal files.
Now a New window will open up displaying all the saved files.
Search and select the files you wish to recover and click on the Restore button.
Read: File History not working in Windows; Doesn't recognize this drive
4] System Restore
Lastly, you can try using System Restore to recover your deleted files. System restore is a built-in Windows feature that creates a snapshot of your PC's current state.
So you can later use it for tasks like recovering your computer, restoring the system's configuration and settings, and more. Also, it can backup System files and more.
If you have previously created a restore point, you can revert your PC's current state to the saved snapshot and access all your files.
However, the only drawback is that Windows doesn't create a restore point by default. Also, if you have created a restore point and choose to revert, your current saved data and other files will be removed. So consider taking a backup before proceeding ahead.
To continue, follow the below steps:
Go to Windows search, type create a restore point, and launch it when it appears in the result.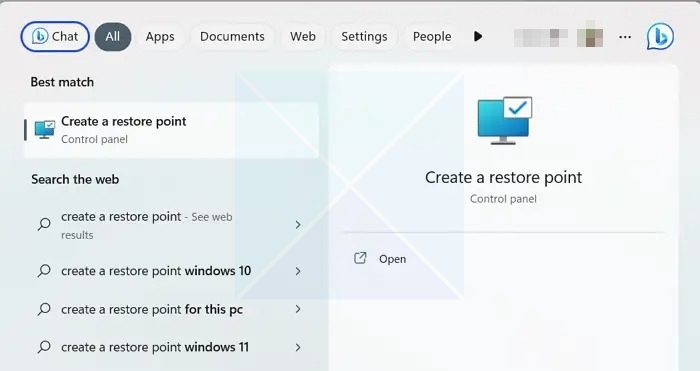 Under the System Protection tab, click on System Restore, and then click on the Next button.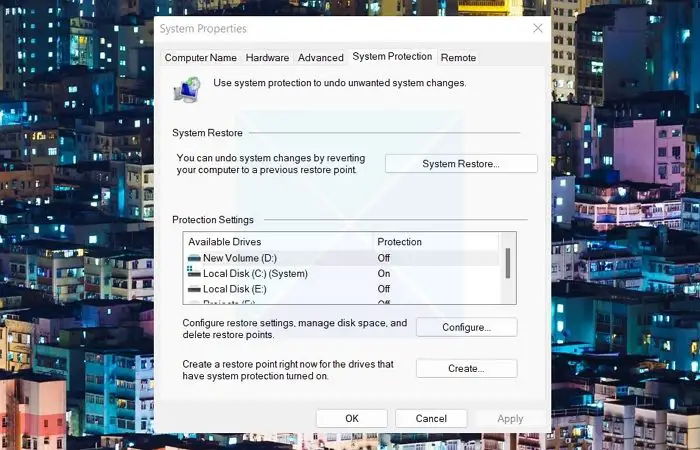 Now you will get to see your saved restore points. So select a restore point and click on Next.
Finally, click Finish to revert to the previous state of your Windows PC.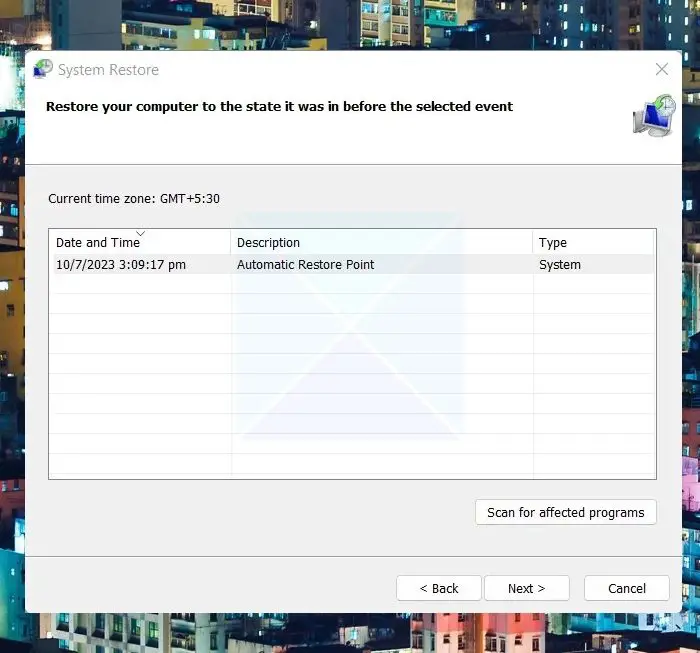 Read: System Restore not working, failed, or did not complete successfully in Windows.
Conclusion
So those were some of the ways to recover deleted ZIP or RAR files from a PC. Using data recovery software is the best solution if you don't have file history or System restore configured. So go ahead and try it out and see if it works out for you.
How can I recover a corrupted RAR file?
WinRAR offers a repair tool built into the software that can help you fix any corrupt archive file. You need to click the Tools menu at the toolbar and select Repair archive from the drop-down menu. Once you select the file, it will attempt to fix the file, which is usually related to the header.  Like any other tool, it has its limitation. So if the corruption is beyond a limit, it won't work.
Why are my RAR files always corrupt?
If files downloaded from a particular source are always corrupt, you should connect with the server admin and get it sorted. Chances are that the files are corrupt at the source. However, if it's happening for all the files, you need to check if your internet connection is stable.