Ext4 or Extended Files System version 4 is the file system for Linux. If you have a Windows 10 + Linux dual boot or have a hard drive formatted it in Ext4, how do you read in Windows 10? While Linux supports NTFS, Windows 10 doesn't offer any support for Ext4.  So the answer to the question can Windows 10 read ext4 is – No! But you can use third-party software to read ext4 on Windows 10.
Read Ext4 in Windows 10
Just before we start, make sure never to write anything to EXT4 drives from Windows. EXT formats have their way of journaling and writing files into the system. If you find a software that can do so, there is no guarantee that when you use it on a Linux system, they will be readable.
1] DiskInternals Linux Reader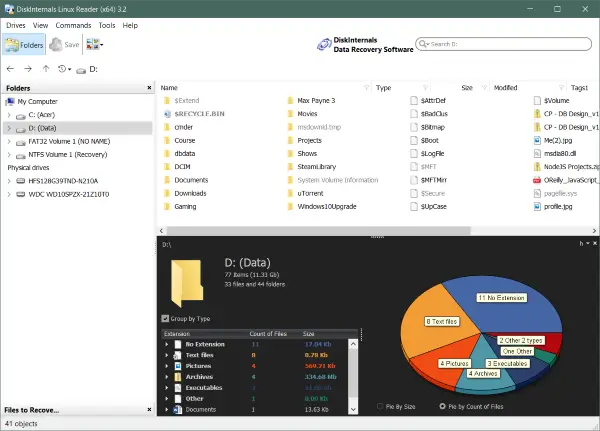 DiskInternals Linux Reader is free software that installs drivers that allows you to read Ext4 partitions from the File Explorer of Windows. It only supports reading, i.e., view and copy files and folders. When on Root, i.e., top folder, it will show you some stats like count of different types of data.
2] 7-Zip Archiver
If you have an image of EXT4, i.e., drive image or complete OS image, then you can use 7-Zip Archiver to read all the files inside it.
3] Ext2Read
Its a file explorer for Linux File system formats ( Ext2, Ext3, LVM2, Ext4). You can view, copy files and folders from Ext4 into Windows 10 partitions. Since it supports a recursive copy of files and folders, it makes it ideal when you want to copy a large number of files. It also supports LRU based block cache for faster concurrent access
If you have a dual boot system, it can access Linux partitions being in Windows. You can download it from here, but do note that the software hasn't been updated for long. But it is free and works.
Let us know if any of these tools helped you read and copy files from ext4 to a Windows drive.