Spotify comes with a built-in Sleep Timer feature that automatically stops playing music after the selected time period. And, in this tutorial, we will show you how to put and use Sleep Timer on Spotify. This feature works for both podcasts and music tracks. So, whether you've started a playlist or listening to some podcast, you can set a timer to decide for how long you want to play the music, and then it will be turned off automatically.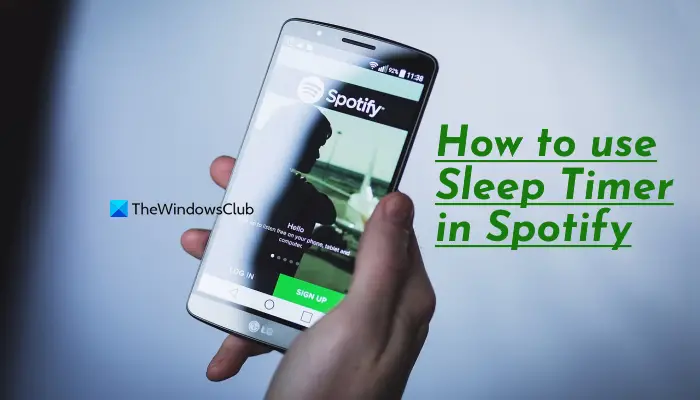 The Sleep Timer feature in Spotify can be set to 15 minutes, 45 minutes, End of track, 5 minutes, 10 minutes, 30 minutes, or 1 hour. Once the timer is set, you can also turn it off or change the timer in between music playing. You will also be able to check the remaining time before the music turns off.
The feature is pretty useful but Sleep Timer is available in Spotify mobile apps (Android, iPhone, and iPad also) and not Spotify Web Player and desktop apps. We might get such a feature in the future. But the good thing is if you switch music playing from your phone to your computer and the Sleep Timer feature is set and turned on, then the music play is stopped automatically on the desktop.
How to put and use Sleep Timer in Spotify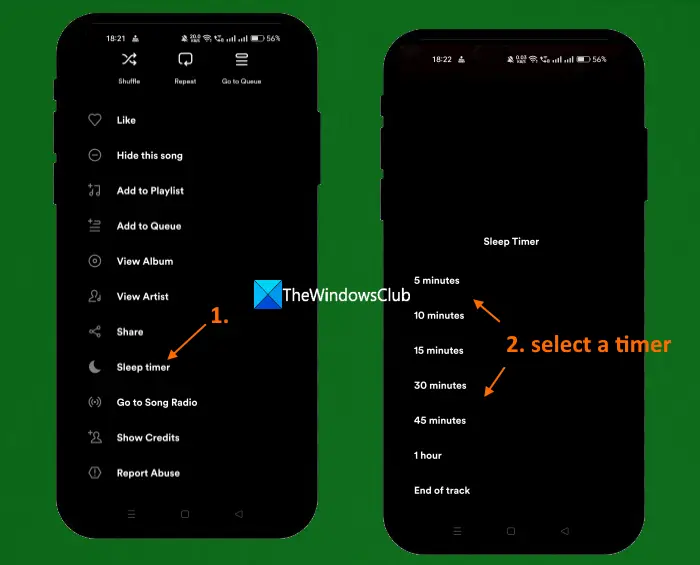 Here are the steps to use the Sleep Timer feature in Spotify mobile app:
Open the Spotify app on your mobile
Play a song or podcast from your playlist, an album, or anywhere you like
Tap on the Now Playing bar or banner available on the bottom part. It will be full-screen now
Tap on the three dots icon available in the top right corner of the Spotify app. If you are playing a Podcast, then you need to tap on the Moon icon available on the playback controls (on the right side) in the Now Playing screen
Scroll down and tap on the Sleep timer option
Select a timer (5 minutes, End of track, 1 hour, etc.) and then it will show a notification that Your sleep timer is set.
That's it! Now the music will be stopped automatically once the timer is over.
Related: How to see Lyrics on Spotify while playing a Song
You can use the above steps to set the Sleep Timer again, Turn off the timer or change the timer. All you need to do is access the Sleep timer option using the above-mentioned steps and all these options will be in front of you.
Hope this helps.
Also read: Spotify Desktop and Mobile not Synced
Spotify Sleep Timer not showing up
Spotify Sleep Timer doesn't visible on the Now Playing screen or any other area. It is visible only when you access the three dots menu from the Now Playing screen. There you will see a Sleep timer- 3 min left or 2 min left depending on the remaining time. Also, the timer doesn't display the remaining time in real-time. It changes automatically after every minute.
How do I set a sleep timer for Spotify on my laptop?
The Sleep Timer feature of Spotify is not available in its desktop apps or Spotify Web Player. So, you can't put a Sleep Timer on a laptop. Whether you are using the Spotify app on macOS or Windows, there is not any Sleep timer option. You can use Spotify mobile app for it though. The steps to set Sleep Timer, change Sleep Timer, or turn off the Sleep Timer in Spotify are covered in this post above. Check it out.
Read next: How to see Spotify listening history on Desktop and Website.