Minecraft Classic is available on the web for free through a supporting web browser. In this post, we explain how to play Classic Minecraft and what to expect.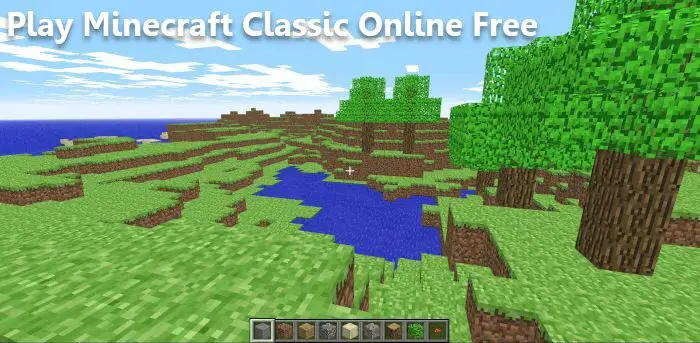 Minecraft despite being around for over a decade, is still one of the best video games out there. Back in 2019, the game celebrated its 10th anniversary, and with that, Mojang released a web version of Minecraft Classic for anyone to play without having to spend money. Yes, the game is free and there is no need to download files to your computer. Now, we should point out that Minecraft Classic has been around for quite some time for Windows, Mac, and Linux. Gamers had to install the Java tool in order to play the game, but this is not the case with the web version.
In this web version, you can play Minecraft Classic alone or with your friends, and start building or destroying the parts of the world presented in the game. The game mode is set to creative mode only and there are nine items in the inventory for each player. These items include leaves, gravel, plank, stone, sand, dirt, bedrock, mushroom, and log.
How to play Minecraft Classic online on the web free
To play Minecraft Classic online on the web for free on a Windows 11/10 system, you just need to access its homepage and proceed further. This is a simple thing to do because the most important aspect is having a supported web browser and a decent enough internet connection. You may also require a computer that is powerful enough to run Minecraft, but that shouldn't be too hard since the game isn't resource-hungry.
Navigate to the official website
Decide if you want to play with others
Pick a username
Start the game
How to play the game
What are some of the limitations faced by Minecraft Classic?
1] Navigate to the official website
The first thing to do here is to open the official webpage of Minecraft Classic. Right away the game will load all the necessary components for play.
2] Decide if you want to play with others
At the top, you should see a Copy button. Press it to copy a link that you can share with up to 9 friends.
3] Pick a username
You must now choose a username for yourself. Once you've done that, simply type the username into the relevant box.
4] Start the game
Finally, click on the Start button, and right away you'll be able to play Minecraft Classic from within your web browser.
5] How to play the game
The controls are not hard, at least from our point of view. If you want to mine and place blocks, then press the left-click button on your mouse. Toggle between the two by pressing the right-click key on the mouse.
In terms of moving forward, backward left, and right, you will have to use the typical WASD keys on the keyboard for this to happen.
For those who want to launch the Game Menu, simply press the Escape key on your keyboard. From there, you will see the Options menu that allows the player to turn on and off various settings. The important settings are:
Turn on or off the music
Show/hide FPS on the game screen. FPS is visible on the top right part if enabled
Toggle sound
Set Render distance to TINY, NORMAL, FAR, or SHORT. It will also show a preview of the selected render distance behind the Options menu or in the background. So you will easily come to know which render distance would be fine for you
Invert mouse
Set Controls: You can change keys for Left move, Forward, Back, Right, Jump, Build, Toggle fog, Save location, Chat, and Load location. Click on the Controls button visible under the Options menu and then you can set controls.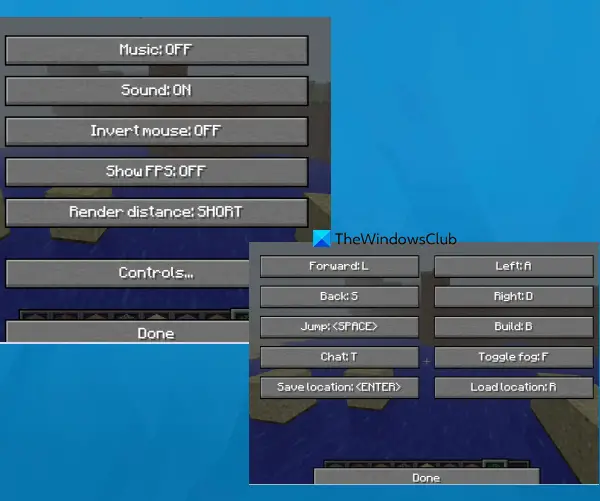 Press the Done button to save the changes and start playing the game.
6] What are some of the limitations faced by Minecraft Classic?
One should bear in mind that Minecraft Classic is based on old code from 2009, which means, it is nowhere on the level of the current Minecraft of today. The controls are clunky, there are only 32 blocks to play around with, and the many bugs are still rampant.
Additionally, there is only a single Game Mode in the form of the Creative Mode, so if you are the type of person who enjoys Survival, well, Minecraft Classic on the web is not for you.
Read: Minecraft LAN games not working or showing up
How do I play classic Minecraft on my browser?
The official web version of Minecraft Classic is available to access and play for free for everyone. You can play it on any modern web browser (like Chrome, Firefox, Edge, etc.) on a Windows 11/10 computer or another device. Just open its homepage and start the game. But, do note that this game requires a keyboard. So, if you will try to open it on a smartphone, you will get a message Please try again on another device, unless you turn on the Desktop site option on the web browser on your smartphone.
Is Minecraft Classic free?
Yes, it is free to play but will only work in a modern web browser. So, the likes of Microsoft Edge, Mozilla Firefox, Google Chrome, Brave, Opera, and others, should have no problems running the game.
Is Minecraft OK for a 7-year-old?
The game is rated at 7+, so yes, a 7-year-old child can play Minecraft without angering their parents because it does not contain realistic-looking violence toward fantasy characters.