Playing games on Steam requires an internet connection, or so one thinks! But it is possible to play Steam video games offline. It is not a straightforward affair because there are a few things you should consider first.
Most gamers on Steam have no idea that playing their favorite titles offline is a thing. It's not a feature that is regularly discussed, so we can understand why it isn't used more often.
What is the Offline mode in Steam?
Typically, one can play a game offline whenever one wants. If there is no internet connection, well, no problem. Just fire up the game and have a lot of fun until the internet problems have been solved. But that is not the case with Steam, at least initially. With Steam offline mode, you must be connected to the internet before enabling offline mode.
How to play games without internet with Steam offline mode
To play games without the internet with Steam offline mode you must first prepare your Steam account for this, and then enable the feature. Let's talk about this in more detail
Prepare Steam for offline play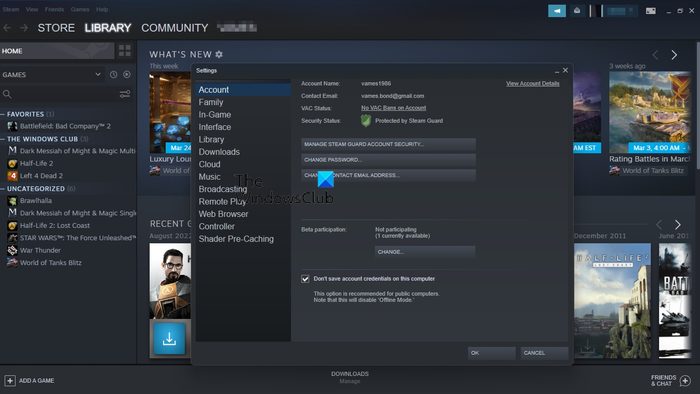 You cannot open Steam properly without an internet connection and begin your offline gaming process. There are some things you should do first, so let us explain.
With an active internet connection, please open the Steam app.
Go to Steam, then navigate to Settings.
Select the Account option from the menu.
You must now uncheck Don't save account credentials on this computer.
If this feature is checked, then playing offline is impossible.
Click on the OK button.
Look to the main Steam window and select Downloads.
If there are pending downloads, please clear them up. The download queue should be cleared 100 percent.
Turn on Steam Offline mode
With the preparation completed, it's now time to enable the Offline Mode in Steam.
Do this by returning to the main Steam window.
Go to Steam, then select Go Offline.
A message will appear that explains what you're about to do.
Click on the button that reads, Enter Offline Mode.
That's it, you've just turned on Offline Mode in Steam. You can go ahead and play any game as long as they do not require a constant internet connection to work or an external launcher.
READ: Best free Strategy games on Steam
Can you play offline with no Internet?
Most launchers, such as Steam, have an offline mode that works really well. Once enabled, you can play your games offline, but if some titles require an internet connection constantly, then you won't be able to play offline at all.
How to appear offline on Steam?
From the tabbed area, please click on the Friends tab. You should now see a context menu with a bunch of options. Please select Invisible to appear offline or click on Offline to go offline 100 percent.