VMDK, VHDX, and VHD are file formats of Virtual drives. They are unique and unlike other files, you can not just double-click on them to open the file. This is a complete guide on how to open VMDK, VHDX, VHD files in Windows 11/10.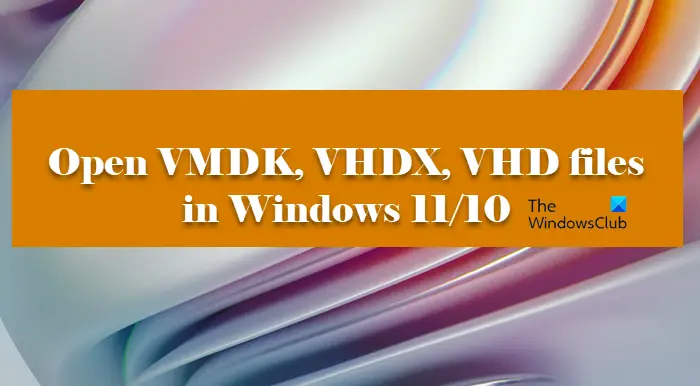 What are VMDK, VHDX, and VHD files?
VHD or Virtual Hard Disk is a file format that is used to represent Virtual Drives. It is similar to the hard drive present on your system as it contains all the data and structural elements. It acts like a disk that you can easily access from File Explorer but will be stored on a physical hard drive.
VHDX or Virtual Hard Disk v2 is an advanced version of Virtual Hard Disk. The major difference between the two formats is that, unlike VHD, these files can hold more than 2040 GB, as their limit is 64 TB. However, VHDX is not supported on all the versions of Windows, you need to have Windows 8 or above to use this file format.
VMDK or Virtual Machine Disk was created by VMWare for Virtual Machines. However, they can be used on Oracle VirtualBox, VMWare, and other virtualization software. As the name implies, they are used in a virtual environment.
VHD and VHDX are used interchangeably, but one is more advanced than the other, VMDK on the other hand is different from the two.
Mount and/or Open VMDK, VHDX, VHD files in Windows 11/10
Now that you know what these files are, we are going to see how to open VMDK, VHDX, VHD files on your computer.
Open VHD or VHDX files in Windows
The method to open VHD and VHDX files are the same, but to check VMDK, you need to use a different procedure. To open Virtual Hard Drive files, you first need to mount and then open them, follow the given steps to do the same.
Open Disk Management by searching from the Start Menu or by Win + X > Disk Management.
Click Action > Attach VHD.
Click Browse and search out VHD or VHDX file.
Once you open the files, a new drive will be created.
You will be able to see that newly created drive under This PC > Devices and drives.
Read: How to create and set up new VHD or VHDX File in Windows
Open VMDK files in Windows
Now, we need to open VMDK aka Virtual Machine Disk file. There are various methods to do the same, it can be opened with almost any Virtual Machine software. In this guide, we are going to see how to do VMDK on the following machines.
Oracle VirtualBox
VMWare Workstation
Let us hop into it.
1] Oracle VirtualBox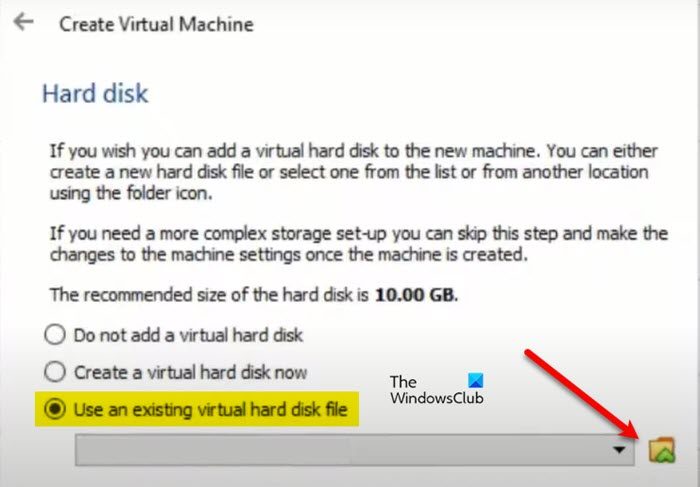 VMDK format was introduced by VMWare but it works on pretty much all the VM software. First up, we are going to see how to do the same on VirtualBox. Follow the given steps to open the Virtual Machine Disk file on VirtualBox.
Open VirtualBox.
Click on New.
Give it, set the platform, select where you want the machine to be stored and click Next.
Now, select Use an existing virtual hard disk file and click on the Browse button.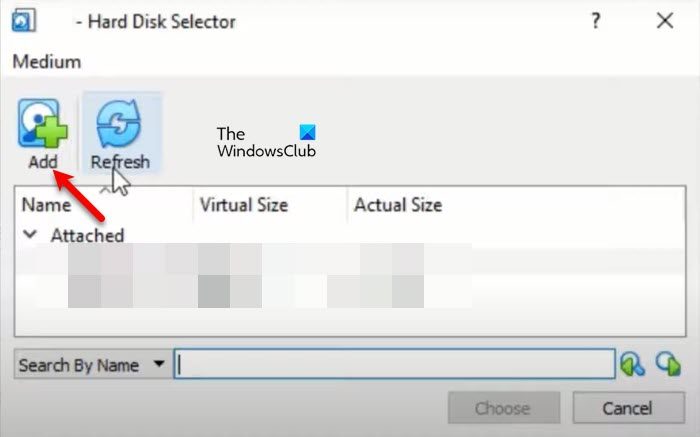 Click Add.
Go to the location where you have stored the file and open it.
Select the file again in Hard Disk Selector and click Choose.
Click Create > Start.
Hopefully, this will work for you.
2] VMWare Workstation
To open VMWare Workstation, follow the given steps.
Open the app.
Follow the normal procedure to create a virtual machine, that is, by following the on-screen instruction.
Once you have created the machine, and are on the OS installation page, click on Edit virtual machine setting.
Select your Hard Disk and click Remove.
Click Add > Hard Disk > Next > SCSI > Next.
Select the Use an existing virtual disk option and click Next.
Click Browse, go to the location where you have stored the file and open it.
Now, click Power on the virtual machine.
That's it!
Read: How to convert VHD to VHDX using Hyper-V Manager
How do I mount a VHDX file in Windows 11?
VHDX files can be easily mounted using the Disk Management utility. It is a pre-installed Windows program used to maintain the drives of a system. From here you can not only mount or demount your VHDX and VHD files but can also take care of other disks as well. You can merge, extend, or shrink any drive other than the one on which your OS is installed.