Despite all the problems the Twitter, or X social media platform is going through right now, it is still the best of its kind, and as such, you must learn how to block, mute, or report Twitter users because bad actors aren't going anywhere.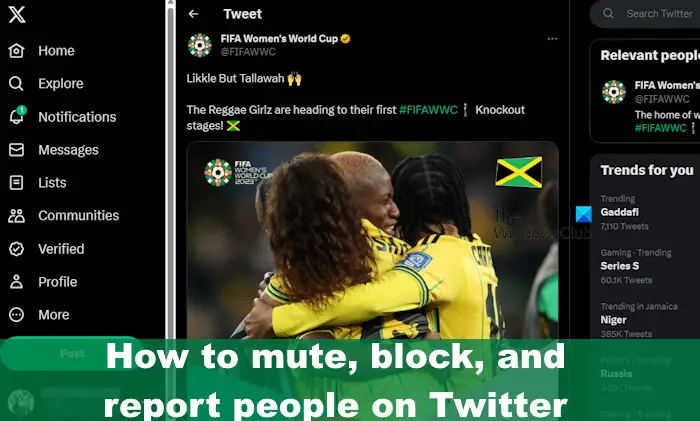 You see, social media is filled with folks who cause problems, and Twitter is no different. The problem is, freedom of speech on a platform such as Twitter can be annoying for some users. The administrator team on Twitter is not as trigger-happy when compared to the previous one, and that's not a bad thing because you also have some freedoms of your own.
All you have to do is block people who annoy you. And if you feel they've said things that are completely out of the ordinary, then report them and move on.
How to block users on Twitter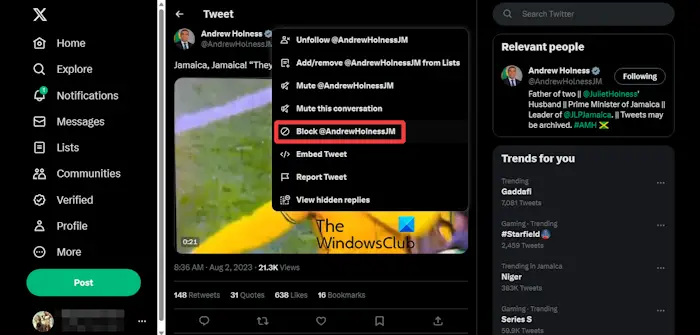 The first thing you will want to do here is to log into Twitter. This can be done via any supported web browser.
First, open your web browser, then navigate directly to Twitter.com.
If you have not yet signed in, then you'll be asked to do so.
Type your username followed by your password, then hit the Enter key.
Right away you should now be logged into Twitter.
The next step here is to find the Block button and click on it.
You can do this by first locating the user you wish to block.
Once found, go ahead and click on the three-dotted button.
A drop-down menu will appear.
From that menu, please click the option that reads, Block, and that's it.
Related: How to Block and Unblock an Account on Twitter
How to Mute an account on Twitter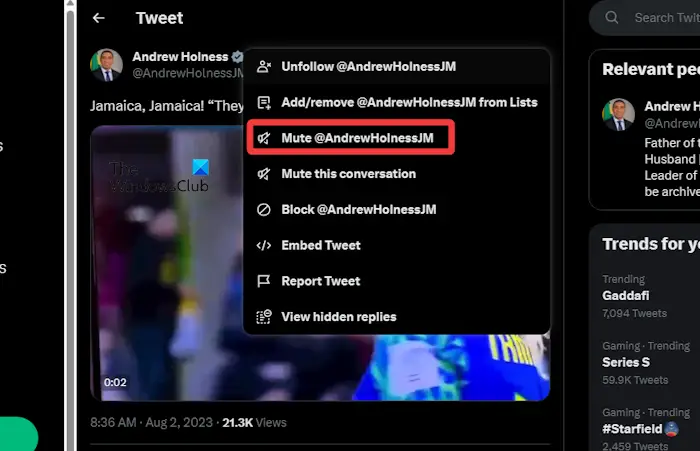 Muting a user on Twitter is not the same as blocking. You see when a person is muted, their tweets are hidden from you on the timeline and via mentions. Still, these users will still be able to follow your account and see all your tweets, mentions, and direct messages.
A person usually uses the Mute option if a particular Twitter user tweets more often than most.
To mute someone, find their account page.
From there, click on the three-dotted menu button.
This will reveal a dropdown menu.
From that menu, click on the Mute option.
Going forward until changes are made, you will no longer see new tweets from the user you've muted.
How to report a user on Twitter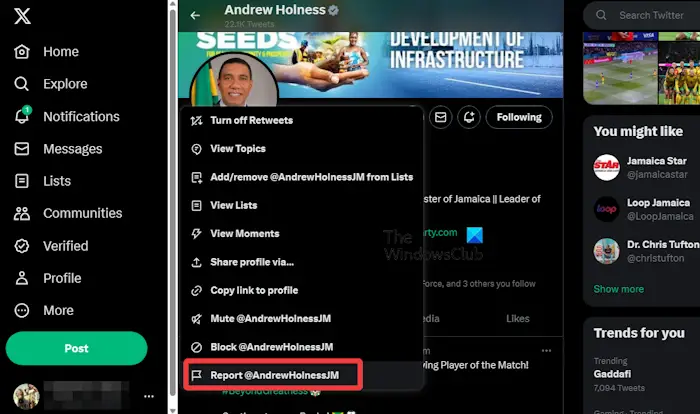 Reporting a person on Twitter is just as easy as taking advantage of the Block and Mute features.
All you have to do here is visit the official Twitter page of the person you want to report.
Click on the three-dotted button, and from the dropdown menu you will see Report.
Click on it, then select Start Report.
Go through the process of making the report by answering the questions provided, and that's it.
Read: How to remove Followers on Facebook, Twitter, and Instagram
Can you tell if someone muted you on Twitter?
At the moment it is not possible to tell if a person has muted you on Twitter. That's because the platform does not provide an official way to find out, and chances are, this will never change. So, if you feel you've been muted, just move on and forget about it.
What happens when you report a user on Twitter?
When you submit a report on a Twitter user, you will see a confirmation message alerting you that Twitter admins have received your message. Bear in mind it may take up to 24 before a response is sent your way, and that's because the Twitter team must review the reported account for discrepancies.