Bethesda has announced that they will be discontinuing the Launcher and moving all of their titles to Steam in the coming months. As a Bethesda fan, you might be a little disappointed, but we have got you covered. In this blog, we will walk you through the steps to continue playing your Bethesda games on Steam. You need to migrate Bethesda Launcher Games to Steam to do so and in this guide, we will discuss the same.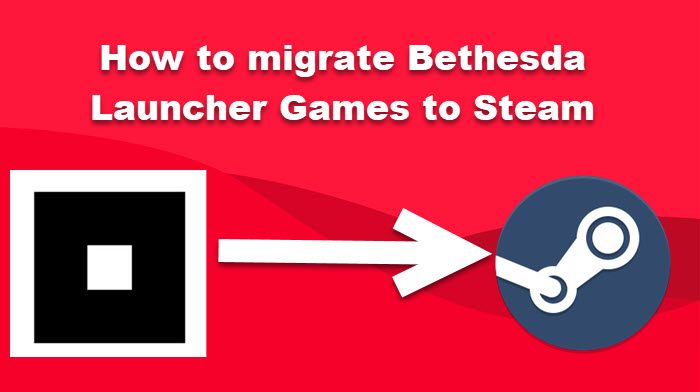 Migrate Bethesda Launcher Games to Steam
You can manually Migrate Bethesda Launcher Games to Steam, and this has been made possible after recent news Bethesda Launcher will be discontinued from May 11th. To make sure that you can run the games that you brought, this arrangement came into existence.
Here are the steps you must take to import Bethesda games into your Steam account:
To access your Bethesda account, please visit their website, i.e, bethesda.net.
To transfer your account, select the account name placed in the top-right and click on "Transfer Library"
Follow the on-screen prompts to link your Steam account.
Select the "Start Steam transfer" option.
You must hold off until the migration is successful.
Once this procedure has begun, it cannot be stopped.
Your transferred items will be shown on the page shortly.
The amount of time needed to complete the transfer will increase with the number of games being moved.
When you migrate Bethesda games, what happens to your saved data?
All of your games and downloadable content, as well as any in-game currency, such as Atoms for Fallout 76, will be transferred to your new account. Saving progress and game data, however, is a matter that varies every game. Keep in mind that saving data varies from game to game. There are a few games where your progress won't move over immediately. The technique for transferring saved data from one game to another might vary widely. In the case of certain games, you may discover that your save data has been transferred along with the game itself; however, for the vast majority of games, saved data would be left in its previous location on your pc. After transferring games to Steam, you may be required to rearrange where your saved data files are stored manually.
How do I transfer from Bethesda launcher to Steam?
It is pretty simple to transfer Bethesda Launcher's game to Steam; you need to log in to Bethesda, apply for transfer to the whole library, and then link to Steam. This will allow you to transfer games you brought and installed on Bethesda to run with a Steam account.
Read: How to take screenshots on Steam in Windows, macOS, and Linux.