Millions of people use Reddit daily, so what can you do to protect your personal information from prying eyes? Well, you must keep your Reddit account private to block users from accessing your private information. There are a few ways to ensure other users cannot see things they are not supposed to.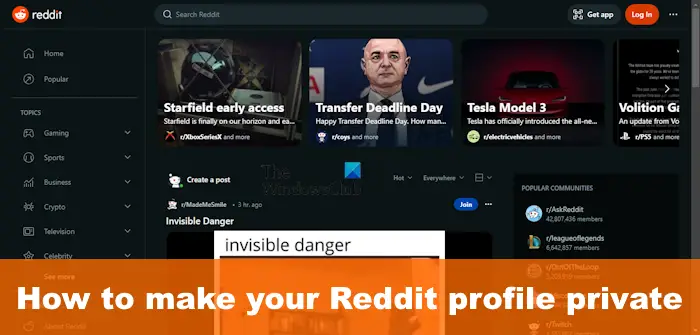 Reddit does not have a private feature for accounts
Unlike other platforms such as Twitter (X), Steam, Facebook, and Instagram, where there is a simple way to privatize user accounts, Reddit doesn't have this, which means, your profile is always visible to all members of the platform.
Luckily, there are workarounds we can take advantage of to hide some information, and we will talk about that today.
How to keep Reddit account private
The best way to make your profile private on Reddit is to disable Content Visibility and Show Active Communities. Whenever you turn off Content Visibility, the platform will stop showing our profile in /users, and your posts in r/all. As for Show Active Communities, when turned off, Reddit will not showcase communities you're a part of on your profile page.
Make your Reddit account private on PC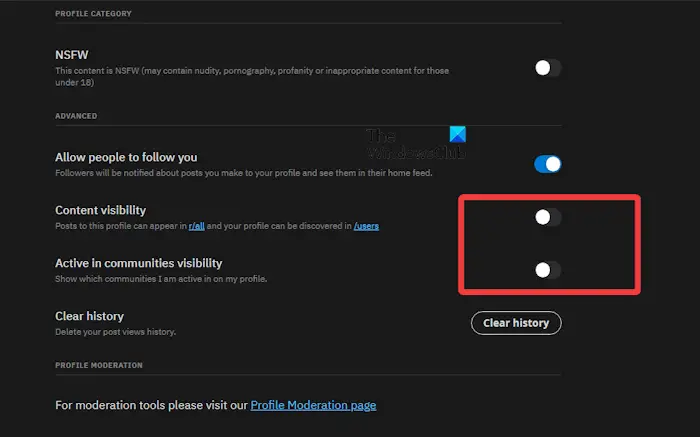 Open your favorite web browser and navigate to Reddit.com.
Sign in with your official account if you haven't done so already.
Click on your profile icon, then select Profile.
When the profile area loads, click the gear icon from the right side.
This will bring you to the User Settings page.
From here, you can turn off both Active in Communities, and Content Visibility.
Your changes will be saved automatically.
READ: How to mute or leave Reddit community
Make Reddit profile private using Mobile
When it comes down to getting the job done on an iPhone or Android device via the Reddit app, the task is simple, so let us explain what must be done.
To begin, please launch the Reddit app on your phone.
Go to the top-right corner of the app.
Tap on the profile icon, then select My Profile.
Next, you need to choose Edit, then from the Edit Profile page, toggle off both Show Active Communities and Content Visibility.
Hit the Save button, and that's it.
READ: How to delete Reddit History on PC or Mobile
Can people see your Reddit history?
People are not able to see your Reddit history, but they are able to see if you've logged into the platform, but never about the type of pages you visit.
Read: How to mute or leave Reddit community
Does Reddit have an incognito mode?
Yes, Reddit does such a mode known as Anonymous browsing. This makes it possible for users to browse without worrying about your personal information being used by Reddit to aid in recommendations.