As a regular user of Reddit, or just someone who uses the platform once in a while, there may come a time when you feel the need to delete your Reddit history. But we are not talking about deleting history from your web browser, but rather from within Reddit itself.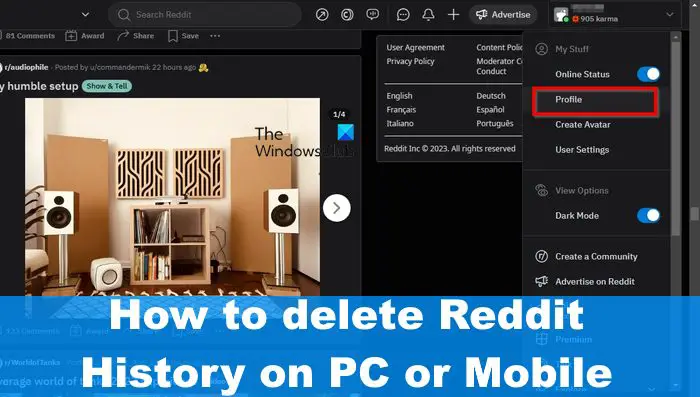 Now, for many users, the primary reason for wanting to delete their Reddit history is all about privacy. While the popular social media platform is great where anonymity and privacy are concerned, it does store data relating to your actions.
But that's not a huge problem since the history can be deleted with just a few clicks of the mouse or taps on your screen.
How to delete your Reddit history on the web and mobile
Deleting your history on Reddit is an easy task. The user simply needs to visit the website, or open the app, and then find their way to the Overview page.
Delete Reddit history on PC
The first thing we're going to do here is t explain how to delete your Reddit history via a Windows computer.
Open your favorite web browser.
Any modern web browser will work so it doesn't matter if you do not have a favorite.
Next, please visit the official Reddit.com website.
Log in to your account if you haven't already.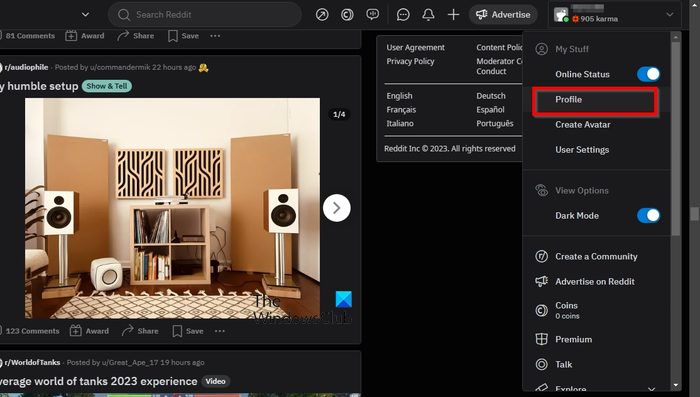 Navigate to your Profile by clicking on the Avatar icon, then select Profile via the dropdown menu.
You will then be directed to the Overview page.
From this page, you should come across all the posts, comments, and other things you've done on Reddit.
Go to a post or comment and click on the three-dotted button.
A dropdown list will appear.
From that list, click on Delete.
Select Delete again from the confirmation box to have the comment or post removed from history.
Repeat these steps for all posts or comments you want to be removed from your Reddit history for good.
Delete Reddit history from Android phone
Folks who use the Reddit app on Android must also learn how to delete history stored on the platform, so let us discuss that right now.
Open the Reddit app.
We suspect you're already signed in, so choose the Profile icon.
Select the History option right away.
Tap the three-dotted button at the top-right section of the screen.
Choose the option that reads, Clear History.
Delete Reddit history from an iPhone
Open the Reddit app promptly.
Choose the Avatar or Profile icon.
Navigate to the Settings area.
Scroll down and select Clear local history.
You can find it under Advanced.
When the confirmation prompt pops up, please select Clear local history again to confirm your decision.
How to clear Search history on Reddit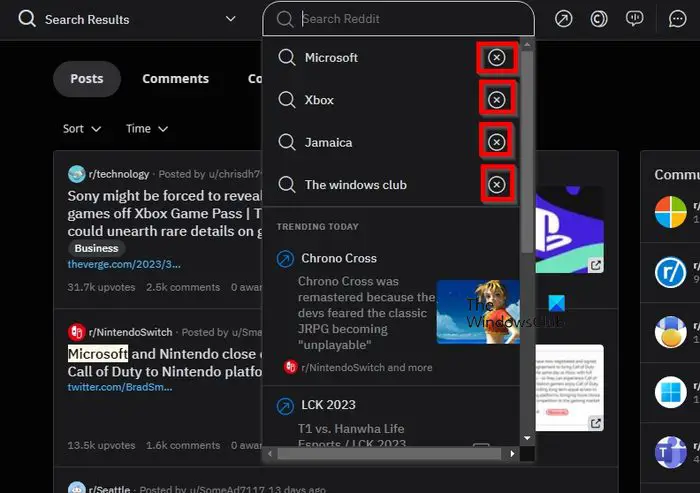 Regular users tend to search Reddit more often than not, but chances are, some of your search queries are a bit outside of the ordinary. No one should gaze upon your Reddit search query, so let us explain how to fix such a problem.
Open your web browser on your computer.
Navigate to the official website.
Alternatively, you can open the app on your smart device.
Click or press within the Search box.
You will see a list containing your search history.
Select the X button next to the queries one after the other to have them deleted for good.
READ: How to search through Reddit in the most efficient way
How do I view my Reddit history?
Visit the website then click on your profile picture. From there, select Profile from the dropdown menu, then ensure Overview is chosen from the newly loaded page. You should now be looking at your history.
Does Reddit anonymous browsing save history?
When you're browsing Reddit via Anonymous Browsing, the platform will not save your browsing or search history. So if you are concerned about what is stored on Reddit servers, then anonymous browsing is the way to go.