The Spotify app is perfect for those who love to listen to music. Not to mention, the service is free, but only to a certain degree. If you want the full experience then prepare to spend some money, though luckily the monthly cost is not expensive. Now, after listening to tons of music for some time, you might feel the need to shut down Spotify and log out from all devices. The question is, how is this done? Logging out of a single account is one thing, but disconnecting all connected devices is something else altogether.
How to log out of all Spotify accounts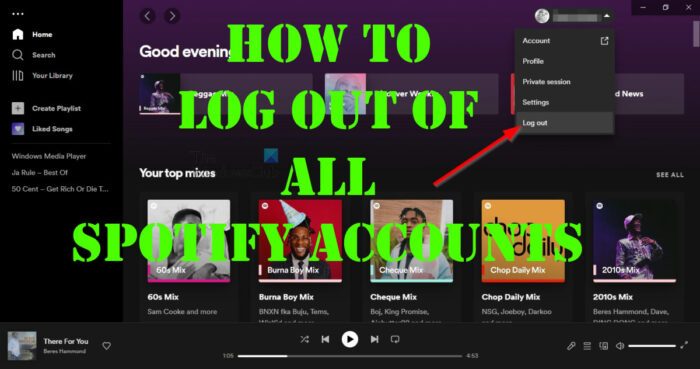 We should note that it is good practice to sign out of all devices you're no longer using, especially if it's a device you no longer have access to. We will explain how to do it under different scenarios.
Log out of the Spotify desktop and web player
First, we are going to discuss how to log out of Spotify via the desktop app and the web player.
Open the Spotify app on your computer or the web player via your favorite web browser.
From there, click on your profile name at the top-right of the app.
Select Log out from the dropdown menu, and that's it.
Log out from Spotify on mobile devices
If you're the type of person who uses a smartphone or a tablet more often than a desktop computer, then you should learn how to log out of Spotify just the same.
Open the Spotify app.
Tap the Home button.
Next, you must select Settings.
Scroll down to the very bottom.
Finally, tap on Log out and that's it, you're done.
As you can see, that is quite easy, and probably easier than originally expected.
Log out from all Spotify-connected devices at once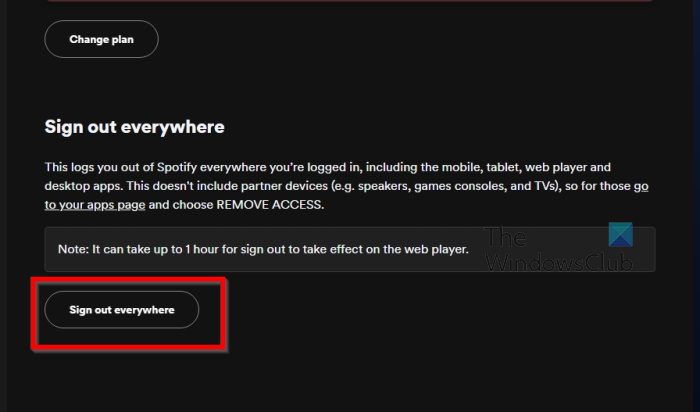 Finally, it is now time to discuss how to log out of all devices at the same time. Bear in mind this method does not include partner devices such as game consoles, speakers, and TVs.
Navigate to open.Spotify.com.
Log in if you haven't already.
After that, click on your profile in the top-right section of the page.
A drop-down menu will appear.
Click on Account via the menu.
Scroll down to the very bottom of the page.
Finally, click on the Sign out everywhere button.
Log out of Spotify on partner devices
If you want to log out of partner devices, then simply follow the steps laid out before you below.
Open your favorite web browser.
Navigate to the your apps page.
Click on REMOVE ACCESS.
It could take up to 1 hour for all your partner devices to be disconnected from the Spotify network.
Read: Spotify Desktop and Mobile not Synced
Can 2 people use the same Spotify account?
At the moment, two people cannot use a free-tier Spotify account, but if you pay $12 per month for the Spotify Premium Duo tier, then you can do just that. Just ensure you and the other person are living at the same home address.
How many logins can you have on Spotify?
You can have many log-ins on Spotify but bear in mind that while it is possible to download songs on up to 5 devices for offline use, only a maximum of three devices can listen to music offline.
Can I log out of Spotify on all devices?
Yes, the folks at Spotify made it possible for users to log out of all devices at the same time. Simply log in to your account, then select SIGN OUT EVERYWHERE, and that's it.
Why did Spotify log out of my device?
If for some reason Spotify logs your device out of the platform, then chances are that the device is facing issues. Now, if you are being constantly logged out each time you try, then maybe the Spotify platform is down and all you have to do here is wait.
How do I kick people off my Spotify duo?
Folks who no longer want to share their Spotify Duo account with a particular individual can remove that person. Simply navigate to your Spotify account page, then select Spotify Premium Duo. Under the section that reads, People on This Plan, you can remove or invite people.