Want to sign out of all sessions in Minecraft at once? Contrary to popular belief, there is a way to log yourself out of all Minecraft sessions from all your devices. This is not a feature provided by Minecraft, but it is one provided by Microsoft. For this solution to work, you will need the services of a mobile or desktop web browser. In this article, we will discuss it from the point of view of using a desktop web browser, so please bear that in mind, always.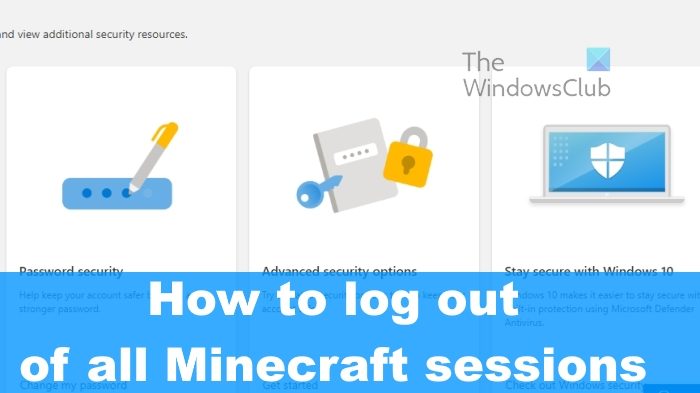 How to log out of all Minecraft sessions
If you are looking to close all Minecraft sessions where your Microsoft account is used to log-in, then follow these simple steps:
Open the web browser
Load the Microsoft Account website
Go to My Microsoft Account
Select Advanced Security Options
Sign Out of all Minecraft sessions
1] Open the web browser
The first thing you must do here is to fire up the web browser. After that, we can move ahead to the other steps.
Open the web browser via the desktop or the taskbar.
Alternatively, you can find a shortcut to the browser via the Apps menu.
2] Load the Microsoft Account website
The next thing you will want to do here is to launch the official Microsoft account website.
In order to get there, please visit the following URL: account.microsoft.com
You also have the option to search for Microsoft Account via your favorite search engine.
Click on the relevant link from the search results.
3] Go to My Microsoft Account
Once you loaded up the official home page, you must find your way to the My Microsoft Account area.
Do this by signing in with your Microsoft Account.
If you are asked to sign in with a PIN, please type the numbers.
The homepage should now be visible.
Click on your profile photo.
Select My Microsoft Account from the dropdown menu.
A new tab should appear right away.
4] Select Advanced Security Options
The next stop here is to find your way to Advanced Security Options. As expected, this is not a difficult task, so let us look at how to get it done.
From the My Microsoft Account section, click on the Security category from the top of the page.
Next, you are required to select Advanced Security Options.
A new area will appear that showcases security and privacy options that make it difficult for bad actors to control your Microsoft account.
5] Sign Out of all Minecraft sessions
Finally, it is time to sign out of all Minecraft sessions, no matter which computer system, console, or smartphone the game is being operated from. Let us look at how to get this done quickly.
After you've visited the Advanced Security Options area, please scroll down to the bottom of the page and click on Sign me out.
You will be automatically signed out of all web browsers, apps, and anywhere else your account is used to sign in, as possible, within 24 hours.
For those using an Xbox, prepare to receive a code to your email, text, or authenticator app.
Check now to see if you've signed out of all sessions relating to Minecraft.
This should happen as long as you have signed in originally with a Microsoft account.
READ: Minecraft Forge installer not opening or working in Windows 11
What is Minecraft Now?
For those who are wondering, Minecraft Now is a series of live streams that are produced by the developers of Minecraft, Mojang Studios. This series usually focuses on the development of the popular game, alongside the showcasing of community creations and much more.
How do you completely log out of Minecraft?
To completely log out of Minecraft account, you need to open the browser and log in to your Microsoft account first. Then, go to the Advanced Security option where the Minecraft account is visible. Following that, you can click on the respective option to sign out of all Minecraft sessions at once.