This post will show you how to install Windows on SSD and everything else on HDD. Since SSDs offer significantly faster performance than traditional HDDs, installing the Windows operating system on an SSD is advantageous. Doing so will result in faster game launches and a seamless overall experience.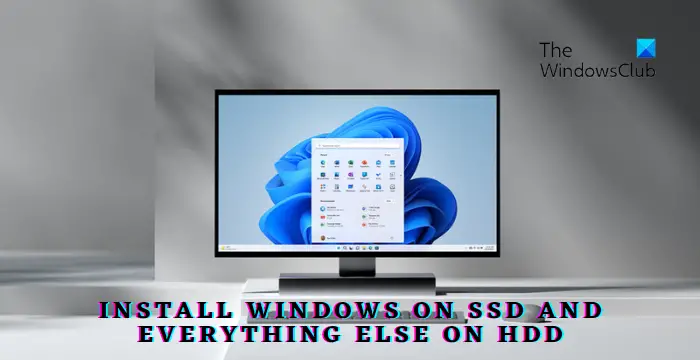 How to install Windows on SSD and everything else on HDD?
Follow these steps to install Windows on an SSD while storing all media on HDD:
Installing Windows 11 on SSD
Before starting, ensure the SSD, HDD, and Bootable media are properly plugged into your PC.
Now, press the power key of your PC and long-press the designated button to open the BIOS.
Select the Bootable Media with Windows as the primary boot device in the Boot menu.
The Windows installer will now load; choose your language, time, etc.
Next, click on Install now and accept the license terms.

The installation type screen will now appear; select Custom: Install Windows only (advanced).

A list of all the connected drives will now appear; select the SSD in which the OS will be installed.

Click on Next, and Windows will begin installing on the SSD.
Once the installation is complete, Windows will boot from the SSD.
Using HDD Storage for Everything Else
Now that Windows is installed in the SSD boot into it.
Once your device boots, open File Explorer and locate the HDD.
You can create new folders or use existing ones to organize your files on the HDD.
Next, change the default storage location of all system folders.
To do so, right-click on all the folders one-by-one and select Properties.
In the Properties window, navigate to the Location tab and click Move.

Choose the folder on the HDD where you want to store files for that specific system folder.
And, Voila, it's done. All the media, files, documents, etc., will now be saved on the HDD.
Read: How to create Windows 11 bootable installation media using Media Creation Tool
I hope this helps.
How do I install Windows on a SSD instead of HDD?
To set up Windows on an SSD instead of HDD, connect the SSD and a bootable USB drive with the Windows installation files. Boot your PC with the USB drive as the primary storage, select the SSD when prompted, and follow the instructions on-screen.
Is it OK to use SSD and HDD together?
Yes, it is absolutely fine to use SSD and HDD together. This is because SSDs can be used to install the operating system as they offer faster read/write speeds and responsiveness. Whereas HDDs offer high storage capacity at an affordable price.