If you need to display a dynamic chart in a spreadsheet, you can convert the data to the table and insert the chart afterward. It is straightforward to insert a Dynamic Chart in Excel, and you do not need to take the help of third-party software to get the job done.
What is a Dynamic Chart
A dynamic chart is such a chart that fetches data from new cells automatically. When you insert a chart by clicking the respective option in Microsoft Excel, it uses a fixed range of cells. In other words, it doesn't display new entry automatically, whereas a dynamic chart does it fluently.
No matter how many cells you add, even after inserting the chart, it will gather information from those selected columns and show the graph accordingly. You can add as many rows as you want, but it is not recommended to add additional columns after inserting a dynamic chart in Excel.
How to insert a Dynamic Chart in Excel spreadsheet
To insert a Dynamic Chart in an Excel spreadsheet, follow these steps-
Open the spreadsheet or create a new one.
Select all the data that you want to convert into a chart.
Go to Insert > Table.
Confirm the range in Create Table window.
Again, select the same rows and columns.
Go to Insert and add a chart.
So first, you need to convert the data into a table. Otherwise, your chart cannot recognize new data.
For that, open the spreadsheet where all the data in already written or create a new file. After opening, select all rows and columns that you want to convert into a chart. Following that, go to Insert tab and click the Table button.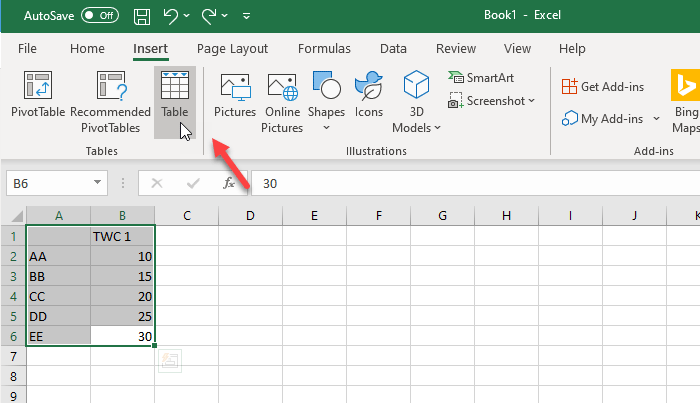 It will show the range of cells so that you can confirm. If you select the data correctly, you can click the OK button. It will transform the whole data into a table. If the spreadsheet data is still selected, you can insert a chart using the usual method. However, if the data or newly created table is not selected, you need to do that before heading to the Charts section.
For your information, you can add any kind of chart with the data – Bar chart, Line or Area chart, Statistic chart, etc.
To confirm where it is a dynamic chart or a fixed (standard) chart, you can enter new data at the bottom of existing columns. Your graph should be updated automatically.
I hope this simple tutorial was easy to follow.
Read next: How to make a smooth curved graph in Excel and Google Sheets