Wondering how to get Apple Calendar on Windows PC is something that many device users struggle with. The fact is that Apple has policies that don't give much freedom to integrate their apps with those of their competitors. However, there has been some leniency from Apple in recent years to allow Microsoft users to enjoy some applications on their Windows PC. Very few users know about this, which is why this article will dig deep into how to get Apple Calendar on Windows PC.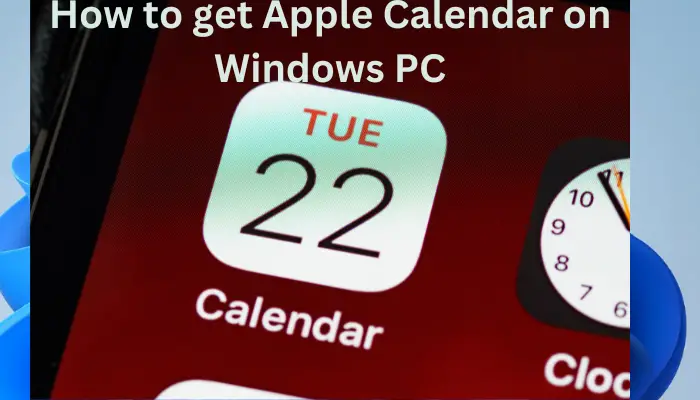 Windows users can now sync iCloud photos, Safari bookmarks, mail, and calendars, thanks to Apple's iCloud app for Windows PC. The hard part, there is no conventional way to get Apple Calendar on Windows PC. The easy part, there are several ways you can hack this, and that's what we're about to get down to.
How to get Apple Calendar on Windows PC
Accessing Apple Calendar on Windows PCs is not a straightforward method. However, once it's done, you can access Apple Calendar through Windows apps like Mail, Outlook, and Calendar. Here is how to get Apple Calendar on a Windows PC:
Download and Install the iCloud app for desktop
Synchronize using Windows Settings
Sign in on the iCloud web app
Let's now look into each in detail.
1] Download and install the iCloud desktop app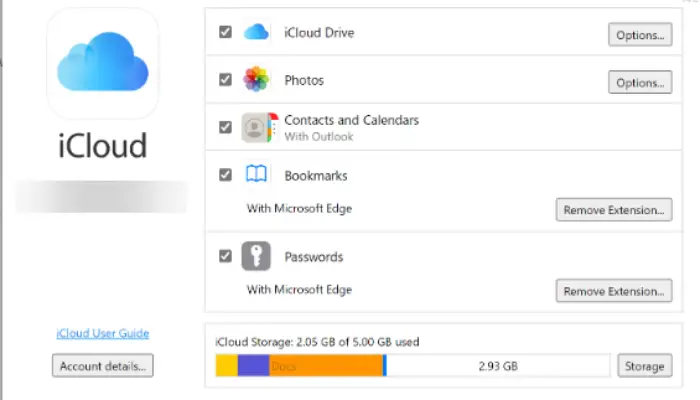 iPhone users who want to use a Windows PC can use the iCloud Windows software to sync Mail, iCloud photos, Calendar, and much more. Follow the steps below to install the iCloud app for Windows.
Head to the Microsoft Store and search for the iCloud app, then click on the Get button.
Once you download the app, add all the required details.
You will a prompt to sync Photos, Mail, Calendar, Bookmarks, and iCloud drive. Check the boxes next to all those options.
Choose Apply to synchronize the Apple Calendar with Windows.
Next, go to the Outlook app on your Windows PC. Head to the Calendar which is located at the bottom menu
You will see a checkbox next to iCloud. Check the box to get Apple Calendar on Windows.
2] Synchronize using Windows settings

Windows has the option to add third-party accounts to your PC and sync them. You can do this to add your iCloud account on Windows in the Settings window. Your Calendar will be automatically added. Here's how to use Windows Settings to sync your iCloud Calendar:
Open Windows Settings by pressing Win + I, or by typing Settings in the search box, then select the first search results.
Go to Accounts and hit on the Email & accounts option.
On the left side, click on the Add an account tab.
A new window will open. From the list, you will see iCloud at the bottom, click it.
Fill in all the required credentials, and click Sign in.
You will now click Done to confirm your details.
Go to the Calendar app and choose to Get started.
You will see a checkbox next to iCloud. Check it to start viewing iCloud Calendar on the Windows Calendar app.
Related: How to import Apple Contacts to Windows PC
3] Sign in on the iCloud web app
It's possible to access your iCloud using Windows on your browser. To access iCloud Calendar on your Windows browser, follow the steps below.
Go to the official iCloud website in your web browser. Fill in all the iCloud sign-in credentials and click Sign in.
Within the window, choose Calendar to view it from your Windows PC. You can update it from there, as well.
Let us know if any of the above methods worked for you.
Read: How to get iMessage on Windows PC
How do I show my calendar on my laptop screen?
To show your calendar app on your Windows PC, you will need to create a shortcut. Enter the command shell:startup by pressing Win+R. This will open the startup folder. You can either copy and paste or drag and drop the calendar shortcut into the folder. That's it; you are done.
Can I sync my iPhone Calendar with my PC Calendar?
To sync your iPhone Calendar with your PC calendar, download and install iCloud for Windows on your PC. Sign in with Apple ID credentials and click the checkboxes against all options to sync. To finish the process, click Apply. This will enable you to sync calendars across all your Apple gadgets signed in with the same details.