PS4 comes with limited storage of 1TB. Although, 1TB of storage is good enough for storing a few games. Some gamers don't like deleting their games to install new ones. Hence, going with an external drive for PS4 is the only solution. However, the problem arises when you wish to use your PS4's external storage drive with your Windows computer, as you have to format the drive beforehand. So the question is, how to format ps4 hard drive for Windows 11/10?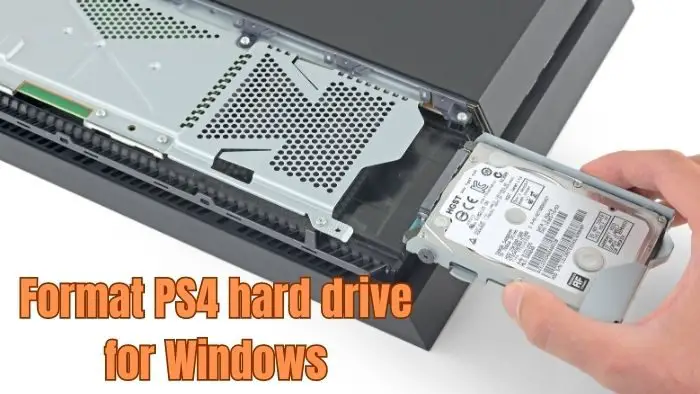 Which is the best File System Format for Windows?
Windows mainly uses two file system formats: NTFS (New Technology File System) & FAT32 (File Allocation Table 32).
NTFS:

 NTFS is the most common file system in modern Windows operating systems. And it has many advantages like support for large file sizes, improved security through file and folder permission, better file compression, etc.

FAT32: FAT32 seems a bit outdated in front of NTFS. As it supports smaller file sizes of up to 4GB. Also, it doesn't have the security and other features that NTFS has. But FAT32 is compatible with other operating systems like macOS and Linux. Also, it is a universally supported file system.
In Summary: If you wish to transfer files between Windows to Windows or use an external drive for only Windows computers, go with NTFS. But if you use your external storage device with multiple devices using different Operating systems, go with FAT32.
Which is the Best File System Format for PS4?
Your PS4 gaming console only supports two file system formats: FAT32 and exFAT. Both these file systems have their pros and cons, and here is a quick explanation of the same:
FAT32: This is a compatible file system format with a maximum file size limit of 4GB. So if you wish to store large-sized games, which is quite common in PS4, FAT32 won't be a good fit.
exFAT: exFAT file system supports large file sizes, and it is recommended for you to use it if you are storing files anything over 4GB. Also, you will enjoy better compatibility and more flexibility in file management.
In summary: If your primary goal is to store games on an external drive, use the exFAT file system format. If you wish to use your external storage drive on both PS4 and Windows, go with the FAT32 file system.
How to Format PS4 Hard Drive for Windows 11/10?
I assume you have bought a new hard drive for PS4, and you want to use the old one with Windows. Since PlayStation uses its own encrypted file system for hard drives, you cannot simply plug it into a Windows PC and format it.  You must delete the complete file system on the drive, recreate the partitions and then use it on Windows PC.
We will be using Window's inbuilt Disk Management tool to format:
Press the Windows key + X to launch the quick menu.
Go to Disk Management and identify the PS4 Storage.
The storage will have blue and black volumes. Right-click on the blue volumes and choose to Delete Volume. Confirm the warning prompt when it shows up.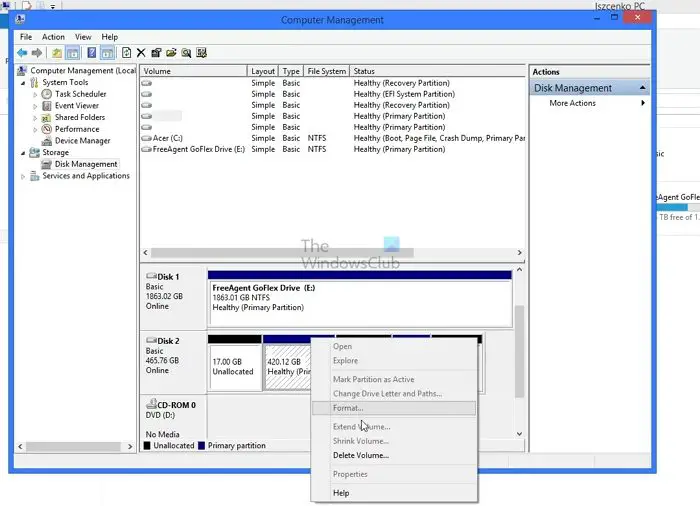 Keep repeating unless all the blue labeled volumes are gone, and you are left with a single black, unallocated volume.
Done that, right-click on the unallocated volume, and select New Simple Volume.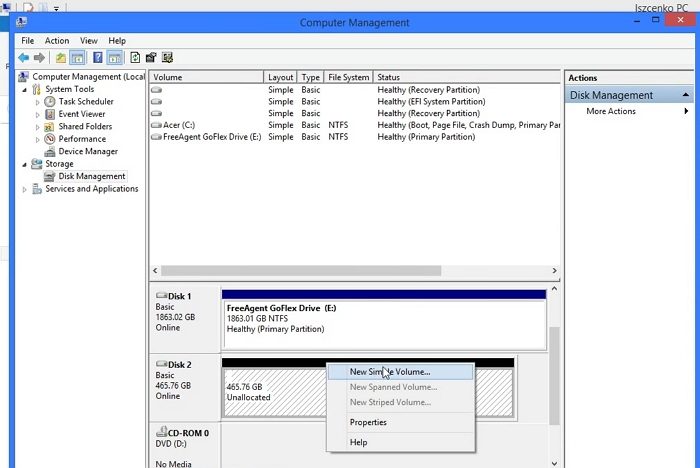 Follow the wizard; at the end, you can select Drive letter, size, and partition type. Here you can choose NTFS if you will use it only with Windows or ExFAT if you plan to switch between the platforms.
Click Next, and within a few moments, your drive is formatted and ready to use.
So that was all about how to format PS4 hard drives for Windows. Select the suitable file system format for your external storage, depending on your requirements, and you are ready. Also, if you get stuck at anything, please comment below.