When we think of a Circular References in Microsoft Excel, the first thing that comes to mind is a cell containing a formula that is dependent on its own result in some form. This ends up creating a loop that cannot be fixed, and the only way to stop the error is to locate and delete the references in a bid to make it possible for Excel to complete the relevant calculations. Now, most users have no idea how to find circular references in Excel, so with that in mind, we have chosen to explain how to find these references with relative ease.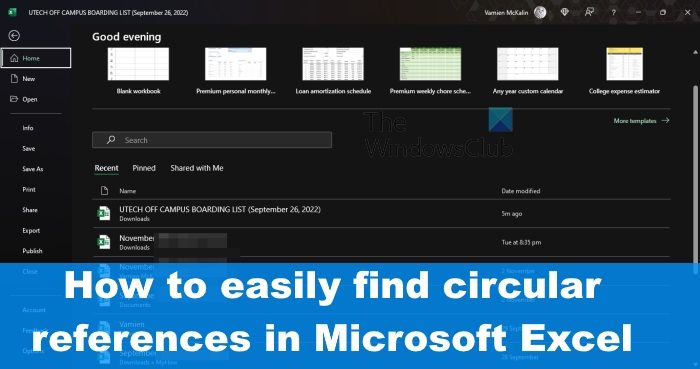 What are Circular References in Excel?
A circular reference in Microsoft Excel usually refers to a formula that visits its own or another cell in a Workbook more than once in a single chain of calculations. This in turn creates a constant loop capable of significantly slowing down your Workbook.
How to find Circular References in Excel
If you want to find and fix circular references in Microsoft Excel, then do the following:
Use the Error Checking Menu to find Circular References in Excel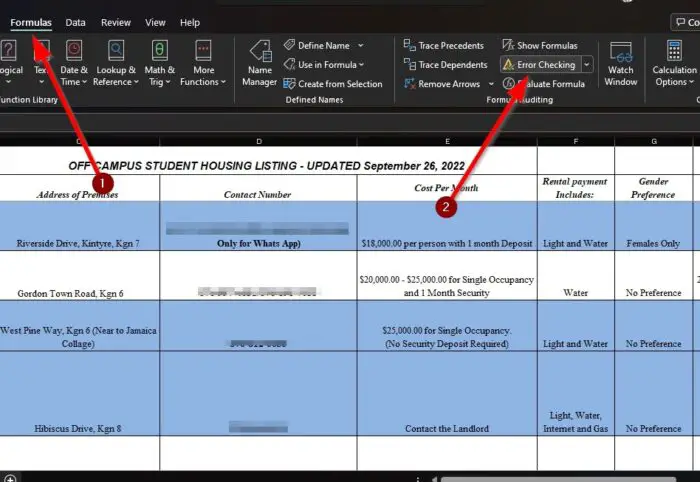 Microsoft Excel is designed to alert users whenever a circular reference is causing problems. Folks who are unable to spot the error can take full advantage of the Error Checking menu to locate all possible circular references in a single workbook.
Open the Microsoft Excel application on your Windows 11 computer.
After you've accomplished that task, you are now required to launch into the relevant Workbook.
The next step is to select the Formula tab right away.
Bear in mind the Formula tab is located on the Ribbon bar.
Once you have clicked on that tab, please go ahead and select the Error Checking button.
From the dropdown menu, you must hover your mouse cursor over Circular References.
You should now be shown a list of all circular references located within the current Workbook.
If you select one of the references, then you'll be brought to the cell containing it automatically, so go ahead and do it.
Use tracing a Circular Reference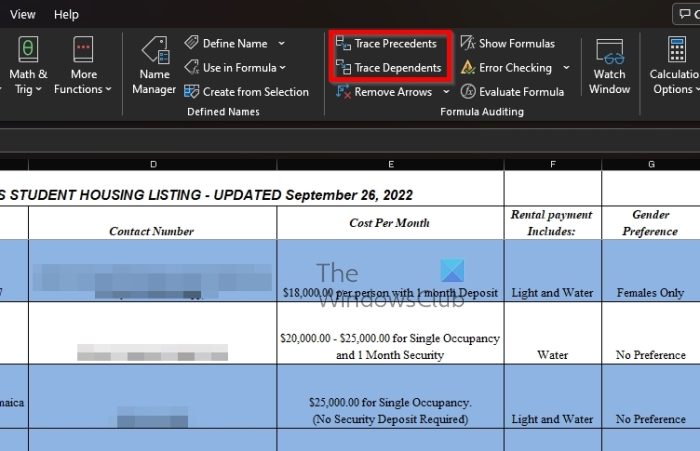 For those who are working with complex formulas, in many cases, it won't be easy to identify the source of a circular reference in Microsoft Excel due to the large number of dependent and precedent cells in the Workbook. To get around this problem, it is to trace a circular reference back to the original source by using the Trace Dependents and Trade Precedents tools. So, let us explain what needs to be done right now.
To begin, you must click on the Formulas tab, then select Show Formulas.
Doing this will switch your Excel Workbook to a formula view where you can view all formulas without choosing cells.
The next step, then, is to click on Trace Precedents after selecting the circular reference.
You should now see an arrow pointing directly to other cells.
Next, you must now select Trade Dependents on the Ribbon bar.
Bear in mind you must make a note of each cell pointed to by the arrows to better identify the main source of the issue.
Fix Circular References in Microsoft Excel
When it comes down to the task of fixing circular references in Excel, the only way to accomplish this is to edit the cells that are of cause. You will know when the problem is fixed when the loop is broken, and Excel can finally complete the calculation without problems.
READ: How to use the TEXTSPLIT function in Excel
How do you find out where a circular reference is?
Click on the Formulas tab, then from there, click on the arrow located next to Error Checking on the Ribbon. After that, point your mouse to Circular References and you should see the last entered circular reference that is displayed there. Finally, click on the cell that is listed under Circular References, and Excel will direct you to that cell.
How do I get rid of circular references in Excel?
It is as easy as deleting a cell in a spreadsheet. All you need to do is to find the circular references first in your Excel spreadsheet. Following that, click on the cell and use the Delete key to delete it. However, it is suggested to copy the formula first to another cell before deleting it.