With PowerToys, you can quickly see a convenient pop-up guide to many of the rich collection of most useful Windows key keyboard shortcuts; making using a Windows 10 PC a breeze. In this post, we will walk you through the steps on how to enable & use Windows Key Shortcut Guide on Windows 10 using PowerToys.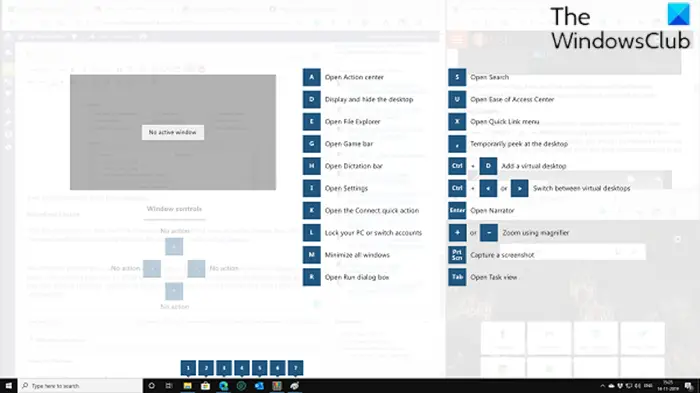 Using Windows Key Shortcut Guide PowerToy
Essentially, how this works is, the Shortcut Guide module in PowerToys allows you to hold down the Windows key on your keyboard and see an on-screen overlay that shows you partially context-aware Windows key shortcuts which you can refer to, for some major shortcuts to get work done easily on your PC.
To enable & use Windows Key Shortcut Guide using PowerToys on your Windows 10 device, do the following:
First, download and install PowerToys on your PC (if you haven't already).
Once you have PowerToys installed, launch PowerToys.
Click the Shortcut Guide module on the left pane.
On the right pane, toggle the Enable Shortcut Guide button to On.
If you like, in PowerToys Settings, you can change the Shortcut Guide's opacity to appear in dark or light mode. You can also change the length of time you have to hold down the Windows key before the guide appears.
Once done, close PowerToys Settings.
Now, you have the Shortcut Guide active in the background – whenever you need a handy reference for Windows Key commands, just hold down the Windows key for roughly a second, and the guide will appear.
When the Shortcut Guide appears, below are some of the keyboard shortcuts you'll be presented with:
Windows+A: Open Action center
Windows+D: Hide or display the desktop
Windows+E: Open File Explorer
Windows+G: Open the Xbox Game Bar
Windows+H: Open the Dictation bar
Windows+i: Open Windows Settings
Windows+K: Open the Connect sidebar
Windows+L: Lock your PC
Windows+M: Minimize all windows
Windows+R: Open the Run dialog box
Windows+S: Open Search
Windows+U: Display Ease of Access Center
Windows+X: Open Power User menu
Windows+Comma (,): Peek at the desktop
That's it!
Other PowerToys: