Google Docs has been one of the most used alternatives to Microsoft Office. Though it does not have the features that Microsoft Office has, it is good in its own ways. It is free and can be accessed by anyone with a Google account. Google is introducing better features on it with time. The latest one is letting users drafts on Google Docs. In this guide, we show you how to draft emails on Google Docs.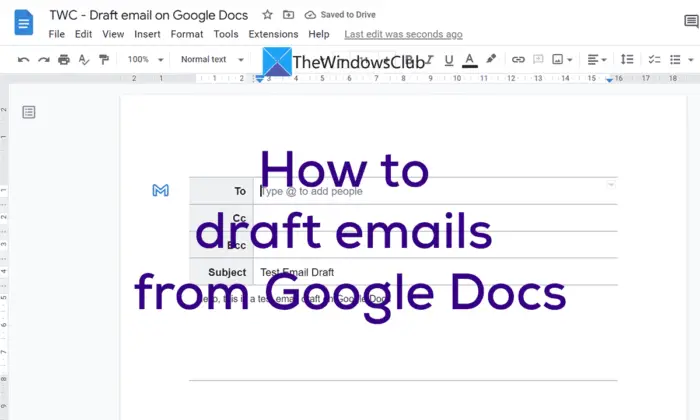 How to draft emails in Google Docs
Drafting emails on Google Docs is a no-brainer. To draft them, follow the below steps.
Insert Email Draft from Building blocks
Enter To email addresses, CCs, BCCs, subject, and email content
Preview email in composer, make edits, and click Send
Let's get into the details of the process.
To begin with, open Google Docs on your web browser and select Docs. Then, Create a new document. On the new document, click on Insert in the menu bar and hover over to Building blocks, and select Email draft.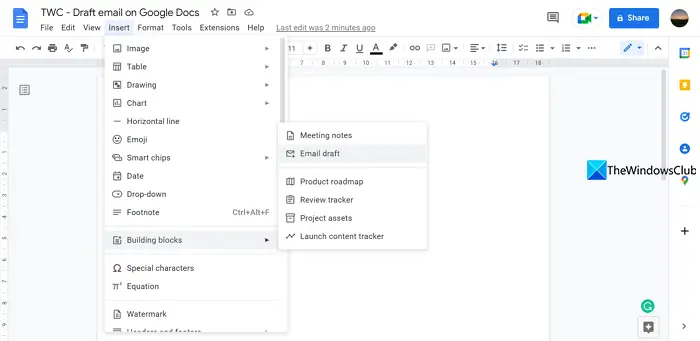 It will insert a table like an Email draft box in the document. Enter To email address, Ccs, Bccs, Subject, and then the email content. Once you are done drafting the email, click on the Gmail logo beside the box.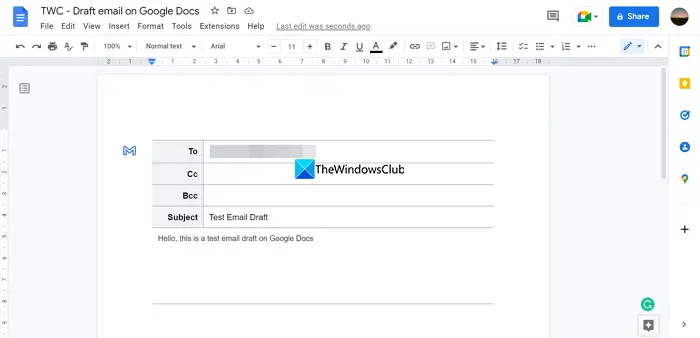 It will open an email preview in a compose box in a new window. You can check the content there, attach files, and send them by clicking on the Send button.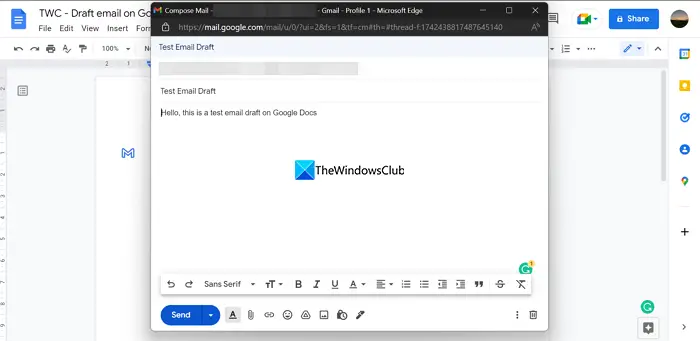 This is a simple process of drafting emails on Google Docs and sending them through Gmail easily in a few clicks. This feature is available to all Google Docs users freely. Though it does not have many features like in the Gmail composer, Google may add more options in the future.
Read: How to Convert Microsoft Office files to Google Docs
What email do I need for Google Docs?
You need Gmail or Google account to access or use Google Docs. Google Docs is one of the best and free alternatives to Microsoft Office which can never be accessible without a Google account, as there needs to be a drive space to save the documents you create.
Can you email a Google Doc?
Yes, we can email a Google Doc easily. Click on File in the menu bar of Google Docs, hover over the Share options, and select Share with others. Then, enter the email id of the people to whom you want to send the Google Doc and press Send. You can also download the Google Doc and add it as an attachment in the email composer and send it.
Where is Google Docs in Gmail?
On the Gmail account page, click on the box beside your profile picture on the top-right of the page. You will find all the Google services there along with Docs, Sheets, and Slides. Click on the Docs button to open it.
Is Google Docs linked to Gmail?
Yes, Google Docs is linked to Gmail as both are developed and maintained by Google. You need to have a Gmail account to be able to use Google Docs. Without it, you cannot access or create Google Docs.
Related read: Convert Word, PowerPoint, Excel into PDF using Google Docs.