Downloading pictures from Flikr is a simple task, but if you're a first-time user, you might find it a bit difficult to understand where and how to get these photos onto your computer. But there is nothing to worry about because we've got your back on this one.
How to download Flickr Photos
Now, there are two ways to download images from Flickr, all of which we will discuss right here. Before we begin you must ensure you have a Flickr account because it is needed if you want to take advantage of all the tips laid out here.
Using the Flickr Download button on the image
Download from a third-party Photostream
Use the Image Downloader Extension for Chrome
Use Flickr Size Pickr (Firefox).
1] Using the Flickr Download button on the image
To begin, we are going to discuss how to download photos from your Flickr photostream. You'll need an account for this or else it will fail to work.
OK, so visit the official Flickr website.
From there, click on the Login button.
Add your credentials and log into your account.
After you've logged in, it's time to download some photos to your computer. You can choose to download any amount you want.
Download content from your Photostream
In terms of downloading, then, you must click on the You tab.
From the context menu, select Photostream.
Next, you can click on Camera Roll and then select one or more photos for download.
Alternatively, you can click on Albums, then click on the download button on an album to download it.
Bear in mind that if you download an album, you'll get all photos in a ZIP file. The same goes if you choose to download multiple photos from the Camera Roll section instead of one.
2] Download from a third-party Photostream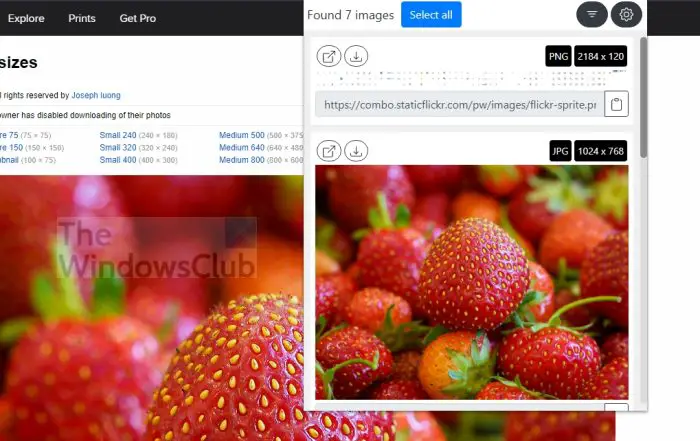 In some cases, you may want to download cool photos from another person's photostream, there are ways to get this done.
Click on the Explore tab right away.
Open the Flickr image you want to download to your computer.
Look to the bottom-right of the image for the download icon.
Click on it.
Select a size from the context menu.
Or click on View All Sizes.
3] Use the Image Downloader Extension for Chrome
For those who want to make things much easier than before, then we suggest taking advantage of a Chrome extension known as Image Downloader. It is available for all Chromium web browsers that have access to the Chrome Web Store.
Once you've downloaded the extension to the browser, you only need to visit Flickr, navigate to a photo page, and from there, click on the extension icon. Finally, you can select the download icon to download the image.
Alternatively, navigate to the View All Image section, and click on the Image Downloader icon again. You'll get the chance to download larger resolutions of the same photo if they're available.
4] Use Flickr Size Pickr (Firefox)
Folks who use Firefox can download an extension known as Flickr Size Pickr. With this cool extension, the user can choose which photo they want to download and then select the correct size before completing the task.
From our testing, we can say for certain that it works quite well, and it has improved how quickly and efficiently we can download images from Flickr.
Read: Best Stock Photography Sites to download images
Can you use Flickr photos for free?
It all depends on the owner. Some folks will make it possible for users to download their images and use them for whatever reasons, while others are not too keen. So as it stands, you must be careful of the photos you download from Flickr if you plan on using them outside of personal means.
How do I download an entire Flickr album?
OK, so you might be considering the possibility of downloading all of your Flickr data. To do this, then, you must navigate to Settings > Your Flickr Data > Request Flickr Data. After the system has gathered your files, they will be available for download via a ZIP archive.