If you want to deactivate your Truecaller account and remove the number from the database, you can follow this guide- even if you have a free account of Truecaller. However, the constraint is that you have to use the mobile app to get it done.
Thanks to Truecaller, it very easy to find the name behind a phone number. You need to enter the number in the app or website to find out who is calling you. Truecaller helps you block spam calls, SMS, etc. However, if you do not like it due to any reason, and you want to delete your Truecaller account and unlist the phone number, this guide will help you.
Deleting the Truecaller account and unlisting the phone number are two different things. First, you need to deactivate or remove your Truecaller account, which requires the mobile app. After that, you need to remove your phone number from Truecaller database. It can be done from the official website of Truecaller.
Deactivate Truecaller account
To delete the Truecaller account, you need to follow these steps.
Open Truecaller app on mobile
Open is Setting
Navigate to Privacy Center
Select Deactivate.
The whole process is demonstrated below.
Open the Truecaller app on your mobile and go to Settings. You can find 'Settings' after tapping the menu button that looks like three horizontal lines and visible on the top-left corner of your screen. After that, go to Privacy Center. Here you will find an option called Deactivate.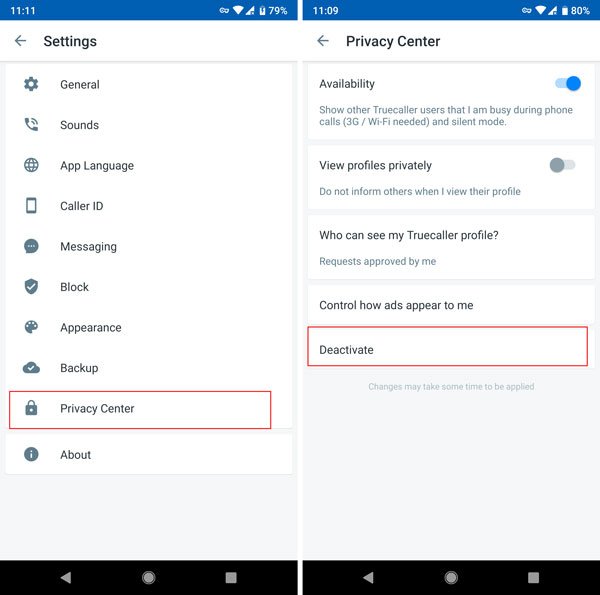 Tap on this button and confirm your change.
Now you need to unlist your phone number from the Truecaller database. Otherwise, other Truecaller users can find your name by searching it.
How to unlist phone number from Truecaller database
To unlist phone number form Truecaller database, you need to follow these steps.
Visit Truecaller website
Enter phone number
Press Unlist Phone Number.
You can find the whole process here.
Visit the unlisting page of Truecaller website.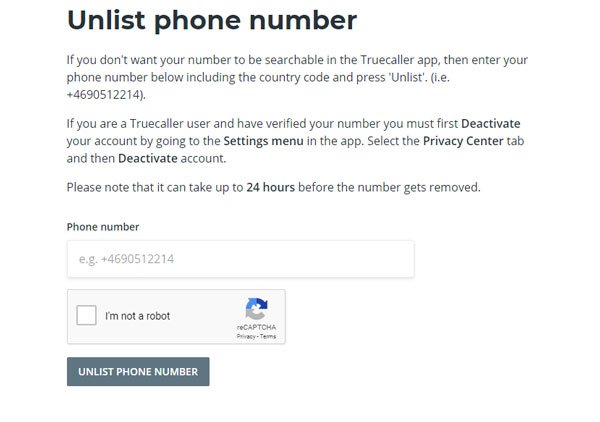 After entering the phone number and filling up the captcha, click the UNLIST PHONE NUMBER button.
It will show a confirmation message. After confirming, you should find a success message saying it would take up to 24 hours to get the number removed from the database.
Hope this simple guide is helpful.