Capturing your screen on Windows PC is an easy affair, but when it comes down to taking screenshots of a spreadsheet in Microsoft Excel, we would not recommend using anything else apart from Excel itself. If you're not an advanced Excel user, then chances are this could come as a surprise finding out that Excel is capable of taking screenshots. It's also simple since the function is built in and ready for public consumption instead of being a complex and hidden enigma.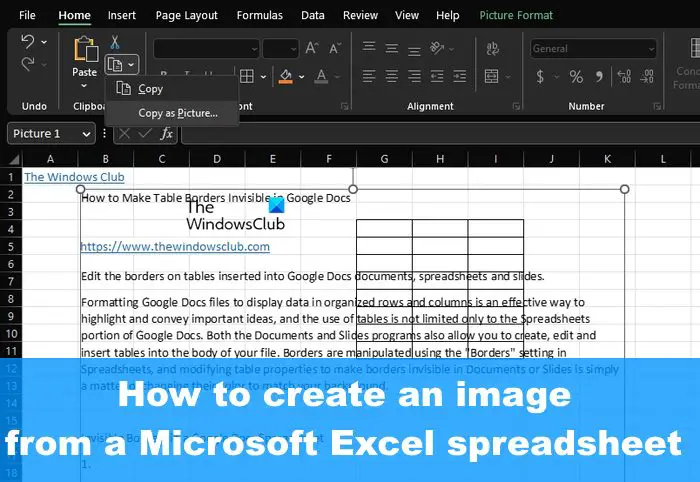 Taking a screenshot from within Excel will only take a few seconds of your time, and there are two ways to do it:
Copy data as a picture in Excel
Copy data from another program and paste it as a picture in Excel
How to take screenshots of spreadsheets with Excel
The first way is by using the Copy data as a picture feature as follows: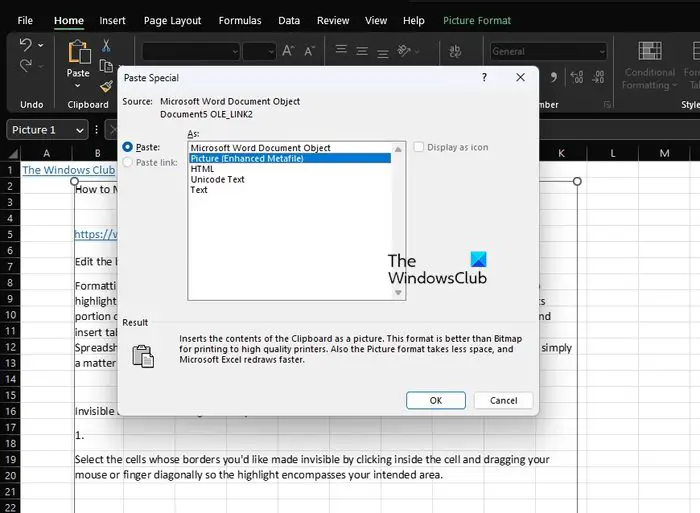 Open the Excel spreadsheet.
Highlight the cells you want to take a screenshot of.
Click on the Home tab, then look to the Clipboard group.
Click on the arrow next to Copy to reveal a dropdown menu.
From that menu, select Copy as Picture
A small pop-up window will appear. In this window, you'll see Appearance and Format.
Choose the preferred option under both, then click the OK button.
You can now paste the picture into Excel, an image editor, or anywhere you feel fit.
How to create Picture from Excel spreadsheet
The other way to do this is by copying data from another program and pasting it as a picture into Excel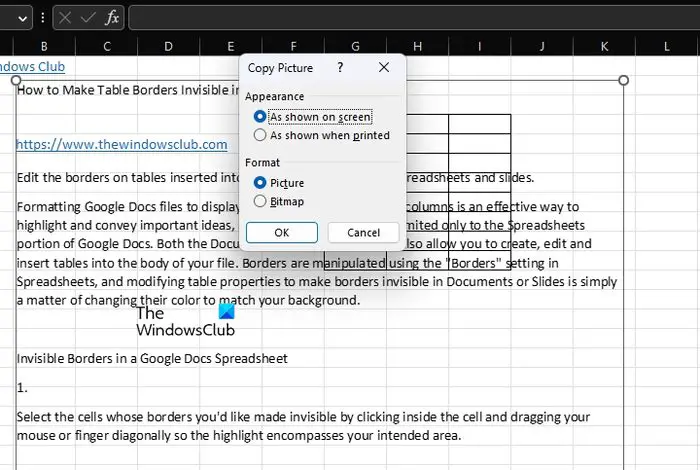 Excel has another neat feature where the user can copy a body of text in Word, then paste it into Excel as a photo. From our point of view, that's quite impressive, so, how does it work?
Well, copy the data from another program such as Word.
Return to Excel and navigate to the Clipboard area as explained above.
This time you will avoid the Copy button ad click the arrow below the Paste icon.
From the dropdown menu, please click on Paste Special.
Finally, you can choose which Paste option to select where the picture is concerned.
Hit the OK button, and that's it, the content should now be pasted to your spreadsheet in the form of an image.
I hope you find the post useful.
Read: How to use Insert Data from Picture feature in Excel
Can you save an image from an Excel sheet?
Right-clck on the illustration that you want to save as a separate image, then click Save as Picture. From the Save as type list, please choose the file format that you want, then type a name for the picture or you can accept the suggested file name.
Read: Convert images into Excel sheets using Import Data from Picture in Mac
How do I make an image from an Excel spreadsheet?
Choose the cells, then click on a chart or object that you want to transform into a picture. From the Home tab via the Clipboard group, click on the arrow next to copy, then select Copy as Picture.