Microsoft Teams is a powerful tool for collaborating with co-workers and whoever else. We can say for certain that this tool is packed with tons of features, many of which many people may never use. One of these features is the ability to create tabs. In this post, we show you how to create & add custom configurable Tabs in Microsoft Teams for desktop and the web.
How do I create a custom tab in MS Teams?
The ability to create custom tabs makes it easier for users to access files, apps, and other tools from within Microsoft Teams. Not only that, but team members can also access the files and applications located within these custom tabs.
How to create Tabs in Microsoft Teams
The following information will aid you in creating custom tabs in Microsoft teams with relative ease:
Launch Microsoft Teams app
Open your channel or chat
Create an app tab
Rename or remove the app from the tab
Create a file tab.
1] Launch Microsoft Teams app
The first thing you should do here is to fire up the Microsoft Teams desktop app on Windows 11/10 or the web version through Microsoft Edge. You can use another web browser if you so wish, so don't sweat it.
2] Open your channel or chat
After launching the Teams app, you will likely be shown the Personal space. To switch over to the preferred channel, click on the profile icon located at the top-right section of the app, then from the dropdown menu, select the channel from the list.
3] Create an app tab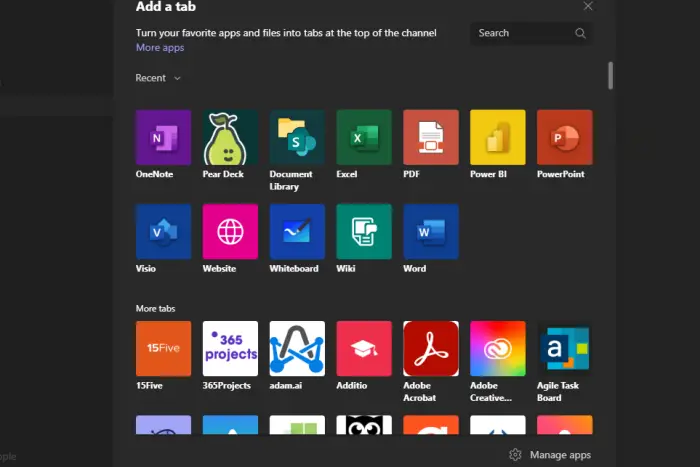 When it comes down to creating an app tab, simply click on the plus icon, and from there, choose or search for the app you want to have added to the channel. If the app has yet to be added, hit Add and click on any prompts requiring you to move forward.
Once the app is created, it will appear as a tab at the top, and you can select it at any time.
4] Rename or remove the app from the tab
If you want to rename the app's name, simply click the arrow on the name to showcase a dropdown menu. From there, click on Rename to change the name of the app. Alternatively, you could select Remove to get rid of it for good.
5] Create a file tab
File tabs are cool to have. Folks can use them for references, instructions, guidelines, among other things. Anything you need to be quick access for employees, you can create a file tab for each.
To begin, you must add the file you want to be transformed into a tab. Do this by clicking on the Upload button, then choose which file should be added.
Finally, click on the three-dotted button beside the file, then select Make this a tab, and right away, it will appear on the tab area above.
How do I edit tabs in Microsoft Teams?
Above we've explained how to Rename a tab. In terms of editing, you can change the contents of a tab by clicking on it, then use the editor to make changes if there is one.
What apps can you add as a tab in Microsoft Teams?
Users have the option to choose from several apps to add to a tab. These include the likes of Microsoft apps like Word, Excel, Planner, SharePoint, GitHub, Forms, or OneNote. You can add Trello, Wikipedia, Asana, Evernote, and much more in terms of third-party apps.
Now read: How to Lock Meetings in Microsoft Teams?