You can create a self-grading or self-marking Quiz in Microsoft Forms that shows results after you submit the answers. In this post, we will show you how to get this done. Microsoft Forms is a powerful tool, and it is the only major competitor to Google Forms. It is so powerful that folks can use it to create and share quizzes with others via the web. When it comes down to grading the quiz you've created, Microsoft Forms has made this super simple.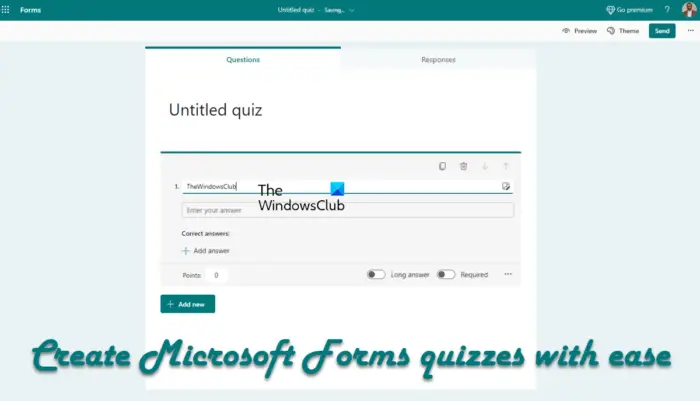 We like quizzes because they can be used to test the efficiency of students, and employees at a company, and even for fun purposes. With all of this in mind, it is clear one must take full advantage of the auto-grading feature in Microsoft Forms.
How to create a self-grading Quiz in Microsoft Forms
Follow the steps below to create your quiz up and running:
Create your Microsoft Forms quiz
Add some Text questions to the quiz
Create choice questions
Add a self-grading feature to the quiz
Preview the quiz you just created
1] Create your Microsoft Forms quiz
Before we can begin, we must first create a quiz, or better yet, edit an existing form to have it grade itself. The option is there to use a blank quiz or one of the many templates Microsoft Forms have on offer. So, let us discuss how to get things done with the information below.
Visit the Microsoft Forms
Sign in with your Microsoft account.
Click on New Quiz located at the top of the main page.
Alternatively, you can click on More Templates.
Select one from the list of options.
Next, you must give your quiz a name.
If you want, the option is there to add a description to the quiz.
2] Add some Text questions to the quiz
OK, after creating your quiz, it is now time to add some questions to spice things up. Ensure all the right questions are added, though it is possible to change them when you're done. Let us begin the process.
Click on the Add New button.
You must now select the Text icon.
Add a question to the form.
Click Add new again to create more text-based questions.
3] Create choice questions
If you are not into regular text questions, then how about adding some Choice questions instead? The process is more or less, the same, so let's talk about it.
Click on the Add new button.
From there, select Choice from the list of options.
Add a question to the quiz.
Next, you must add the answers in the Option boxes.
These can be simple True or False answers.
If you want more answers, then click on the Add option button to do so.
There are other options to play around with where this feature is concerned, so tinker around.
4] Add a self-grading feature to the quiz
It is now time to make the quiz self-grading. As usual with Microsoft Teams, getting this done is easy, so there is nothing to worry about.
Look to the top-right of the page.
You should see a three-dotted button called More Form Settings.
Click on that button right away.
After that, please click Settings from the dropdown menu.
You should now see a section that reads, Show Results Automatically.
Enable it by clicking on the toggle button.
5] Preview the quiz you just created
In order to preview the quiz, all you have to do is click on the Preview button at the top-right of the screen. It is situated right next to Themes. Doing this will give you an idea of what your quiz will look like in the eyes of others, so please take advantage of it.
READ: Microsoft Forms not showing all questions
Can Microsoft Forms be used for quizzes?
As far as we can tell, the answer to that question is yes. It is definitely possible to use Microsoft Forms to create quizzes of different varieties. When creating a quiz, be sure to take advantage of the many options to give it some flavor.
What is the difference between a form and a quiz in Microsoft Forms?
The difference is simple, really. A form usually consists of several text areas for users to add relevant information, while a quiz comes with correct answers for the user to choose from and can be scored.
Which is better Microsoft Forms or Google Forms?
From our point of view, both tools are impressive, but they differ in several ways. For example, Google Forms hasn't changed much, and as such, it looks boring. Microsoft Forms, on the other hand, looks modern.