This post will show you how to connect Windows PC to Cellular Plan of Mobile Account. Enabling cellular data usage will allow you to access the internet on your PC on the go and leverage your mobile data for various tasks. Keep reading this post to learn how you can do it.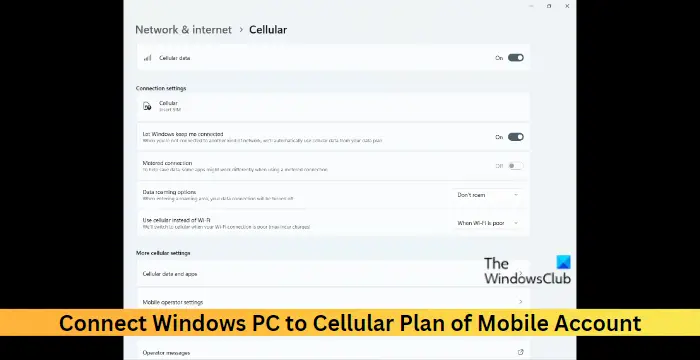 How to connect Windows PC to a Cellular Plan of Mobile Account?
Follow these steps to start using the cellular plan of your mobile account on your Windows 11/10 PC:
Firstly, make sure your device is connected to an internet connection. This is because a good internet connection is required to perform the task.
Press Windows + I to open Settings and navigate to Network & internet > Cellular > eSIM profiles.
Under Add an eSIM profile from your mobile operator, select Add profile and search for the available profiles. You can also use your mobile operator's activation code to set up the eSIM.
Once you've added the eSIM to your Windows device, click the Network icon and select Mobile > Connect with a data plan.
The Mobile Plans app will now open; click on Get online with cellular data and select Next.

Now, if the mobile operator offers plans, click on Continue to visit your operator's website to sign in with your mobile account and add your device to your account.
However, if no plans are offered, select a new mobile operator on the Select a mobile operator to get online now screen and click on Continue. Then open your operator's website, set up a new account and choose a plan.

You've now successfully connected your Windows PC to the Cellular Plan of your Mobile Account.
I hope this helps.
Read: How to uninstall Mobile Plans App in Windows
How do I connect my cellular data to my Windows computer?
To connect cellular data to your Windows computer, click the Network icon and select Cellular. The name of the operator whose eSIM you've configured will appear now; here, click on Connect with a data plan. Further, log into your operator's website and add your device.
Read: How to enable Cellular option in Windows 11
How can I share my mobile data from mobile to PC?
The most common method to share your mobile data to PC is using your smartphone's Wi-Fi hotspot. Other than that, you can also use USB and Bluetooth tethering to share your internet connection.
Read: How to use Cellular when Wi-Fi is poor in Windows 11?