Microsoft Excel makes it possible for users to easily get around incorrect data entries. In most cases, the user takes advantage of the data validation feature. However, there are times when this function is not good enough, and as such, it is best to make use of the Circle Invalid Data feature instead.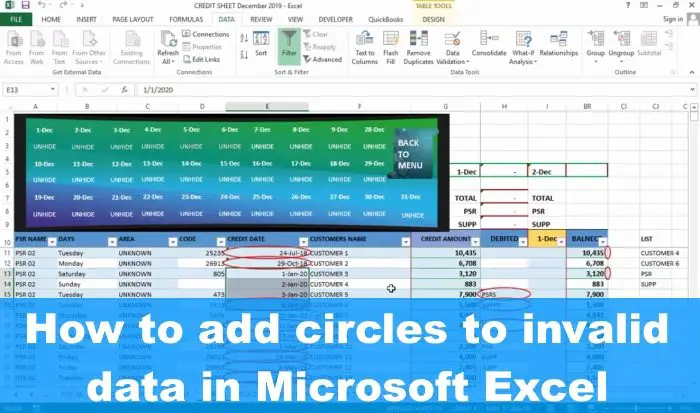 The problem with data validation is that there may come a time when data is already entered in a specific cell. When this happens, it can evade data validation, and as such, you will not be able to tell right away if an error was made. Now, since we do not want to end up with an Excel document that contains invalid data, we have decided to explain how to use the Circle Invalid Data.
How to Circle Invalid Data in Excel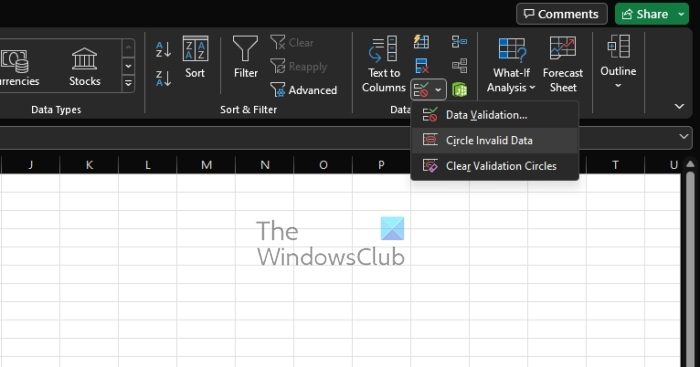 If you are interested in learning how to add circles to invalid data, then we suggest taking the following steps:
Open a new Excel workbook or one that has already been created and populated with data.
From within the Workbook, please click on the Data tab.
After that, click on the Data Validation button.
A drop-down menu will appear.
From that menu, please select Circle Invalid Data.
Right away any cells that contain invalid data will be shown with a red circle.
Bear in mind that whenever the incorrect data is fixed, the circle will automatically remove itself from the cell, and we view that as a nice touch from those at Microsoft.
In some situations, you may choose to accept the incorrect data as correct. A case like this requires manual removal of the circle, so let us discuss how to accomplish this with ease.
Again, select the Data tab in Excel.
Click on the Data Validation icon to reveal a dropdown menu.
From that menu, you must select Clear Validation Circles.
Automatically, all validation circles still visible on your Workbook will disappear right away.
READ: How to create a Bar or Circle Progress Chart in Excel
What does a black circle in Excel mean?
When you tap on the screen (as opposed to a mouse click), Office works a little differently. A black circle appears under the cursor – that's a tap handle to make it easier to choose the cursor with your finger. Word's black circle can appear unexpectedly if someone brushes on a touch screen accidentally.
How do I get rid of invalid data in Excel?
To remove the circle from a single cell, enter valid data in the cell. On the Data tab, in the Data Tools group, click the arrow next to Data Validation, and then click Clear Validation Circles. If you want to read it in detail, do follow the entire article.