The world wide web is filled with links that can infect your computer whenever clicked on. Sometimes we may come across a link that looks suspicious, but not all of us know how to tell if the link is safe or not.
Check if a link is safe or not
Now, there are several tools out there designed for inspecting links, but if you know what you're doing, then chances are you could make do with what the web browser has to offer. In fact, we are going to look talk in detail about these features for your education.
By using the web browser, you can take advantage of different methods for analyzing links before you visit. These are all simple to use and they do not take a lot of time out of your day to accomplish.
If you're wondering what the methods are, then keep reading to learn everything you need to know.
Hover the mouse cursor over links to determine their danger
Make use of the Inspect Link menu
Use the many link scanning services
Let us discuss this topic in more detail.
1] Hover the mouse cursor over links to determine their danger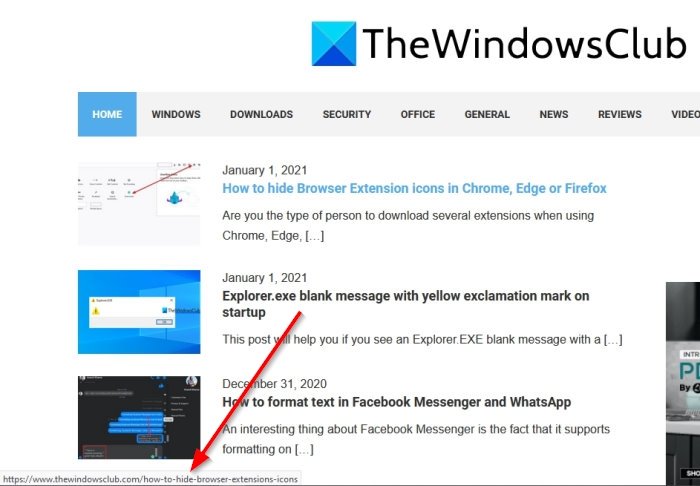 One of the best ways to tell if a link is safe is to use the mouse to hover the cursor directly over the link. When this is done, a small display box will appear and the bottom of the browser that shows the full URL.
Bear in mind that this only works in web browsers, therefore, it may not be possible to do the same via an email client such as Microsoft Outlook or Mozilla Thunderbird.
For more tips, read our post on the basic precautions you need to take before clicking on web links.
2] Make use of the Inspect Link menu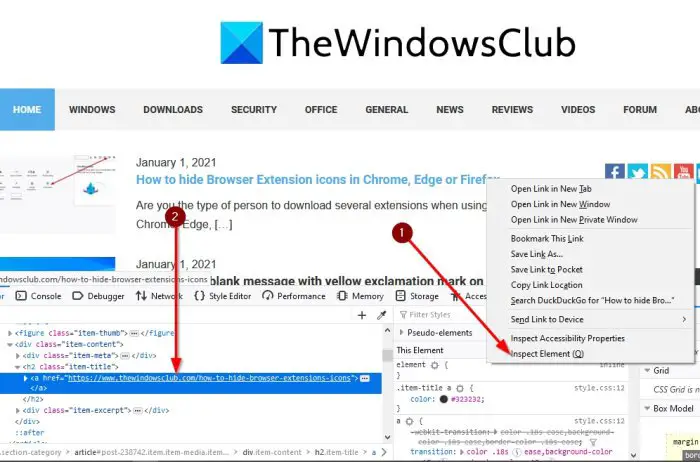 Every modern web browser comes with an Inspect menu. There might be differences in name, but the general idea is usually the same. When using Google Chrome and Microsoft Edge, the menu is called Inspect, but in Mozilla Firefox, it is called Inspect Element.
To see the menu, right-click on the link and then select Inspect from the pop-up menu. Since we're using Firefox, we will speak from that perspective. Still, it is not too different in other web browsers.
When you've selected Inspect, an entire pane will appear that shows the full length of the URL. You can even use other features available to learn more about the URL. For example, it is possible to get data on whether or not the URL is secure if it uses a valid server certificate and more.
Read: How to Spot & Avoid Dark Patterns.
3] Use the many link scanning services
Another way to tell if a link is safe to visit is to use a link scanning service that is located on the web. The ones we are going to list right now are free to use.
PhishTank: This URL scanning service does not scan for malware, but rather websites that deals in phishing attacks. Once you enter a URL in the PhishTank search box and hit the Enter key, and from there, it will tell if the link is infected.
Kaspersky VirusDesk: When it comes down to using Kaspersky VirusDesk to scan URLs, you can be certain that you're getting the best service. You see, Kaspersky is one of the best-known internet security companies in the world with immense expertise in the field. The only downside to using VirusDesk is the need for folks to be registered.
Virus Total: We suspect that by now a lot of people should know about VirusTotal.com, but if that is not the case, well, now you do. This service provides a multi-function scanning tool that is designed to analyze suspicious URLs and files for malware. Results from the scan are then shared with the community.
Norton Safe Web: Here's the thing; Kaspersky is not the only anti-virus and malware company to deliver a link checker. Norton does the same with Safe Web. Users can also improve the tool by downloading the Norton Safe Search Extension for Google Chrome.
There are many others and for more details, visit our post on Website URL Scanners & Link Checkers. These free Online URL Scanners can also help you scan websites for malware, virus, phishing, etc.
Protecting yourself on the web from malware and phishing attacks should always be the first priority. The tools listed here should make this task a lot easier than before.