If you want to change your Twitter username or handle, this article will help you. Twitter allows users to change the username from the web version as well as the mobile app. You can find the web version steps in this article, and for that, no additional service is required.
Twitter is one of the best micro-blogging platforms where you can publish your thoughts and daily news. Let's assume that you have an account, but the username has a spelling mistake. Alternatively, let's take that you have created an account for the first time, and you do not like the given username. Or, maybe you have changed the business name, and you want to make the same change on Twitter as well. At such times, you can follow these steps to change the username of your Twitter account.
Please note that Twitter assigns a user ID for each user, and it is generally a number containing some digits only. Even if you change the username (@yourname), the user ID doesn't change.
How to change your Twitter username
To change your Twitter username or handle, follow these steps-
Open the official Twitter website.
Log in to your Twitter account.
Click the More button.
Select Settings and privacy.
Click on Account information.
Enter your password to verify.
Click on Username.
Type a new username.
Click the Save button.
To know more, keep reading.
At first, open the official Twitter website in your browser, and enter the login credentials to sign in to your account. Click on the More button visible on the left-hand side, and select the Settings and privacy option.
In the Your account section, click on the Account information option. Even if you are logged in, it asks you to enter your password again to verify the user. As this section contains some sensitive information about your Twitter account, it is mandatory to verify your account by entering the password.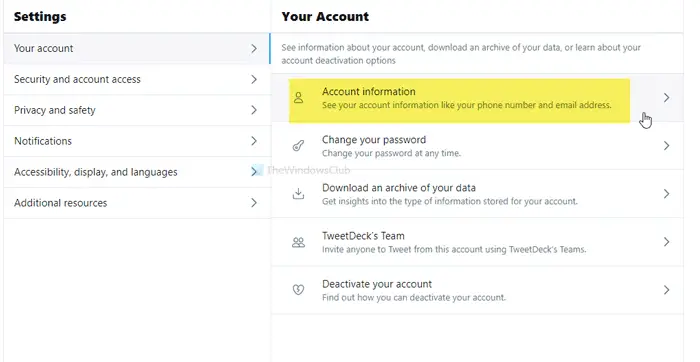 Following that, you will see the Username option in the Account information section. Click on it. Then, it shows some suggestions so that you can select something quickly. However, if you require some specific change, start typing the desired username in the Username box and click the Save button.

Now you will see the new username in your Twitter account. There is no official statement on how many times you can change the Twitter username for your information. However, it is not recommended to change it frequently as well.
Do you know that you can change the registered email address on Twitter as well?