LinkedIn is a business and employment-oriented site that helps in building relationships between employees, firms other social networks. Today, it is the most influential social network and top online platform for professionals. It allows the employer to post jobs and job seekers to communicate directly with the firm for sharing job applications. Being the biggest professional networking site, it offers the convenience of matching skillful personnel with their dream jobs.
In spite of having so many advantages, it can't be denied that this platform has also led to a rise in online job scams. This platform makes it easy for scammers to reach and bluff innocent job seekers. Many LinkedIn users have reported harassment, cheating, abuse, and unwanted promotional messages. In such a case, you can block such foul connections to have smooth and stress-free use of this great employment platform. In this article, you will know how to block or unblock someone on LinkedIn.
How to Block LinkedIn connections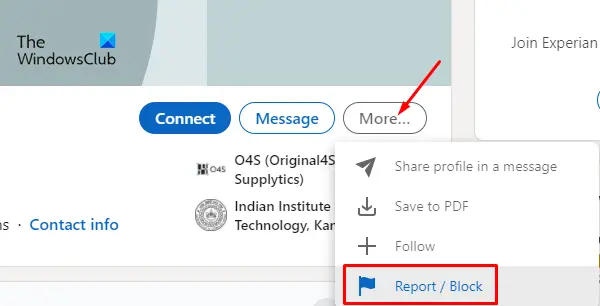 Blocking one or more LinkedIn connections or contacts is possible. This will restrict both you and that particular connection to look into each others' profile and send any communication to each other via LinkedIn. It is an important and useful feature to make your profile reserved for the professional connections of your choice.
If you wish to block any of your LinkedIn connections, follow this way:
Search the user's profile using the LinkedIn search bar.
Once found, go to the user's profile and choose the More option on the right.
Once you click on "More", you will see a drop-down menu with an option of Report/ Block. Select it for blocking the user.
Here you will come across two options of either "block the user "or "report this profile".
Select the Block option and then confirm it.
Now you will no longer be connected with this person.
You will also no longer see any suggestions to interact with each other.
Read: LinkedIn Login and Sign In Security & Privacy Tips
How to Unblock LinkedIn connections
Just like blocking LinkedIn comes with the feature of unblocking the connection. In many cases, users block the connection either by mistake or due to misunderstanding, resolved later. Any social networking platform embraces healthy relationships between its users and therefore unblocking is always an option with the LinkedIn account holder.
If you wish to Unblock your network, open your LinkedIn profile and click on "Me". You will get a drop-down menu, select Settings & Privacy.
From "Settings & Privacy" choose the Visibility option, then select Visibility of your LinkedIn activity where you will find the blocking field as illustrated in the above image. Select Unblock to unblock the connection of your choice.
Social-networking sites always keep the security of the user as a priority and therefore the final step of unblocking is the user's password confirmation. So, enter the password and restart connections with the unblocked network of your profile.
How many people can you block on LinkedIn?
From the information we've gathered thus far, LinkedIn has made it possible for folks to block up to 1200 people. Chances are you won't even end up blocking 5 people so that number is quite the overkill. But if the time comes, you'll know the little block box won't run out of space.
What happens when you block a person on LinkedIn?
After you block someone on LinkedIn, they will appear on your blocked list. The person you blocked won't receive a notification saying that you block him/her. However, if you've ever shared a LinkedIn Recruiter account with that person, LinkedIn will send a notification of your block to that person. After you've blocked the person, you won't see the profile views of that person in the "Who's Viewed Your Profile" section. Still, your views of that person's profile will also disappear. th of you can't access each other's profiles on LinkedIn anymore, can't message each other, can't see each other's shared content.
Read next: How to Block or Unblock someone on Skype.