In this post, we will show you how to allow or block or Remove a DLNA Device in Windows 11. When it comes down to the Windows 11 operating system, it is possible to share media from personal folders such as Videos, Playlists, Pictures, Music, and more to another computer or users from the same computer. For this to work, both devices must be on the same network and support DLNA.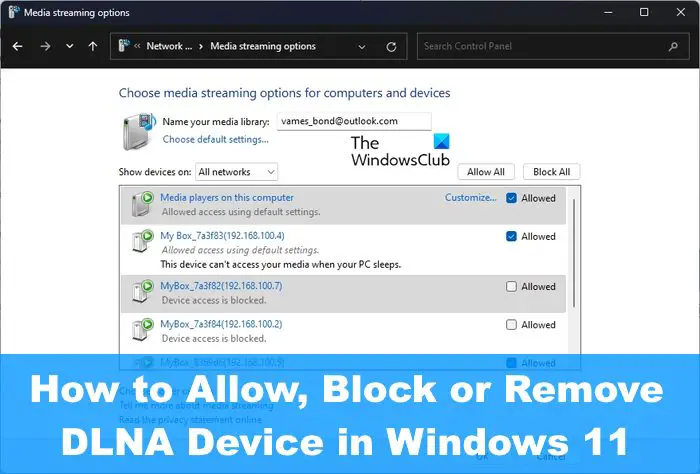 Recently, some users have been wondering if it is possible to block or allow a DLNA device from streaming or sharing media files on Windows 11/10. Well, the answer to that is yes, and as expected, we are going to explain how to get this done in this article.
What is a DLNA device?
For those unaware of this fact, DLNA stands for Digital Living Network Alliance, an organization that sets the standard and guidelines for home networking devices. These devices usually include smartphones, PC. Smart TVs, tablets, and others so long as the standard is supported.
Now, whenever a device that is DLNA certified is added to your home network, the owner can use it to automatically communicate and share any form of media files with other connected DLNA product that is linked to the same computer network.
How to Allow or Block DLNA Device in Windows 11
Follow the steps laid out here to  allow or block, one or all DLNA media streaming devices on your Windows PC:
Open the Control Panel
Navigate to Network and Sharing Center
Select Media Streaming Options
Allow or Block one or all media devices using the button.
We assume that you have enabled & set up the DLNA streaming server on Windows.
Then the next thing we need to do here is to fire up the Control Panel, which is a task easily accomplished, so let us look at how to get it done.
Click the Search icon found on the Taskbar. From there, type Control Panel in the search box and then select it.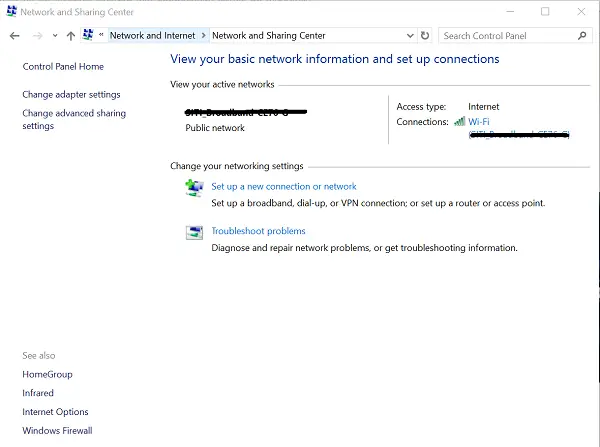 Now move over to Network and Sharing Center.
If you are on the Category setting via the Control Panel, please click Network and Internet. After that, you will see a list of options via the right section.
Click on Network and Sharing Center while avoiding the other.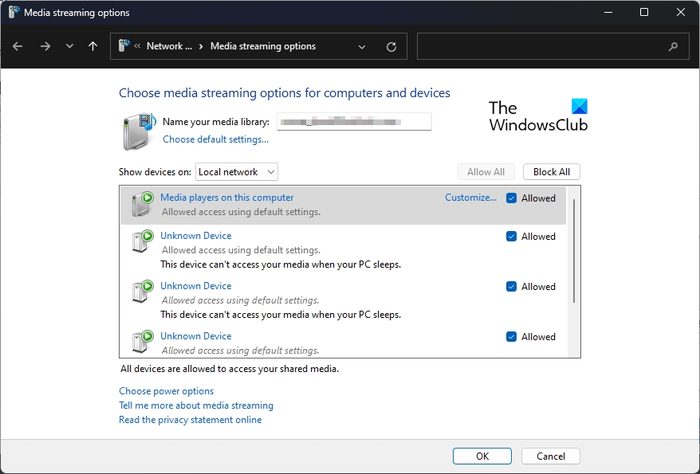 We now need to find our way to the area called Media Streaming Options, and as always, the task is super easy.
You see, now that you're at Network and Sharing Center, please look to the left panel.
Scroll to the bottom and ensure Media Streaming Options is there. After that, click on it.
If the next page requests you to turn on DLNA, then go ahead and do it.
Finally, the plan is to allow or block all DLNA media streaming devices.
To do this, look for Show Devices On, then select Local Network. After that, you should see a list of devices.
Click the Allow button, then OK to allow all at once.
Do the same with the Block All button.
Choose individually by ticking or unticking the box next to each media device.
Hit the OK button to complete the task, and that's it, you're done and set.
I hope this helps.
Read: Could not reconnect all network drives on Windows
Should I disable DLNA?
The DLNA standard uses UPnP, which allows for the discovery of other computer devices on the network. It also makes it possible for those devices to communicate with each other; therefore, if you are not streaming, then it makes sense to disable the network until such time.
Does Windows 11 support DLNA?
The answer to this question is a resounding yes. You see, DLNA media streaming allows the user to share media from their music, pictures, and video folders with other users who are on the same network.