Just like YouTube, the folks at Google make it possible for users to add a caption to videos on Google Drive. You see, Google Drive is not just a cloud platform for documents, photos, and regular files, but it is great for storing video, and even better due to the caption feature.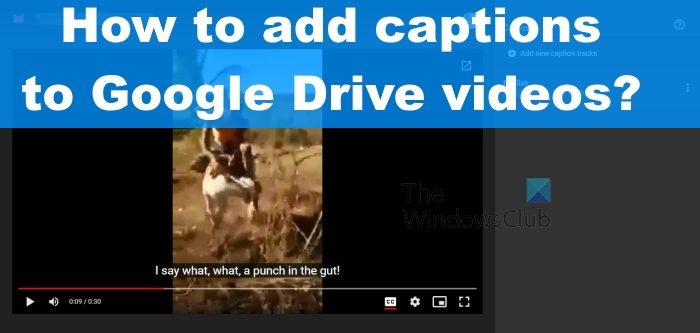 There may come a time when folks need to share one or more videos that must contain captions for various reasons. Google ensures that this can be done with Drive instead of forcing people to use YouTube instead. So, the question is, how can we add captions to a Google Drive video with relative ease? Well, that is exactly what we are going to discuss today.
How to add Captions and Subtitles to Google Drive videos
Adding captions to videos from Google Drive is a simple task, and all you have to do is follow these steps:
Create text files with captions
Upload caption files to your Google Drive
Create text files with captions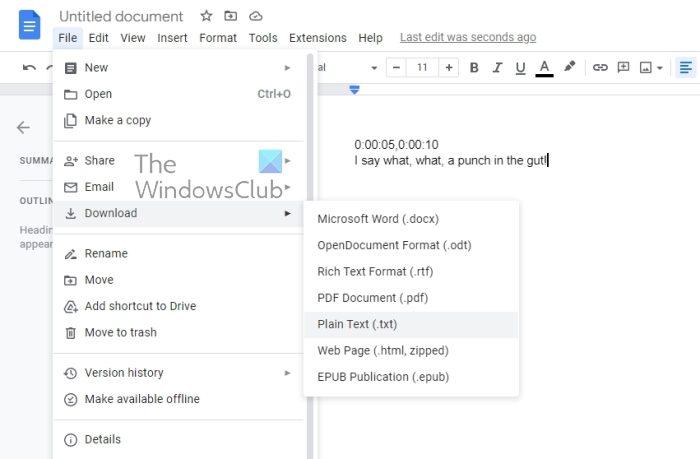 To add Captions and Subtitles to Google Drive videos, the first thing we need to do here is to create a caption file. Bear in mind that Google Drive only supports SubRip (*.SRT) and SubViewer (*.SUB) files since the time of writing. We can simply use Google Docs to get this done, so let us explain.
Open your favorite web browser.
From there, navigate to Google Docs in one tab and then open a new document.
Once done, open Google Drive in another tab.
After that, ensure you've determined the timestamp of the particular text needed for the captions.
You can accomplish this by hovering your mouse over the red line from your Google Drive video.
Now, from the newly opened Google Docs document, you must add the narration time from the video.
For example, if the timestamp in the caption is between 5 seconds and 10 seconds, then the first line in the document should look like the following: 0:00:05,0:00:10.
Hit the Shift + Enter keys to create a new line.
From that new line, type the text you want to fall under the added timeframe.
If you want to add a second caption line, then we suggest creating a space between the first one.
Do this by clicking on the Enter key, then type the timeframe and caption.
After you've completed the adding of timestamps and captions, please click on File.
Go to the Download option, then select Plain Text.
Save your file.
Upload caption files to your Google Drive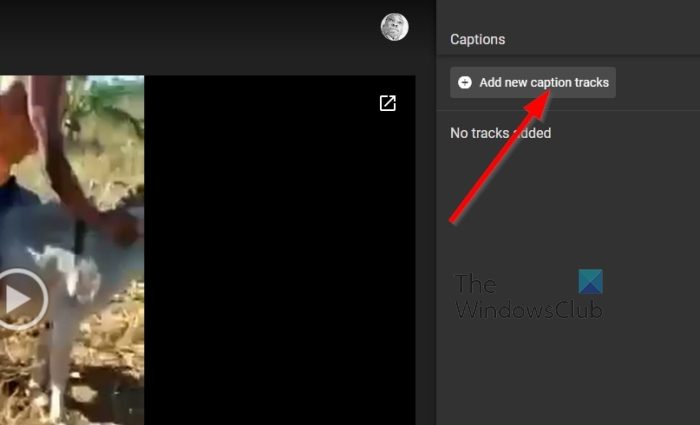 In terms of uploading the newly created caption file to Google Drive, is not difficult at all. It is much easier than creating and saving a caption file, so let us discuss it.
Go to the Google Drive tab in your web browser.
Navigate directly to the preferred video itself.
Look for the three-dotted button via the top-right corner of the window.
Click on it right away.
A drop-down menu will appear.
Select the Manage Caption Tracks without delay.
From there, go to Add New Caption Tracks.
Click on the Upload button, then add the saved caption file.
Finally, enter a track title if you want, then click on Upload to complete the task.
READ: How to timestamp videos on Google Drive
How do I embed a caption in a video?
To embed a caption in a video on Google Drive, you need to follow the aforementioned steps. As Google Drive allows users to embed caption, there is no need to use third-party apps. You need to make use of the Add new caption tracks option included in the Google Drive.
How do you add a caption to a picture on Google Drive?
It is not possible to add a caption to a picture on Google Drive since images do not carry captions. On the other hand, if you want to do the same with a video, you can follow these steps. No matter how long the video is, you can add the caption using the Add new caption tracks option.